Hundreds of SIU alumni gathered for a series of events during the Saluki Takeover Tour Chicago.
Hosted by the SIU Foundation, the takeover tour lasted five days and packed numerous events into a small window. There were events for alumni and donors, and Chancellor Austin Lane announced partnerships with three community colleges.
See photos and video from all the events at the SIU Foundation Facebook page.
Kicking Things Off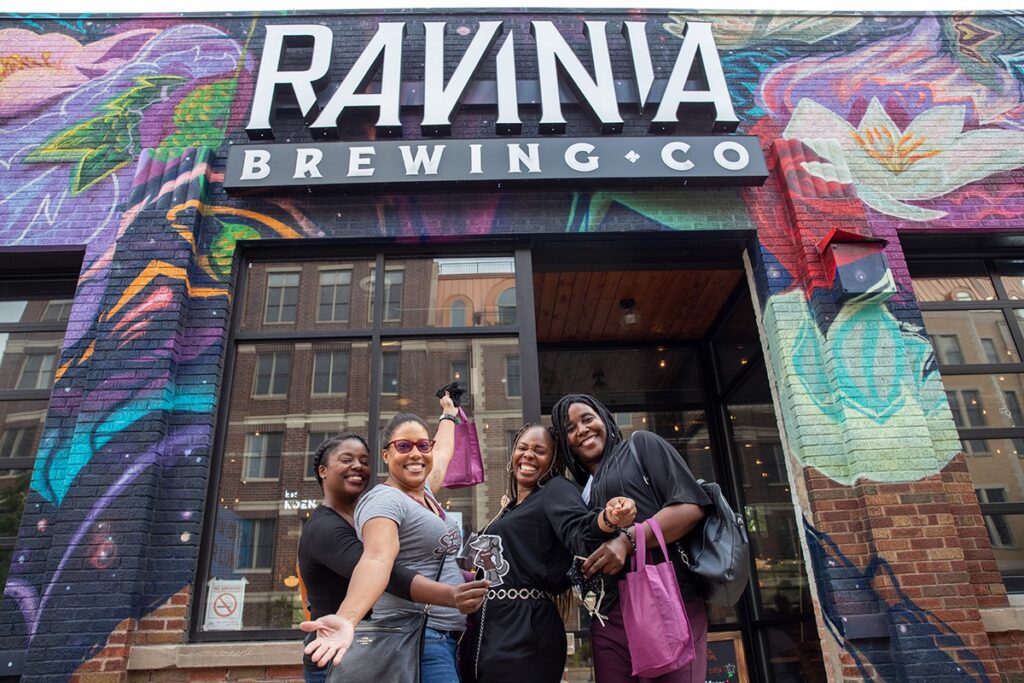 More than 125 Salukis gathered at Ravinia Brewing Company for the Saluki Takeover Tour's kick-off event on Sunday, Oct. 3.
"This is the inaugural Saluki Takeover Tour Chicago. There are 46,000 alumni that live in this area. Here's the idea: We bring the campus up here, and we plant the flag in the ground. This is Saluki Country," said CEO of the SIU Foundation and Interim Athletic Director Matt Kupec.
Ravinia will soon locate a production facility within the McLafferty Annex on SIU's Carbondale campus. This lease will not only generate revenue to support the Fermentation Science program, but also provide world-class training for students by allowing on-site access to large-scale production and packaging equipment not currently available in Southern Illinois. In addition, Ravinia intends to provide contract brewing and packaging services to regional breweries, which will provide growth and economic development opportunities in Southern Illinois.
"Recently, we received a $1.1 million grant from the SIU Foundation, which allows us to bring Ravinia Brewing into the McLafferty Annex in Southern Illinois," said Matt McCarroll, director SIU's Fermentation Science Institute. "In one building, we'll be able to take students from the classroom and walk down to the other side and see a full production brewery and packaging facility in real time. That's unique in the country."
During the event, Matt ('89) and Laura Soucy ('87) presented a $25,000 check to establish the first scholarship for SIU Fermentation Science program. The Karen "K-Dawg" Jakstas Memorial Scholarship is in honor of Laura Soucy's sister, Karen Jakstas ('91).
Vital Partnerships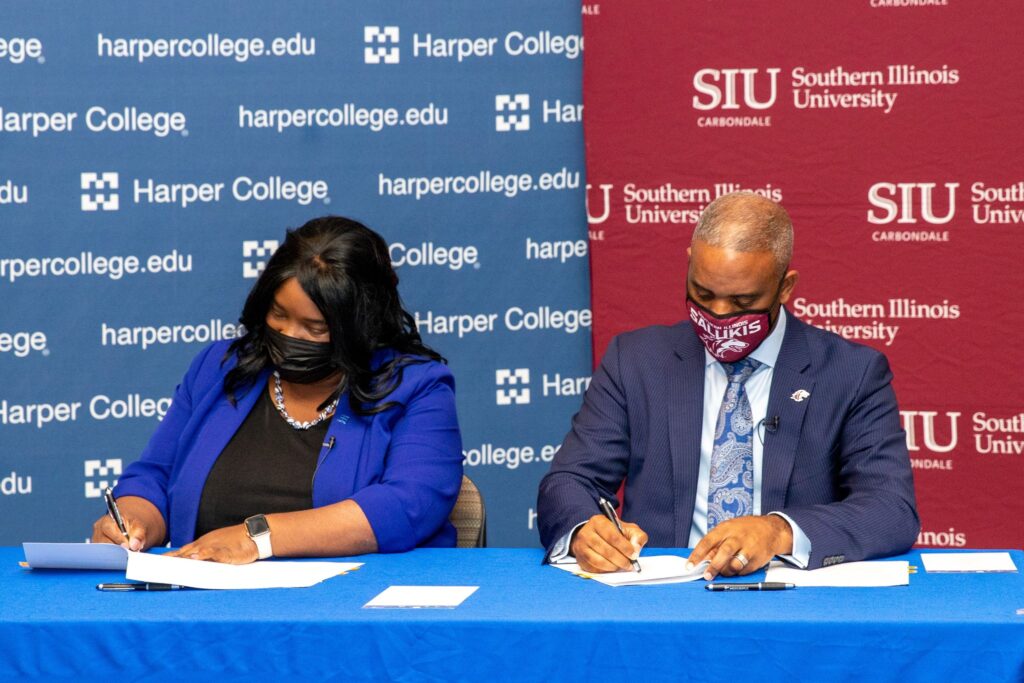 Chancellor Lane signed agreements with Harper College, Oakton Community College, and Harold Washington College. These agreements will bring the expertise of a doctoral research university to place-bound students.
"SIU Carbondale is committed to providing access and affordability and removing barriers for all students," Chancellor Lane said. "We are proud of our beautiful campus and the first-rate education and unique opportunities Salukis receive. But we understand not all Chicago students can move to Carbondale to complete their education, so we will bring SIU Carbondale to the Windy City."
Harper College and Oakton Community College signed Saluki Step Ahead agreements, which provide qualified community college students the option to earn their bachelor's degrees remotely at a lower cost in six academic programs: accounting, business and administration, health care management, radiologic sciences, criminology and criminal justice, and psychology.
SIU and Harold Washington College signed agreements for equity in accounting and a renewal of Star Scholars, which offers scholarship opportunities to students.
Read more about these partnerships, here.
Chancellor's Reception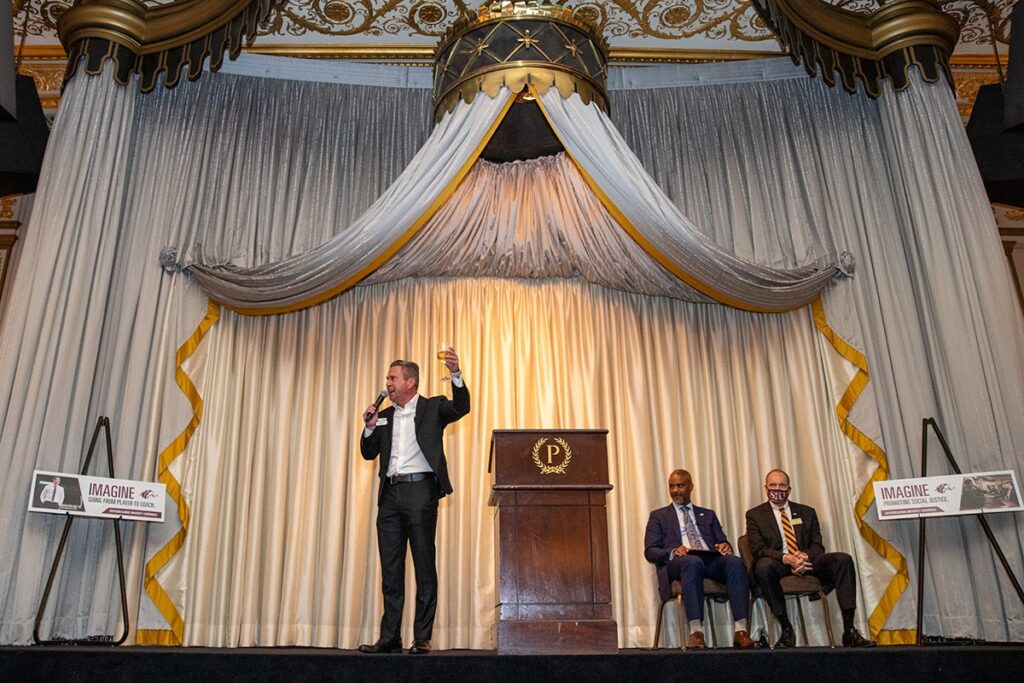 The highlight of the week was the Chancellor's Reception on Tuesday, Oct. 5, at the Palmer House Hilton.
"I did my Listening & Learning Tour over the last year, and all I did was listen," Chancellor Lane said. "When our alumni started talking, we listened. You said we needed to be in Chicago more. Guess what, we're here tonight. We're here all week."
Attended by about 250 Salukis, the evening was emceed by SIU alumnus Marc Silverman. Host of the "Waddle & Silvy" sports talk radio show on ESPN Chicago 1000 AM, Silverman regularly promotes SIU on his show and Twitter account (@WaddleandSilvy). Earlier in the day, dozens of SIU alumni gathered outside of the ESPN studio in Chicago for an opportunity to take selfies with Silverman and the Saluki mascots.
"We are the Dawgs. We have great things going, and we know, at SIU Carbondale, we have a great thing to begin with," Silverman said. "Spread the word. Tell your friends about SIU. Tell your coworkers about SIU. We check all the boxes. We're diverse, we have a beautiful campus, we have a social life, we have athletics, and best of all, we have academics and hands-on experiences."
SIU System President Dan Mahony joined Chancellor Lane and Silverman on stage, and he spoke about how SIU Carbondale has overcome the challenges posed by COVID-19.
"I actually started my role on March 1, 2020. We have done great things, even during the worst of periods of time," Mahony said. "I'm incredibly excited to see what's going to happen when we're out of the pandemic. The sky is the limit."
Dunbar Leadership Society
On Wednesday, Oct. 6, alumni and donors gathered to support the Dunbar Leadership Society. Through the society, the university plans to reinvigorate its diverse alumni and create opportunities for current and future Salukis. The society will raise scholarship funds and host events that resonate with members of a multicultural campus.
"When the chancellor decided to have the takeover tour, he encouraged us to put something together," said Kennard Tucker, chair of the Dunbar Leadership Society. "It was a great event. There was a lot of Saluki energy in town."
Former U.S. Sen. Roland Burris gave the keynote address during the event at Chicago's Gallery Guichard. Burris was the first African American elected to statewide office in Illinois when he became comptroller in 1978. In 1990, he was elected as Illinois' attorney general, and was appointed to the U.S. Senate in 2009, replacing Barack Obama.
Burris previously made a $100,000 donation to support an emergency fund that assists Black students at SIU in times of need.
"The reason why I created the fund is because I care, and I'm hoping and praying that you all care about the future of our Black kids that need to get a college education," Burris said.
Burris was honored during the event for his philanthropic leadership.
"It's all about philanthropic giving," Tucker said. "It just seemed right that we recognize him. He sets an example for us all."
See You in 2022
Plans are already under way for next year's Saluki Takeover Tour in Chicago. The second annual event will take place Thursday, Sept. 15, through Saturday, Sept. 17, in conjunction with Saluki Football's matchup with Northwestern.
Stay tuned for more information about this event and others.
"This is going to happen each and every year, and our job is to get all 46,000 alumni pumped up, engaged, and excited about support our great university," Kupec said.
For more information about this event and future events, follow the SIU Foundation on social media and visit www.siuf.org.