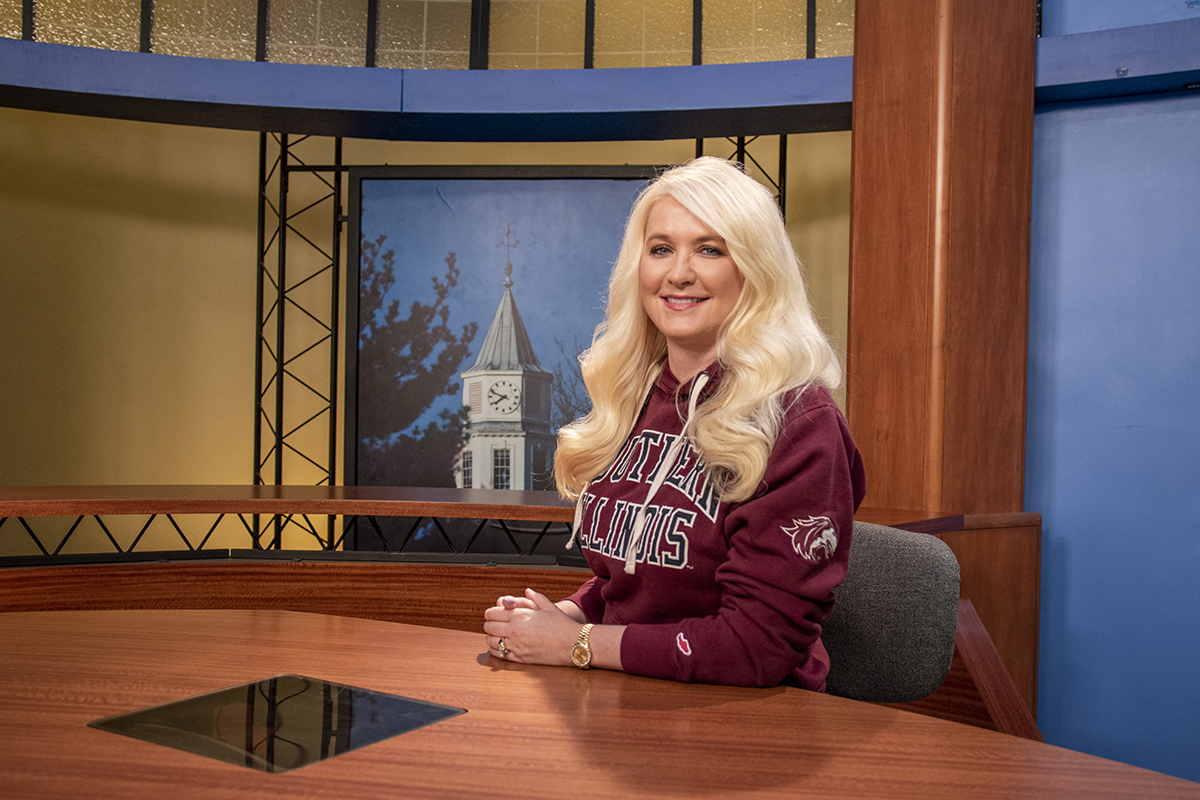 Julie Staley '88 brings her passion and positivity to giving back to her alma mater.
Growing up in central Illinois, Staley had always heard great things about Southern Illinois University Carbondale's radio and television department. Discovering at an early age her talents of singing and performing, it was a natural fit that Staley came to SIU for a degree in mass communications with a minor in musical theater. Staley flourished in the department, received several awards, and was chosen as the Broadcast Student of the Year during her undergraduate studies.
"Every time I return to campus, I get emotional remembering all of the dreams I had and how SIU set me up for a successful career. Before I had graduated, I studied abroad at the BBC and ITV in Great Britain and had internships with KSDK, an NBC station in St. Louis, and CNN," she said. "The department also helped me start my career with KSDK as a news reporter. I knew I was going down the right career path and SIU's radio and television program was there to help me every step of the way."
Staley went on to receive an MS Summa Cum Laude from Southern Illinois University Edwardsville in mass communications and is a doctoral student in public administration at the University of Illinois at Springfield. Staley owns Spencer Films LLC, is president of Spencer Theatre Company and the Staley Museum, and is a director for the Staley Family Foundation.
Staley has recently teamed with alumnae Dawn Korte and Dr. Marsha Ryan to form an SIU Women's Leadership Council.
"Since I have been given so much opportunity in life, I want to give back as much as I can. I want to help organize a way to help other women succeed as I have in life," she said. "Great things happen when women support women. There is a ripple effect when leaders teach potential leaders what they have learned along the way."
The SIU Women's Leadership Council was established in 2020 and is a network of alumnae, parents and friends who are committed to creating a culture of women-driven philanthropy at SIU. Council members contribute their time, energy, resources, and expertise serving on university boards and championing SIU in their home regions. Embodying a legacy of leadership, the council collectively funds women's initiatives and scholarships on campus.
To learn more about our Women's Leadership Council or to join this initiative, please contact SIU Foundation's Development Officers, Steph Taylor (stephaniet@foundation.siu.edu) or Cindy Walker (cindyw@foundation.siu.edu).