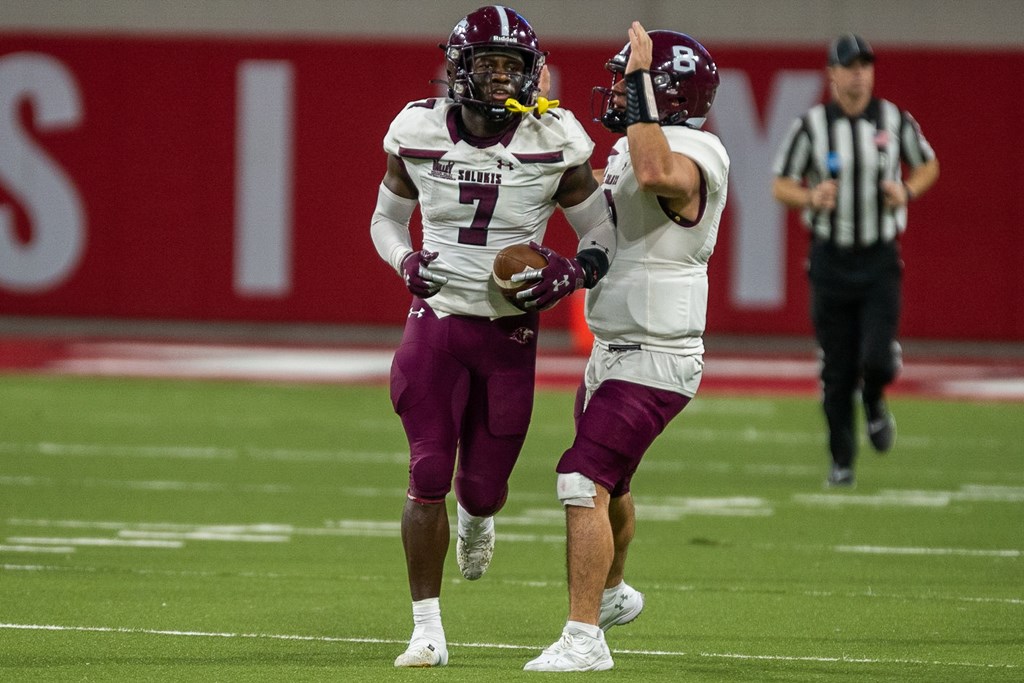 By Jeff Wilson
While it didn't end the way he hoped, Qua Brown made the most of his time as a Saluki.
A senior, who played safety for the Saluki Football team, graduated just weeks after SIU fell to North Dakota State in the FCS playoffs. He leaves SIU with a bachelor's in sports administration and the goal of playing professional football.
The Deland, Florida, native came to SIU in 2016 on a football scholarship. After a redshirt season, he spent the next five years exceling as a starting safety.
"I had a few scholarship offers, but when I visited SIU, I knew it was the right fit," Brown said. "The football facilities are top-notch, and the campus wasn't too big or too small. I was excited to play for Coach (Nick) Hill. He has special connection with his players and is really involved in the community."
Players are keenly aware of the cost of maintaining a successful program, and Brown emphasized the value of donor support.
"It's literally everything to us. We're basically living off every dollar," he said. "Traveling, equipment, food, hotels – that money can go a long way for us. By giving, donors are making some players' dreams come true."
On the field, it's been money well spent. Brown finished his Saluki career with nearly 300 tackles and has been a major factor in some of the program's biggest wins. During the team's first-round playoff victory over South Dakota, Brown had two interceptions. In front of more than 10,000 fans at this year's Homecoming win against North Dakota, he notched 11 tackles.
"That giant crowd at Homecoming was humbling and inspiring," he said. "It as a great feeling, especially coming off the COVID-affected season."
Brown was also impressed by the dozens of former Saluki football players who returned to SIU for the that day's festivities.
"When I saw one of their national championship rings, I was like 'Dang, I want one of those,'" Brown said.
Recently, SIU has become known for producing NFL talent, especially at defensive back. Most famously, Jeremy Chinn was drafted in the second round of the 2020 NFL Draft by the Carolina Panthers and finished second in the NFC Rookie of the Year voting.
"There is NFL talent all over our league (the Missouri Valley Football Conference), and you understand what it takes to come from a smaller school. I look forward to pursuing that opportunity and hope to represent that ongoing tradition," Brown said.
If you would like to support SIU Athletics, click here.
Engage with us on LinkedIn, Facebook, Twitter and Instagram.