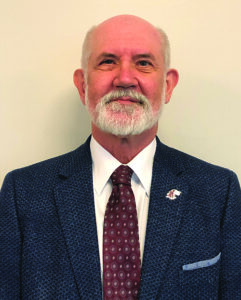 M Cecil Smith had big plans as the first dean for the new School of Education, despite arriving in July 2020 amid a pandemic.
"I feel as if the past 30-plus years of my career have prepared me well for this position. Now, we can accelerate and implement the exciting initiatives," he said.
Smith said he wants to revitalize and enhance the school's existing community partnerships and establish new relationships.
"This is my vision, my mantra for SIU's School of Education: 'Always learning, always leading,'" he said. "My goal is to work with the faculty and staff to assure we have a high-quality, rigorous program."
While the School of Education has a dedicated legion of supporters, Smith said it's more important than ever to ensure students are fully supported.
"We are fortunate to have many scholarships for our students, and we are grateful. But we need other kinds of funding support," he said. "The pandemic took a toll on our students' well-being and their ability to manage the various aspects of their lives."
"We also need to recruit teacher candidates from underrepresented groups. We need teachers to reflect the diversity that is growing in the Southern Illinois region. Research shows that students of color who have teachers who are persons of color are much more likely to stay in school."
Implementing initiatives
Smith is especially excited about an initiative known as the Saluki Teacher Residency Partnership, funded by a recent award from the Illinois State Board of Education.
It awarded $50,000 to plan the partnership and $200,000 to implement the residency partnership. Currently, the school is working with five local districts: Cairo, Meridian, Vienna, Murphysboro, and Carbondale's two school districts.
"The plan is to create a teacher residency, much like a medical residency, geared toward recruiting students from under-represented racial, ethnic, and socioeconomic groups," Smith said.
Christie McIntyre, director of teaching and education and an associate professor, wrote the grant. In it, a student resident teacher collaborates with a community mentor and works in the school for an entire school year.
"We are proud to be implementing the fruits of Christie's efforts this fall with three teacher residents placed in each of those five communities. The community mentors will provide the residents with advice on professionalism, inform them about the larger community, and will give the teacher residents overall support," Smith said.
During the pandemic, students suffered a significant amount of learning loss. To get these students up to speed, the School of Education will employ retired teachers, community mentors, and university students to provide afterschool tutoring as part of the Illinois Tutoring Initiative, a statewide project funded through the governor's office. Thus far, the school has partnered with four local districts with plans to expand the program this fall.
Smith is especially excited about the Illinois Grow Your Own (GYO) initiative, which provides funding to prepare local community members for teaching careers in early childhood education and special education. GYO supports racially and economically diverse individuals who have a desire to become teachers within their home communities. The goal is to prepare teachers who will become leaders inside and outside their hometown classrooms.
The funding pays up to $25,000 for tuition, books, childcare, and transportation for each qualified student. The school graduated 17 special education teachers who were supported by the program. Eight students will graduate in December 2022 and seven will graduate in 2023. The school also has a cohort of 12 early childhood educator candidates who will graduate in 2023.
To support scholarships and initiatives such as these, visit ehs.siu.edu/giving.
Enjoying a new home
Smith and his wife, Ellin, are finding Southern Illinois a great fit for their lifestyle.
"We enjoy cycling, kayaking and visiting local wineries, and this region provides a wide array of opportunities for us to enjoy those activities," Smith said.
Smith is also enjoying the close camaraderie he is experiencing with the other SIU deans.
"We had everyone over for dinner recently, and it is great that we all get along and support one another. The future looks bright for our colleges and schools at SIU. I'm proud to play a part," he said.