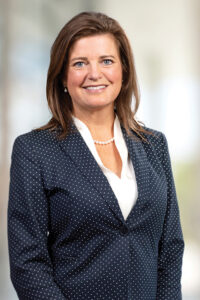 Diane Compardo is not afraid of hard work. In fact, the drive to succeed was instilled in her at an early age.
"Both of my parents grew up on farms in Illinois and they eventually owned two farms where I was raised. I was one of six children who helped tend to the livestock and various crops," she said. "I still remember waking up at 5 a.m. with my siblings to go pull weeds out of the bean fields. Growing up on a farm taught me what I wanted out of life and what I did not."
Compardo knew early on that she wanted to go to SIU.
"My dad was a first-generation Saluki who received his degree in agriculture. He loved SIU so it just felt natural that I would follow in his footsteps," she said.
When her parents dropped her off at Thompson Point, it was a defining moment in her life.
"I came from a rural area with a small town and high school nearby, and suddenly here I was in what felt like a big city. It was both scary and exhilarating as I watched my parents drive away," she said. "SIU made a big imprint in my life from that moment on."
Compardo graduated with a bachelor's degree in accounting in 1991 and went on to receive her master's degree in accounting in 1992.
The St. Louis resident's career encompasses more than two and a half decades of high-level client service and management experience. Compardo began her career with the international accounting & consulting firm Price Waterhouse (now PwC). After rising to the level of manager at PwC, she left to join Moneta which today is consistently ranked as one of the largest Registered Investment Advisory firms in the country. At Moneta, she became the first professional in Moneta's 150-year history to be promoted to the role of partner from within the firm's advisor ranks. Today, Compardo leads her own team at Moneta comprised of 30 professionals specializing in providing financial planning & wealth management services to successful families throughout the world. A nationally recognized leader, Compardo has been consistently honored as one of America's Top 100 Women Advisors by Forbes, Barron's, and The Financial Times, and is the only advisor in Missouri named to all three lists. In 2018, The Wall Street Journal featured her for successfully developing a sustainable business and developing team talent to ensure a successful outcome to succession planning. Also in 2018, Ingram's magazine named Compardo as one of "50 Missourians You Should Know."
As president-elect of the SIU Foundation, Compardo's goal is to be a passionate leader and a have big voice in reaching alumni who may have lost their connection with SIU.
"I would like to see more of our great alumni reconnect with SIU – see first-hand all the great things going on, find ways to give back, and perhaps help pay it forward to current Saluki students. It would be great to make it the university we remember when we were there," she said. "It's my hope that we continue to refocus and build on the momentum currently underway. After all, SIU gave us a great start on life and our careers, and it just makes sense for us to now lend a helping hand to students who need it."
Compardo is also a well-known role model for professional women. In 2017 she was named by InvestmentNews as one of its "Women to Watch" based on her leadership. Working Mother magazine named her to its 2017 inaugural and subsequent lists of "Top Wealth Advisor Moms."
"As my career grew, I became passionate about helping women obtain leadership roles in the financial services industry. As there are still comparatively few women role models and mentors in finance, I make it a point to mentor and coach as many women as possible in the industry to help them succeed," she said.
Compardo is a longtime SIU supporter. She and her husband, Ron Wienstroer whom she met while at SIU, established the Compardo/Wienstroer School of Accounting Endowment Fund at SIU. They are both members of the SIU College of Business & Analytics Hall of Fame, the Rehn Society, and lifelong members of the SIU Alumni Association. Compardo currently serves on the Boards for the United Way of Greater St. Louis and the Guardian Angel Settlement Association.
Compardo spends as much free time as possible with family. She enjoys reading, golfing, running, and spending time with friends. She and her husband have three children, Alex, 21, Sam, 19, and Jack, 15.