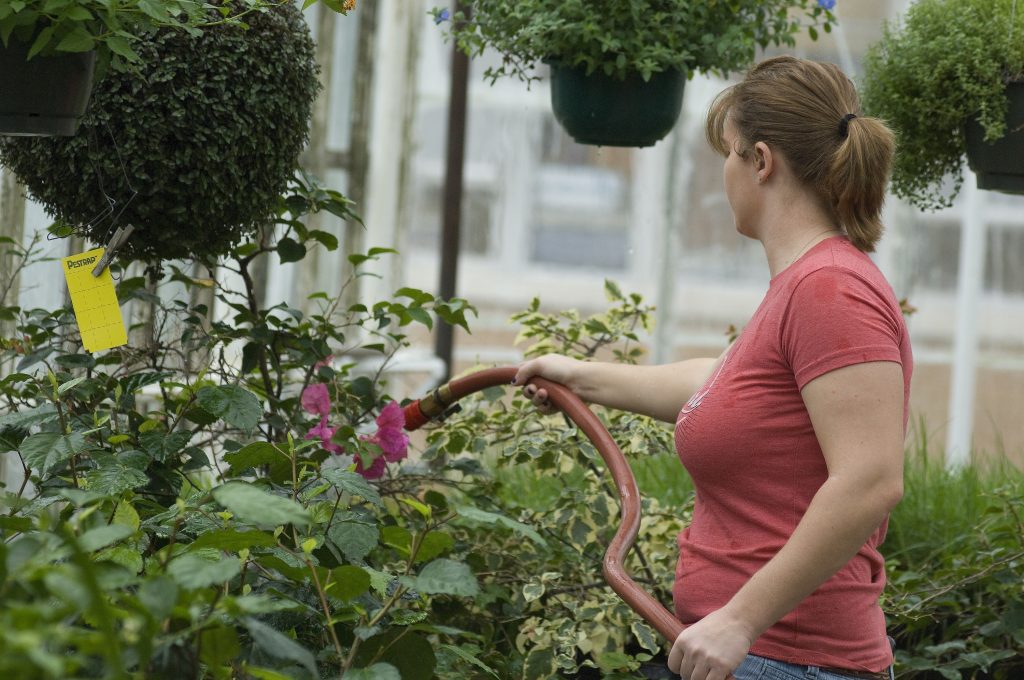 Karen Jones, chair of SIU's Department of Plant, Soil, and Agricultural Systems, knew she needed to get creative to solve the very real space issues at the University Farms greenhouse. Over the years, a separate teaching greenhouse had fallen into so much disrepair that the department had to consolidate activities in the University Farms greenhouse. This move led to extremely cramped conditions, which negatively affected teaching and research.
With no funds on the horizon, Jones realized she had to think outside the box. If the department could start to grow plants by vertically layering them above the ground, it could significantly alleviate the space issues. Because the greenhouse's footprint can only house so many plants on a horizontal plane, she recognized that using this added dimension could be the solution. To do this, she and Joe Matthews, assistant scientist in the department, concluded that growing plants in this fashion would require light emitting diodes, commonly referred to as LED lights.
"We need to enhance our research and fulfill our teaching mission, and we need to do so with creative resources," Jones says. "We believe these lights are the resource we need."
What are LED Lights?
LED lights are engineered specifically to emit photosynthetic active radiation. Scientists are using LEDs, rather than traditional high-intensity discharge lights, to expose plants to specific wavelengths that enhance nutritional values of edible crops, influence the concentration of color and foliage, and improve endurance. Such lights also would save up to 50 percent in energy costs.
Matthews says the University Farms greenhouse was remodeled in 2006 with traditional lights that typically have a lifespan of five years. Those lights are now going into their 10th year of use, so the need for new lights – as well as a way to grow vertically – is considerably real.
That's where thinking outside the box entered the picture. Jones and Rhiannon Storm, development officer for the College of Agricultural Sciences, began to brainstorm on how to raise the money for the lights. Storm knew that Matt McCoy, assistant director of annual giving for the SIU Foundation, was spearheading a first-ever effort of raising funds through "crowdfunding," so when she approached him with the LED fundraising project, they realized it would be a perfect fit for the foundation's first crowdfunding venture.
What is Crowdfunding?
Crowdfunding is a platform for student groups, researchers, teams and others to raise funds for SIU initiatives. Students, alumni and community members can make relatively small online gifts to support projects of interest that are important but may not be at the level requiring larger, major gifts.
Donations to crowdfunded projects, such as the LED lighting initiative for the University Farms greenhouse, will be deposited in the appropriate department's foundation account. The goal is $3,000, but Jones and Matthews say more funds raised will equal more lights that can be bought. LED lights are not inexpensive; costs can range from hundreds of dollars to well over $1,000 for just one light.
"We have so many needs in the College of Agricultural Sciences," Jones adds. "And we could use a win for our faculty and students. Our hope is that everyone will rally behind this effort."
This first step into the crowdfunding arena began May 1 with the LED initiative, as well as with another project that seeks $7,500 to buy precision agriculture GPS and software to enhance the teaching of students, research and sustainability goals. To view what has been raised thus far, visit https://salukifunder.siu.edu. To learn more, contact McCoy at the SIU Foundation. He can be reached at 618/453-6096 or by email at matthewm@foundation.siu.edu.