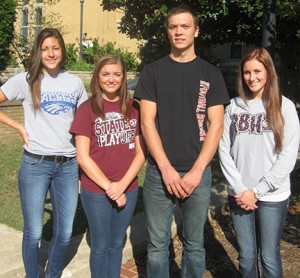 Four students who earned the Harrisonville Telephone Company/Henry W. Gentsch Memorial Scholarship are pursuing their degrees at Southern Illinois University Carbondale.
HarrisonvilleEach recipient receives a four-year, $1,000 per year scholarship. The Harrisonville Telephone Company/Henry W. Gentsch Memorial Scholars, pictured left to right, are:
Amy Rzepczynski, a freshman from Columbia, Ill., majoring in radiological sciences at SIU Carbondale. Amy is a graduate of Columbia High School.
Abby Kueker, a sophomore from Red Bud, Ill., majoring in paralegal studies at SIU Carbondale. Abby is a graduate of Red Bud Community High School.
Aaron Mueller, a junior from Waterloo, Ill., majoring in agricultural systems and education at SIU Carbondale. Aaron is a graduate of Waterloo High School.
Courtney Gregson, a senior from Red Bud, Ill., majoring in biological sciences at SIU Carbondale. Courtney is a graduate of Red Bud High School.
For more than a century, Harrisonville Telephone Company has served customers in Monroe, Randolph and St. Clair counties. Harrisonville Telephone Company provides communication services, which currently include voice, broadband, Internet and video, allowing the company to give back generously to the residents of its customer service area.
H.R. Gentsch, president and CEO, says the scholarship fund honors his late father, Henry W. Gentsch, whose telecommunications career spanned nearly 73 years. The elder Gentsch, who was born in Campbell Hill, began his tenure with Harrisonville Telephone Company in 1945 as a director. Following a 35-year career with AT&T Corp., he joined Harrisonville Telephone Company full-time in 1962, serving as president and chairman of the board until his retirement, and continued serving as a director until his death in 2000.
To qualify for this scholarship award, applicants must reside in the Harrisonville Telephone Company exchange areas of Waterloo, Columbia, Red Bud, Renault, Valmeyer, Prairie du Rocher, or Dupo, and parents or guardians of the candidates must be current and continuing land line telephone customers of Harrisonville Telephone Company. The award is focused on recognizing academic merit, school and community service, and financial need.
Students interested in applying for the Harrisonville Telephone Company/Henry W. Gentsch Memorial Scholarship, and over 1,000 other scholarship opportunities through SIU, should visit SIU's General Scholarship Application and Searchable Database found at: siu.academicworks.com