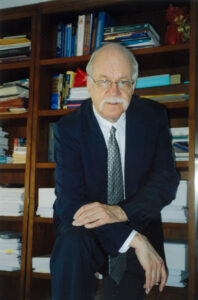 Editor's note: recap provided by Professor Sharp and his team.
Introduction:
James Franklin Sharp grew up in Chester Illinois, and now lives and works in New York City.
He was a 1954 graduate of Chester High School and then completed in 1956 the two-year Pre-Engineering Program at Southern Illinois University in Carbondale (before SIU had a four-year Engineering Program). He had a great time at SIU. He lived in Doyle Dorm, which was in the back of the Baptist Foundation Building. Doyle Dorm was conveniently located near the compact SIU campus at that time when SIU only had about 4,000 students. He liked the small class sizes and had mainly senior professors, including the Head of Mathematics, Head of Physics, and Head of Economics. He participated in 7 intramural sports: football, corkball, volleyball, basketball, softball, badminton, and horseshoes for Doyle Dorm. He enjoyed being a member of Theta Xi Fraternity, which hosted the very popular annual Theta Xi Variety Show.
Professor Sharp is pleased to be able to give back to SIU with a $1,000,000 donation and is grateful to have the SHARP MUSEUM named after him. He returned to SIU 2023 Homecoming Week from Wednesday, October 18 to Sunday, October 22 for five days of special events celebrating the dedication of the SHARP MUSEUM.
Day 1. Wednesday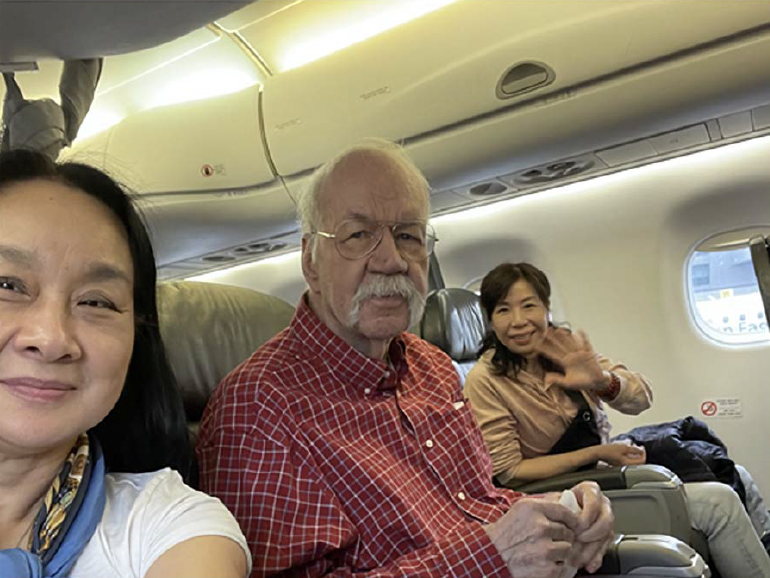 Wednesday Professor Sharp took an American Airlines flight from New York to St. Louis Air­port. He was accompanied by his Business Manager, Melissa Marks, and Assistant, Linda Li. At the St. Louis Airport, they were picked up by SIU Dean of Library Affairs (including SHARP MUSEUM) John Pollitz, and his Direc­tor of Development, Kevin Clark.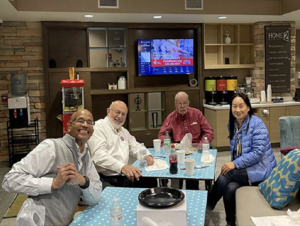 There was a 2-hour drive in an SIU van to the Hilton Suites Hotel in Carbondale, Illinois. They ordered takeout food and had a small wel­come dinner in the lobby of the hotel. They were soon joined by Professor Sharp's sister, Rosanna Sharp Myers, and her daughter, Stephanie Myers Smith, who drove down from the St. Louis Airport, after a flight from Atlanta.
Day 2. Thursday Morning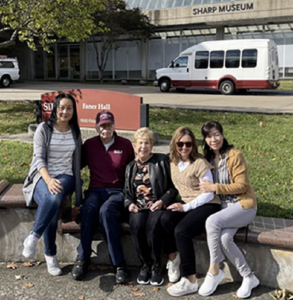 Thursday morning Professor Sharp, Melissa, Linda, Rosanna, and Stephanie toured the SHARP MUSEUM.
Plaques for Professor James Franklin Sharp, and Rosanna Sharp Myers, are being installed inside the SHARP MUSEUM.
SHARP MUSEUM has a Fine and Decorative Arts Collection, with more than 4,000 items. That includes regional historical and contempo­rary ethnic and folk art.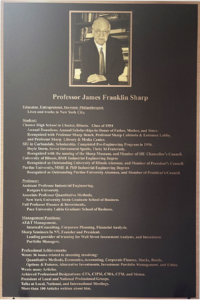 SHARP MUSEUM has a Science Collection that includes more than 26,000 geological specimens and a collection of early 20th-century medical and dental items.
SHARP MUSEUM has a Humanities Collection with more than 22,000 items, including a historic collection of Southern Illinois and general American history. The Rosanna Sharp Myers Southern Illinois Gallery is named after Professor Sharp's sister. One large painting shows Lincoln & Douglas at their debate in Jonesboro, Illinois.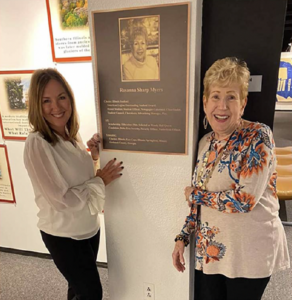 After touring the SHARP MUSEUM, the Sharp Group looked at some of the nearby SIU Campus. Professor Sharp liked to see the old Doyle Dorm, where he lived at SIU, which is next to the SHARP MUSEUM. They all admired the Three Salukis Statue, across the street from the old Doyle Dorm, with the popular SIU symbol, Pulliam Hall, in the background.
Rosanna and Stephanie went inside nearby Woody Hall, where Rosanna first lived at SIU. Then Kevin Clark drove the group to see the Buckminster Fuller Dome House.
The group had Quarto's famous deep-pan pizza for lunch.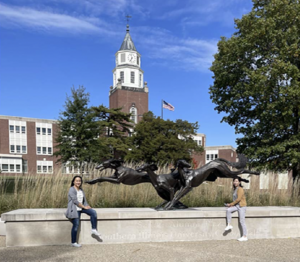 Day 2. Thursday Evening
Thursday evening there was a SIU Foundation Board Dinner, that honored Professor Sharp. SIU Marching Band, SIU Cheerleaders, and SIU Saluki Dog Mascot participated. Matt Kupec, CEO of the SIU Foundation, was the moderator. Matt, SIU President Daniel Mahony, and SIU Chancellor Austin Lane made remarks praising Professor Sharp.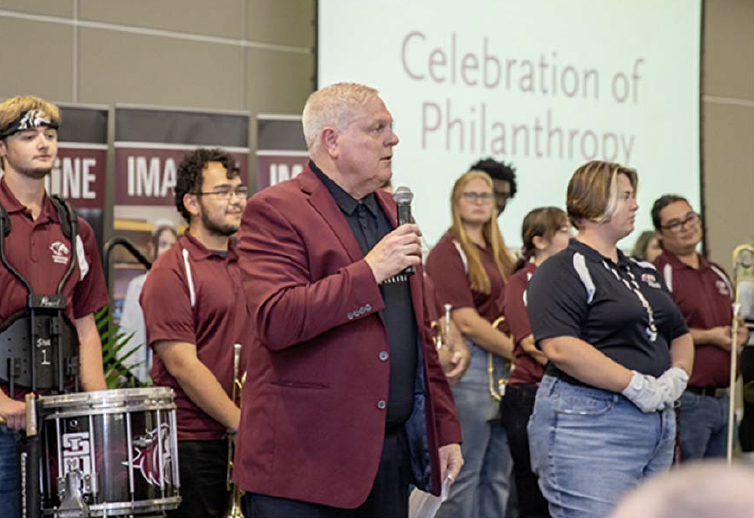 Day 3. Friday
Sharp Group had Brunch at the famous Mary Lou's Grill, including having their very popular Biscuits & Gravy.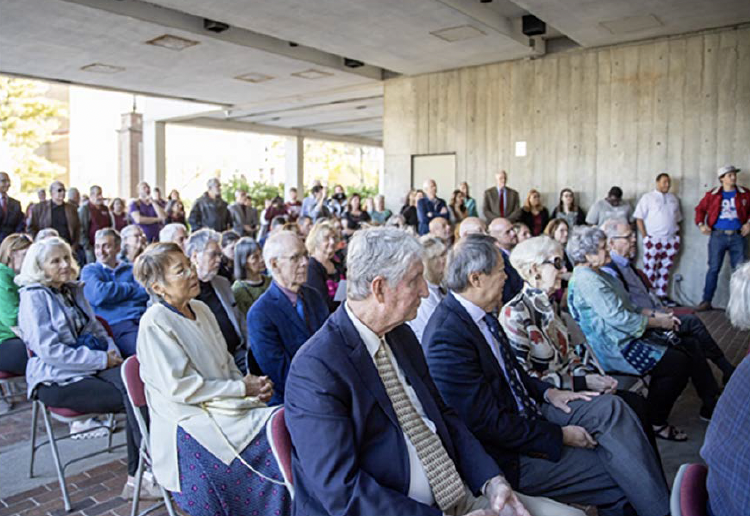 The dedication Ceremony for the SHARP MUSEUM was Friday afternoon. There was a larger-than-expected attendance at the Dedication Ceremony, with a large standing-room-only number of people.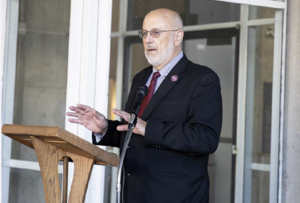 Dean John Pollitz was the moderator and made remarks praising Professor Sharp. SIU President Daniel Mahony and SIU Chancellor Austin Lane also made remarks praising Professor Sharp.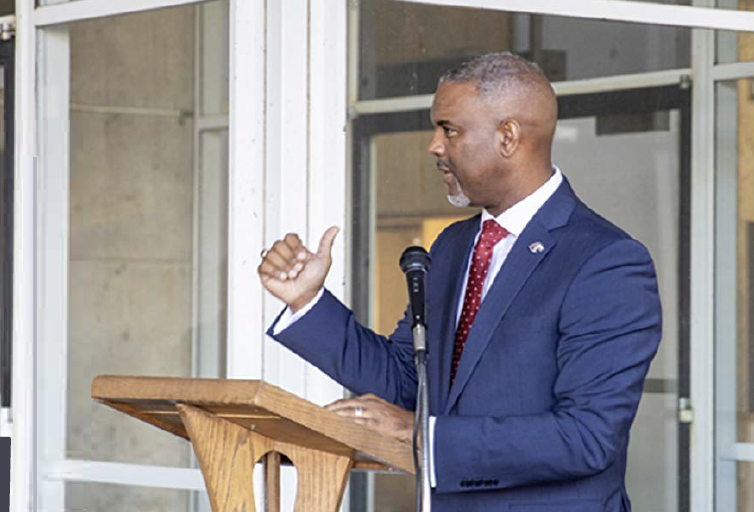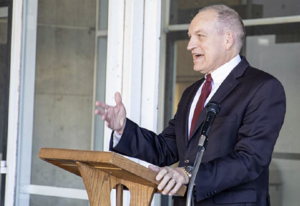 Professor Sharp thanked Dean Pollitz, President Mahony, and Chancellor Lane. He then recognized the SHARP MUSEUM Curators: Wes Stoerger and Susannah Munson. Also, Chester High School Superintendent Mrs. Kimberly Briggs, Chester High School Principal Jeremy Blechle, former Doyle Dorm Roommate Roger Chitty, and Theta Xi Alumni who were present, were recognized.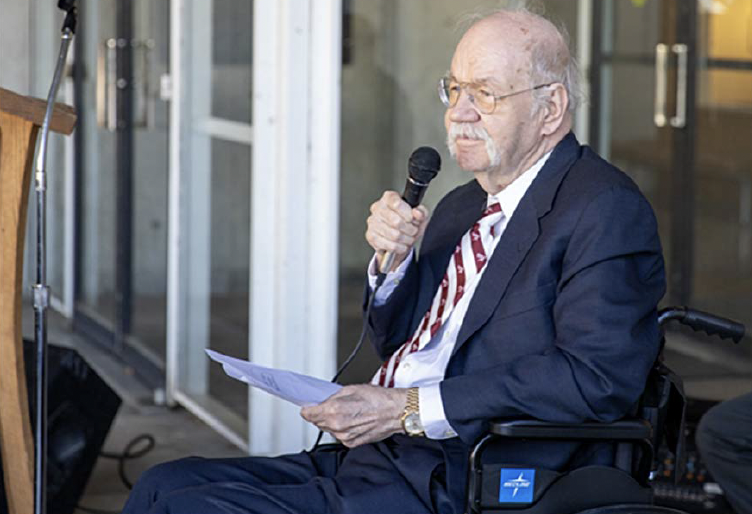 Friday evening there was a Dedication Dinner at the well-known Giant City Lodge Restaurant. Dean Pollitz again was the moderator. At the Dedication Dinner, Alumni of Beta Delta Chapter of Theta Xi Fraternity at SIU, represented by Scott Shelton, Julian Pei, and Scott Nordentoff honored Professor Sharp with a Plaque stating "In Recognition of Outstanding Service and Dedication."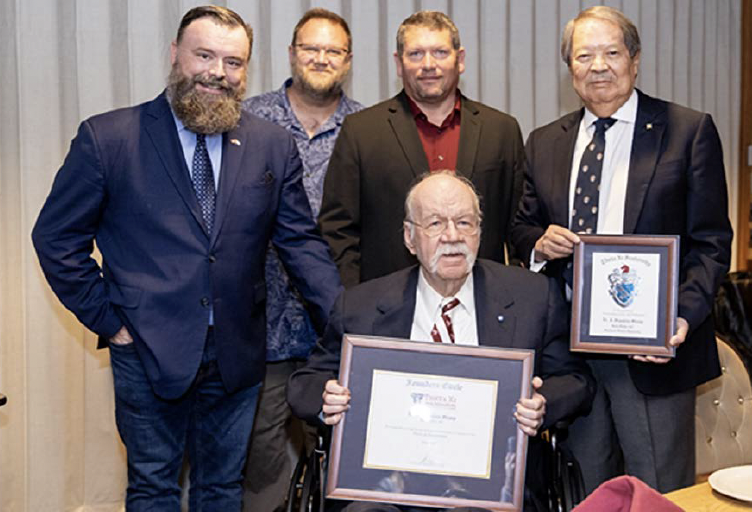 Also, Shawn Monsen, Theta Xi Fraternity Na­tional Director of Alumni Engagement traveled from Theta Xi Headquarters in Atlanta to honor Professor Sharp. He presented him with a Theta Xi Founders Circle Award Plaque and Rosette Lapel Pin.
Day 4. Saturday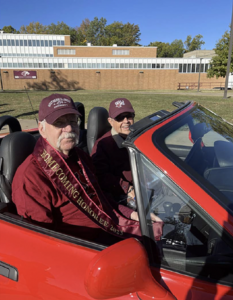 SIU Homecoming Parade was on Saturday morning. Professor Sharp was an Honoree, riding in a classic BMD red convertible. Rosanna Sharp Myers also was in a red convertible, accompa­nied by her daughter Stephanie Myers Smith.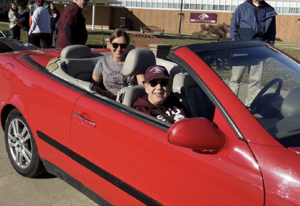 SIU Homecoming Football Game was Saturday afternoon in Saluki Stadium. There was a fly­over by a U.S. Air Force Plane just before the kickoff. Sharp Group was invited to watch the game from a luxury suite in Saluki Stadium. They had a great buffet lunch before and during the game. There was an excellent view of the football game and the halftime show by the SIU Marching Band.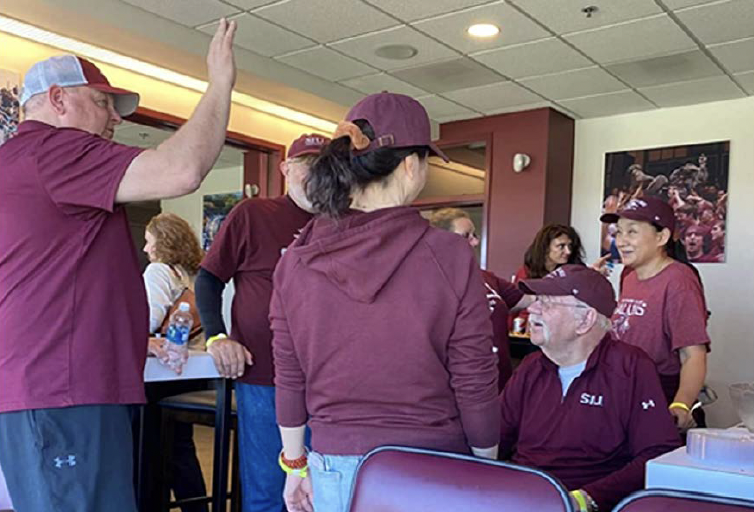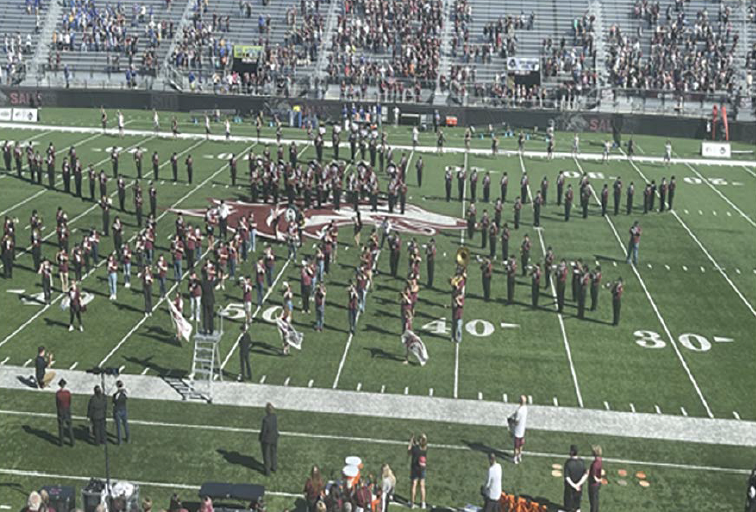 Saturday evening there was a Farewell Dinner at the 20's Hideout Steakhouse in Marion.
Day 5. Sunday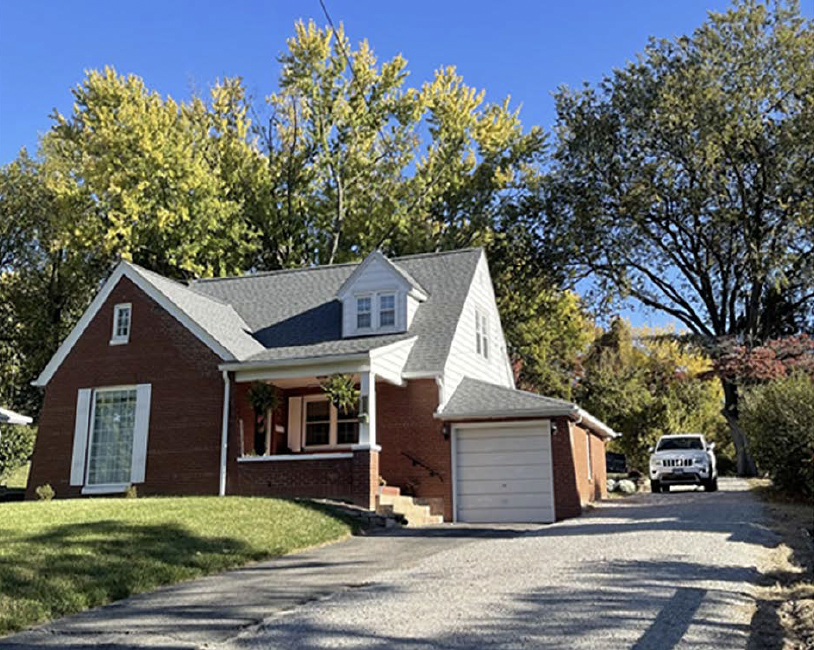 Sunday morning Rosanna and Stephanie drove their rental car back to the St. Louis airport to catch their flight back to Atlanta.
Dean John Pollitz and Kevin Clark drove Professor Sharp, Melissa, and Linda back to the St. Louis airport to catch their flight back to New York. They took Route 3 through Chester. They drove by the Sharp Home in Chester, where Professor Sharp and Rosanna grew up. They also stopped at Chester High School, where they sat on the Professor Sharp Bench, in front of the entrances to the Sharp Cafeteria, which also led to the Sharp Library & Media Center.