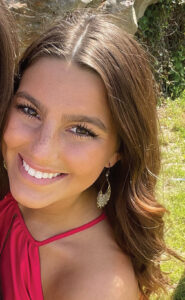 Last year, Wayne Braden established a scholarship and made a generous planned gift commitment to honor his parents, Don and Edith Braden, who were from rural southeastern Illinois. The scholarship is awarded to a student who graduated from Thompsonville High School or Hamilton County High School in Illinois.
This year, Anna Miller from McLeansboro was the recipient of the Braden scholarship. She and Wayne recently had a telephone conversation about the scholarship. It was then that Braden learned about the connection between Miller's great grandmother and Braden's grandmother.
"My grandmother, Ellen Lager, was very good friends with Anna Miller's great grandmother, Susie McFarland. My grandmother was a widow and she and her children lived on a farm three miles from Thompsonville, Illinois," said Braden. "Whenever Susie McFarland had to go into town, she would pick my grandmother up in her car to go shopping with her. They were very close to one another during those hard years. Learning that Anna Miller's family and mine were connected made this scholarship award even more touching for me and my family," said Braden.
Upon graduation from high school, Miller found herself in a similar situation as Wayne Braden's father.
"Like my father, she did not have the funds to go to college. It is extremely rewarding to lend a hand to a young person like her to help her achieve her dreams. Her great grandmother showed great kindness to my grandmother and this scholarship is helping to pay it forward for me," said Braden.
Miller is appreciative of the financial help she received from Braden.
"I am very thankful for the Braden scholarship because it has helped stabilize my finances over the course of the semester. By creating scholarships, donors make a tremendous impact on the lives of students like me. Scholarships and financial aid have allowed me to attend college without any student loans. Therefore, I will have a fresh start when I graduate," said Miller.
Wayne said he has donated to charitable organizations much of his adult life and has been involved with the Salvation Army for several years.
"Charitable gifts are wonderful, and everyone should give back," he said. "This scholarship in honor of my parents means so much more than just giving to an organization. Realizing I was helping a young woman accomplish a very important goal feels deeply satisfying."
Wayne Braden currently lives in Portland, Oregon, and his sister, Judy Braden Armstrong who also helped establish the scholarship, resides in Maryville, Michigan.