SIU touts many successes including a 46% increase in freshman class enrollment over the past five years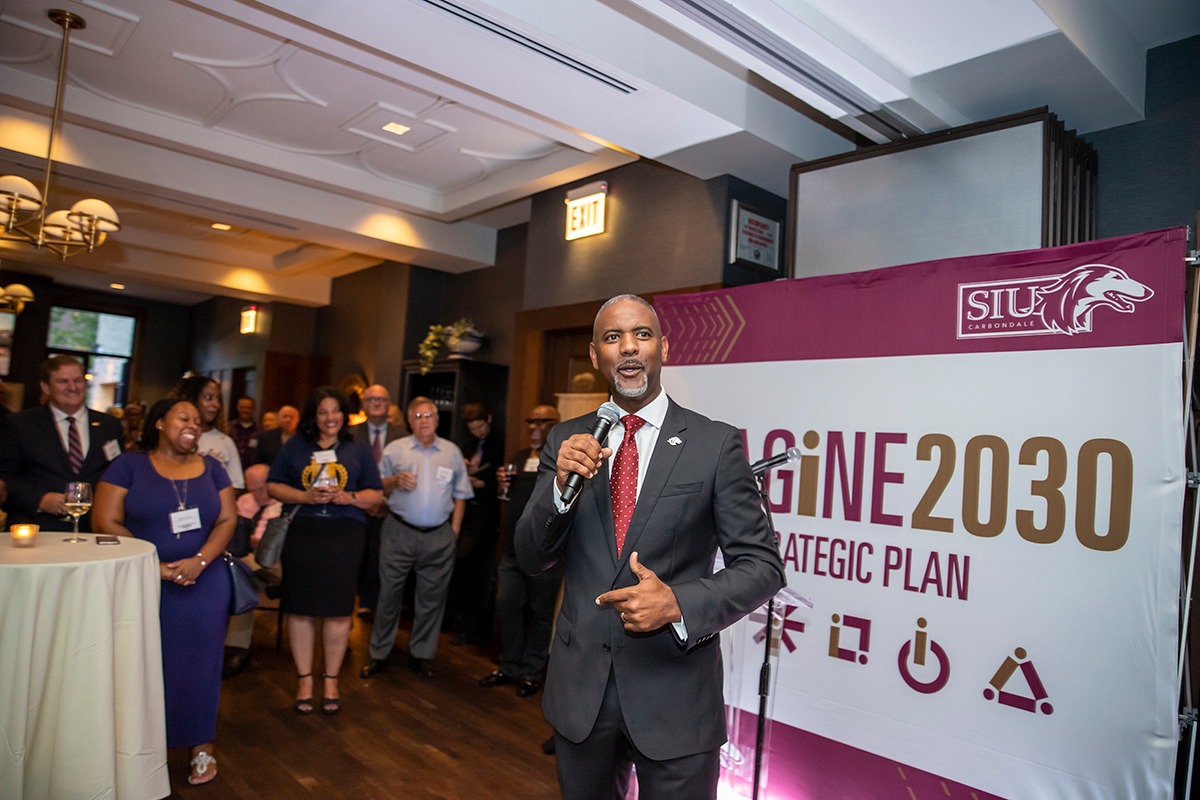 By Jeff Wilson
For the second straight year, the Saluki Takeover Tour brought SIU alumni, friends, faculty, and staff together all over the Windy City.
Hosted by Chancellor Austin A. Lane and the SIU Foundation, the takeover tour featured 16 school visits, seven receptions, a posthumous degree presentation, and the Alumni Association tailgate and Saluki Football game at Northwestern.
The kickoff event was the Chancellor's Reception on Thursday, Sept. 15, at the Chicago Firehouse Restaurant. Chancellor Lane touted the impact of the Imagine 2030 strategic plan and encouraging enrollment trends.
"There's a lot of history of Salukis in Chicago," said Chancellor Lane. "Our goal is to have 15,000 students by 2030, and Chicago is going to play a major role in that plan."
President Dan Mahony echoed the chancellor's message about enrollment.
"I'm here to tell you our freshmen enrollment is up 46 percent over the past five years, which is one of the best numbers in the country," he said.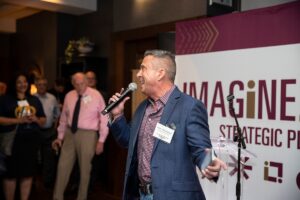 Marc Silverman, an SIU alumnus and host of "Waddle & Silvy" on ESPN Chicago 1000 AM, opened the night by telling the hundreds of alumni and guests to let their Saluki spirit shine.
"Embrace our students. Embrace the region. Embrace it all," he said. "Tell your friends about SIU. Let's make sure it's not the best-kept secret."
Honoring a Saluki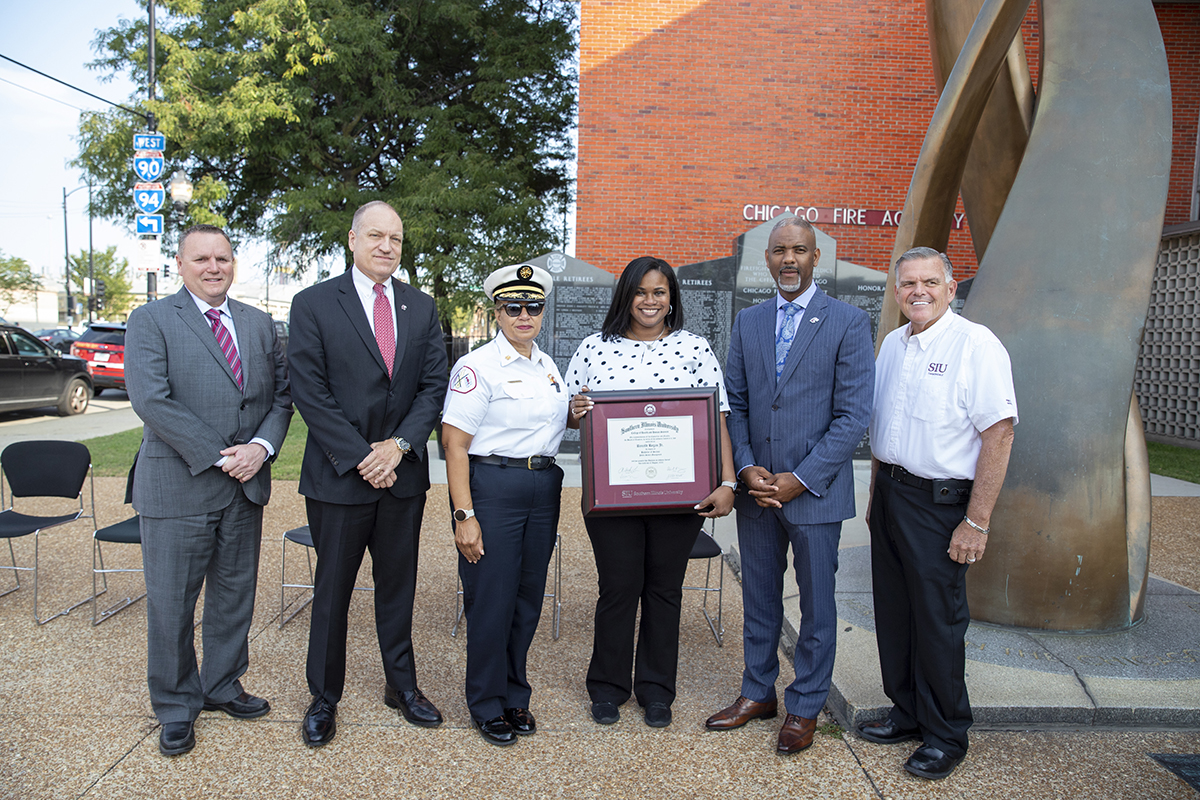 Chicago Fire Department Capt. Ronald Regan Jr. was honored with a posthumous bachelor's degree in public safety management during a ceremony Friday, Sept. 16, at the Chicago Fire Academy.
Regan passed away Dec. 19, 2021, at the age of 58 after a bout with COVID-19. He was just one semester away from earning his degree.
"Ron was not just a firefighter or captain, he was a friend," Fire Commissioner Annette Nance-Holt said. "He did so much for everybody else. He never thought about himself."
Chancellor Lane, President Mahony, and College of Health and Human Sciences Dean Robert Morgan presented the diploma.
"Faculty members who knew Ron say he was very outgoing and full of life," Chancellor Lane said. "We hope this diploma will provide his family and friends with a measure of comfort."
Recognizing diversity
On Friday afternoon, a sold-out crowd filled the dining room at the Residence Inn in downtown Chicago for the Anti-racism, Diversity, Equity, and Inclusion luncheon.
Dr. Paul Frazier, the vice chancellor for anti-racism, diversity, equity, and inclusion, honored 10 SIU alumni with Ascension Awards, which recognize alumni who have demonstrated a commitment to leadership and service at SIU.
"We're honoring these incredible Salukis for their contributions to SIU and society," he said.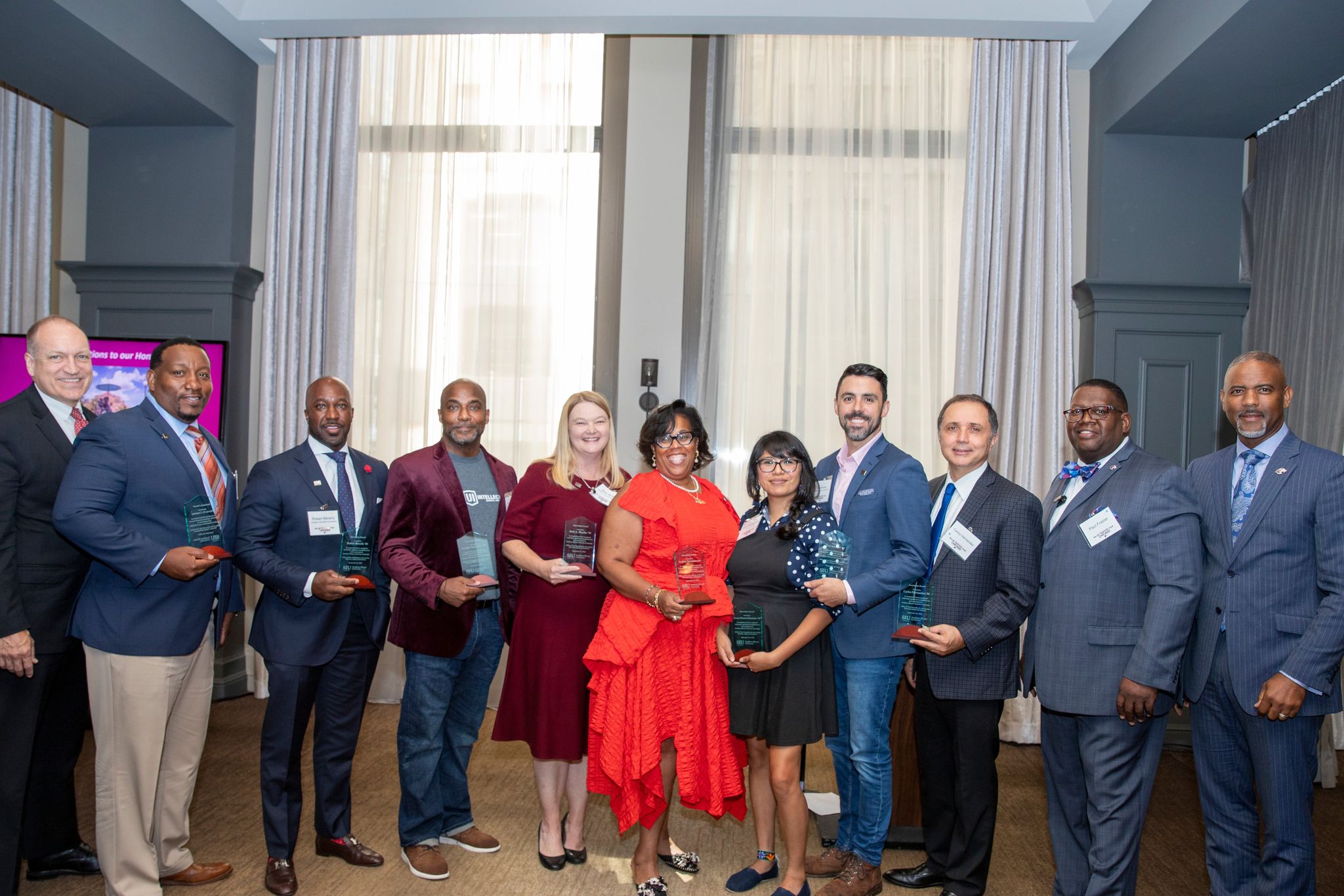 Each award winner made brief remarks:
Eric Alvarez – "After serving in the military, SIU welcomed me with wide open arms. I plan to give back in a big way."
Robert Beverly – "I felt like SIU took a chance on me. I'm encouraged to recommit to the university."
Andrea Brookins – "Family is everything. You all bring out the best in me. We look forward to the future."
Juana Duran Charicata – "I thank SIU for opening the doors for immigrants, including those who are undocumented. I am thankful for the warmth and care that SIU gives."
Pervis Conway – "I can honestly say my support structure from SIU is still touching me today."
Carlos Hernandez – "We must ensure people of color and those from poor backgrounds have access to higher learning."
Beth Mueller – "Me and my employer, Deloitte, are passionate about DEI initiatives. The numbers in accounting don't reflect society. That's what has spurred this call to action."
Freddie Taylor, Jr. – "Thanks to SIU for believing in a little Black boy from the ghetto. I'm a Saluki through and through."
Brothers Everett and Timothy Rand were also honored but were unable to attend.
Enhancing opportunity
Chancellor Lane, President Mahony, Vice Chancellor for Enrollment Management Wendell Williams, and other SIU Admissions representatives visited multiple high schools and community colleges.
The university signed agreements with Prairie State College and the College of DuPage, making it easier for students from those schools to enroll at SIU.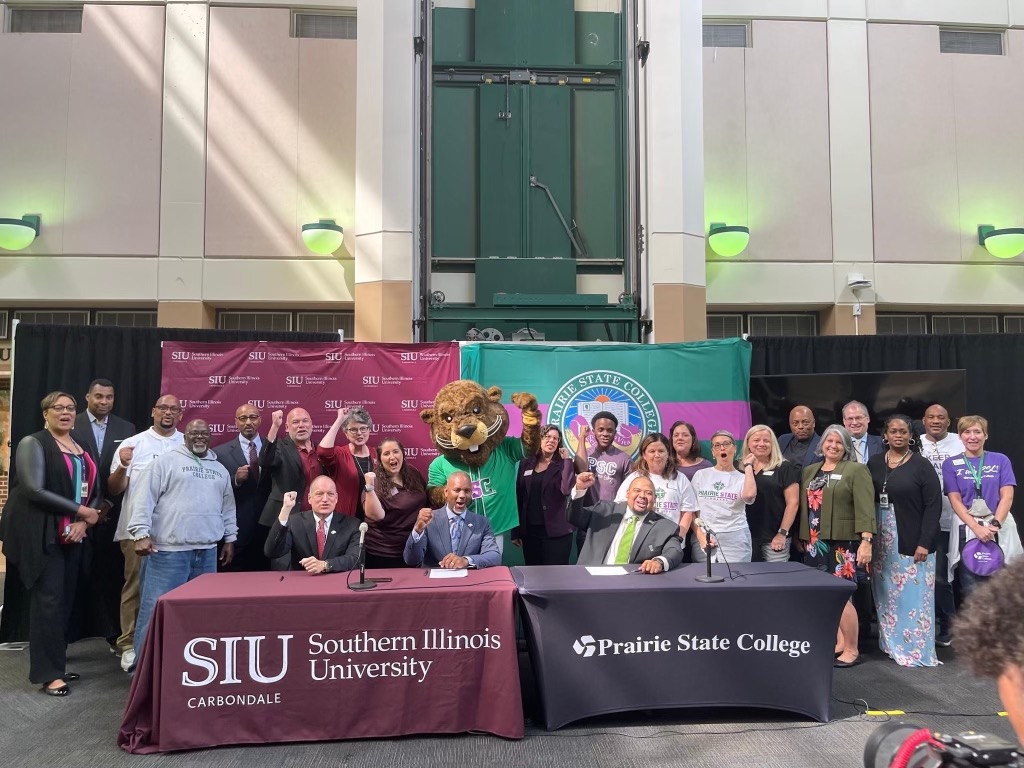 There were also visits to multiple high schools, which included three schools involved in the Hope Chicago program, which provides opportunities for students from underserved communities.
Tiny Tapp Takeover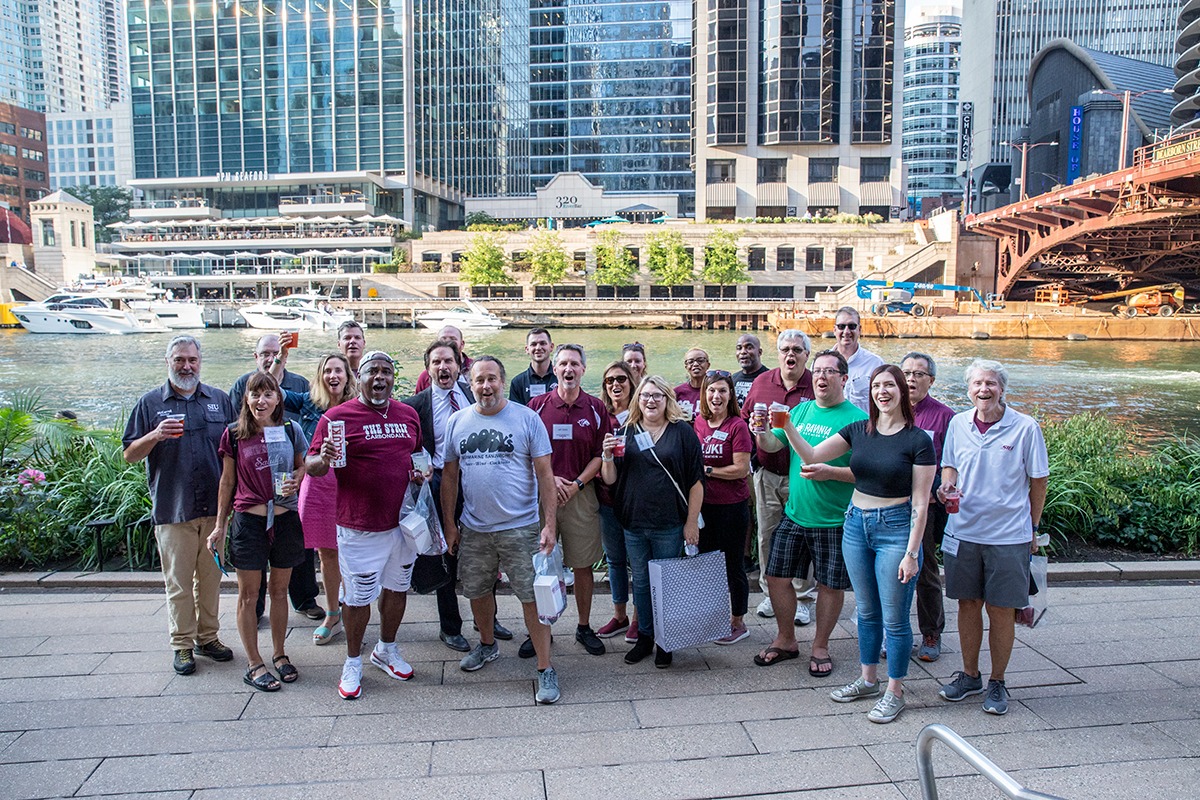 The SIU Alumni Association and members of the Carbondale in the '80s and '90s Facebook group hosted an event on the Chicago Riverwalk at Tiny Tapp & Café. The beer of choice, Salukitoberfest, was brewed by students in SIU's Fermentation Science Institute (FSI) through its partnership with Ravinia Brewing Co.
"This is really exciting," Matt McCarroll, director of the FSI, said. "This beer is just the first of many we'll be producing with Ravinia."
Dunbar Leadership Society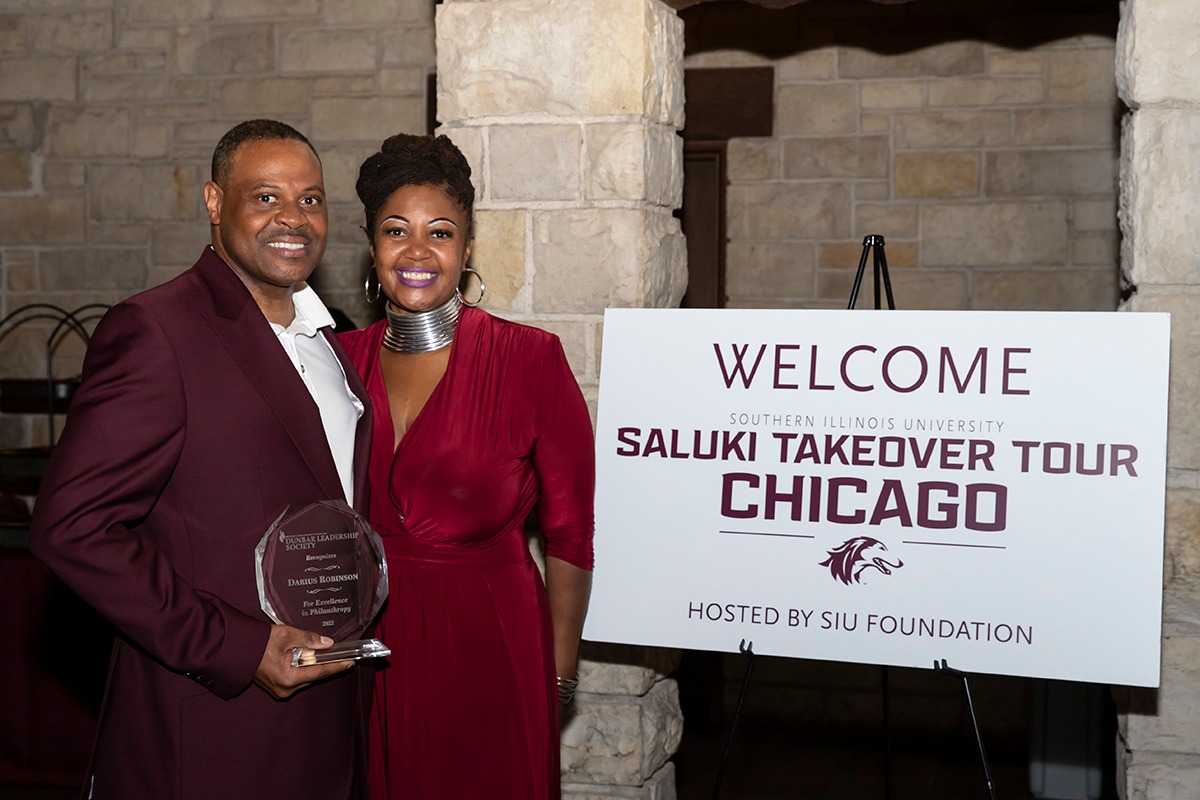 Later Friday evening, dozens of alumni and friends gathered at the Promontory Fieldhouse for the Dunbar Leadership Society reception. The society is hoping to reinvigorate SIU's diverse alumni and create opportunities for current and future Salukis. Its plan is to raise scholarship funds and host events that resonate with members of a multicultural campus.
"With our improved freshmen enrollment, the No. 1 category to see an increase was African-American students, and they are largely from Chicago," Chancellor Lane said.
Kennard Tucker, chair of the Dunbar Leadership Society, and Sherrica Hunt, director of development at the SIU Foundation, spoke about the importance of philanthropy as it pertains to supporting diversity initiatives.
Alumnus Darius Robinson was honored during the event. The East St. Louis native is the operations manager at Menzies Aviation. He received a bachelor's degree in industrial technology and manufacturing systems in 1995.
Alumni Tailgate & Saluki Football at Northwestern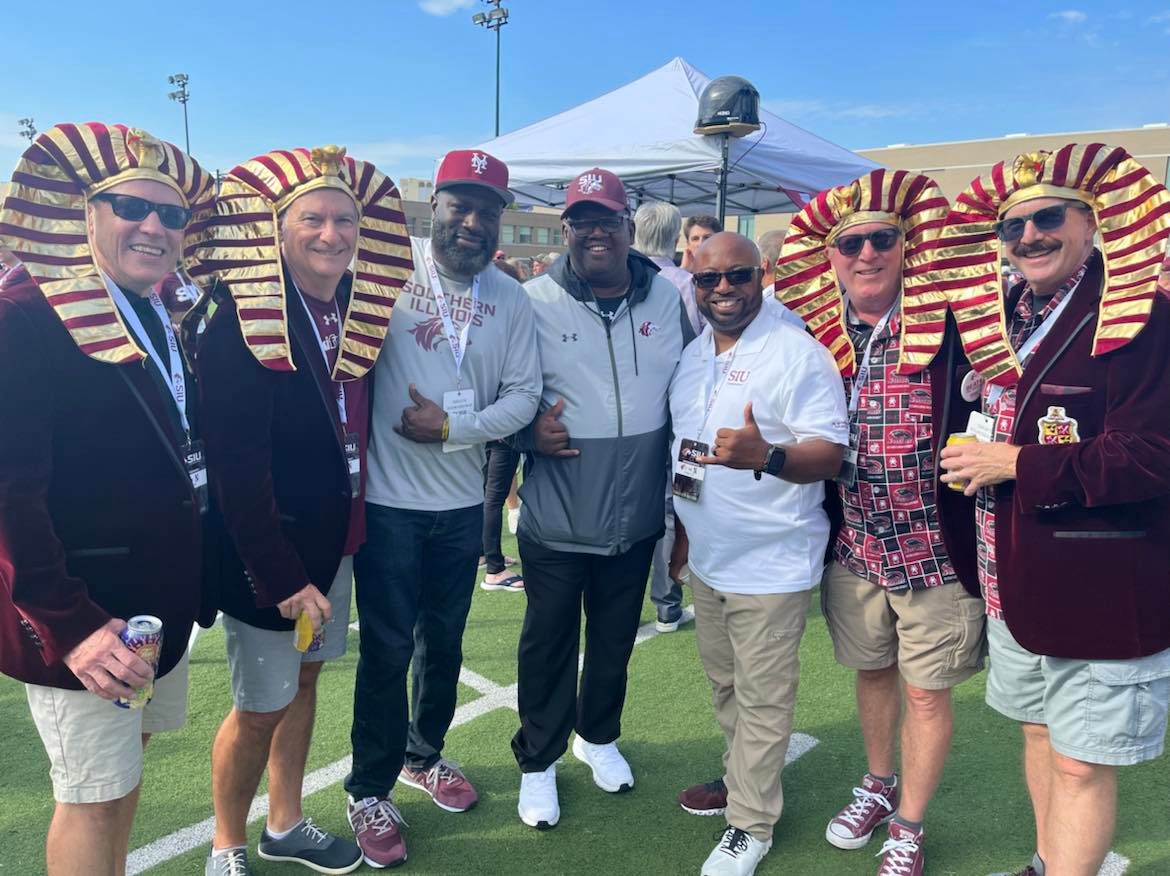 Hundreds of Salukis made the trip even further upstate to Evanston to take part in the Alumni Association tailgate before SIU's football game against Northwestern.
"We had such a great crowd. It was a great weekend in Chicago for the takeover tour," said Jeff Gleim, executive director of the Alumni Association. "We couldn't be any happier with the turnout for all of the events."
Little did the high-spirited crowd know what was in store when the game began.
The Saluki Takeover Tour was capped with a historic, 31-24, win for SIU Football against Northwestern. The Dawgs earned their first win of the 2022 season with their second-ever win against a Big Ten opponent.
"We had a daunting task, staring 0-3 in the face if we don't beat a Big Ten school," said head coach Nick Hill. "Man, they battled. It was fun to watch the competitiveness, the competitive spirit."
It was the perfect exclamation point to an exciting, engaging weekend for hundreds of Salukis and friends.
More to come
The Saluki Takeover Tour may soon come to a city or area near you, including Southern Illinois. Follow the SIU Foundation on social media and visit www.siuf.org to stay up to date as things are announced.
See the full photo albums on the SIU Foundation Facebook page.
Engage with us on LinkedIn, Facebook, Twitter and Instagram.