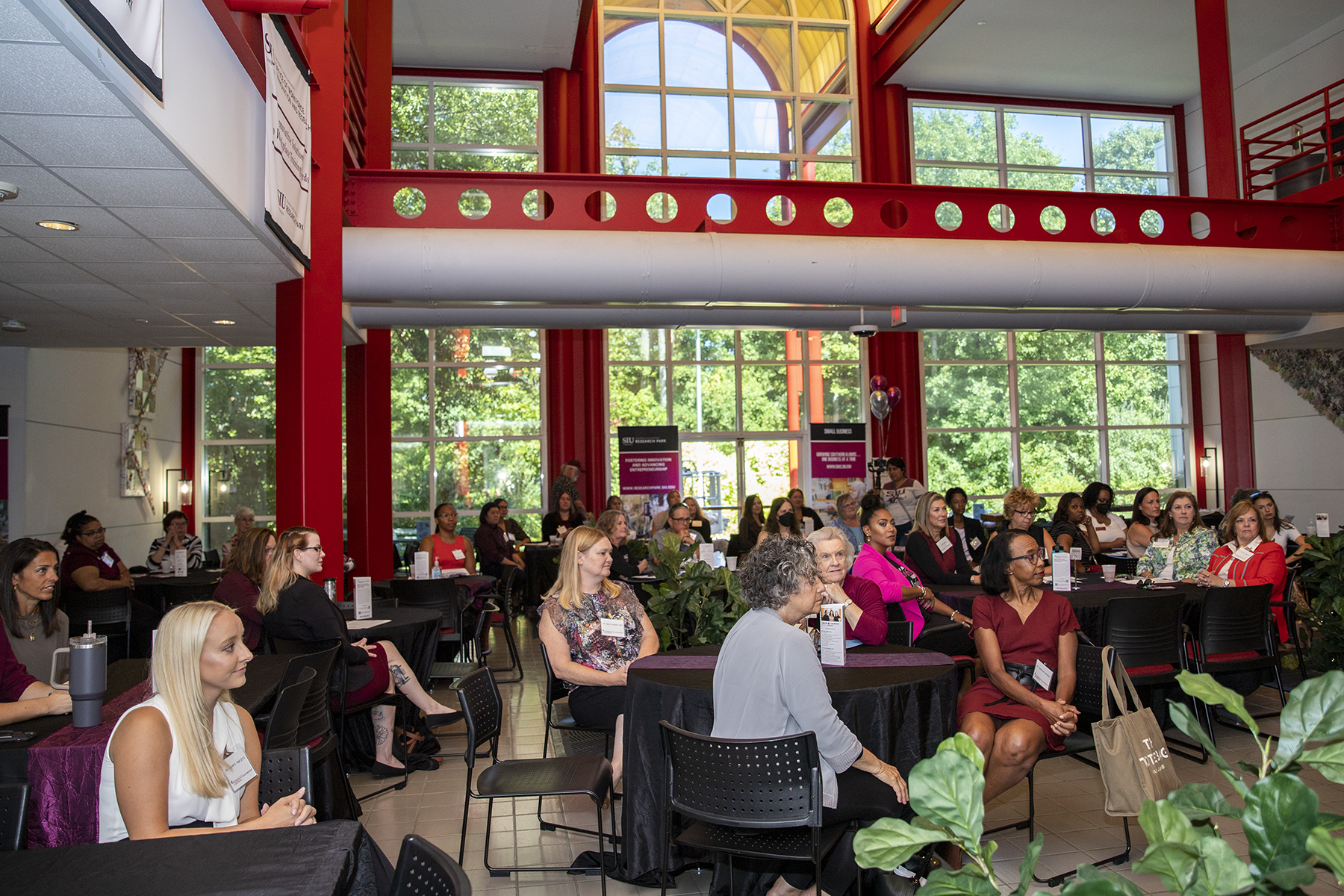 The inaugural Saluki Women's Weekend celebrated the empowerment and continued advancement of women in education, athletics, and philanthropy.
Hosted by the SIU Foundation Women's Leadership Council and Saluki Athletics, the two-day affair featured multiple events and many of SIU's most inspiring women.
Starting on Friday, Sept. 9, with the Women in Philanthropy Luncheon at the Dunn-Richmond Economic Development Center, nearly 100 women gathered for an afternoon of engaging events.
The Women's Leadership Council is a network of alumnae, parents, and friends who are committed to creating a culture of women-driven philanthropy at SIU and mentoring future generations of Salukis.
"Our mission is to build a powerful and diverse network of female philanthropists to support mentorships, scholarships, and gender-focused grants campuswide," said Loren Lane, wife of Chancellor Austin Lane, in a video address at the beginning of the luncheon.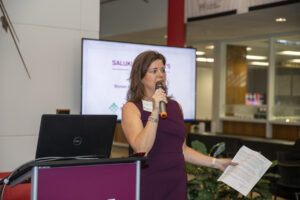 Among the opening speakers was Diane Compardo, whose employer Moneta Group, presented the luncheon.
"We have underestimated the power of our philanthropic capital," said Compardo, who is a member of the WLC board. "It's not just about money. We must share our voices, talents, time, and wisdom."
The power of Title IX
The weekend's events partially centered around the 50th anniversary of Title IX. Enacted as part of the Education Amendments of 1972, Title IX prohibits sex-based discrimination in any school or other educational program that receives federal funding.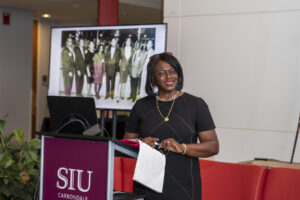 The keynote speaker for the luncheon was Dr. Linda Baker, who held key managerial positions under three Illinois governors, including secretary of the Department of Human Services, before coming to the Paul Simon Public Policy Institute in 2003. Dr. Baker now focuses on expanding access to high-quality health care and helping minorities and people with disabilities realize their full potential.
"The impact of Title IX is all around us," she said. "From the classroom to the boardroom to the halls of Congress, we can see it. I believe in the power of women. We have a responsibility to make a difference."
Southern Illinois Healthcare hosted the Saluki Women's Reception on Friday evening, during which Dr. Charlotte West was named the Saluki Woman of the Year. Dr. West retired as SIU's associate athletics director in 1998 after serving 42 years as a faculty member, coach, and administrator. The Saluki Hall of Famer is considered a pioneer of Title IX, which she exemplified during her time with Saluki Athletics.
Marsha Ryan, MD/JD, and Lolita Mack were also honored. Ryan was honored with the Saluki Women's Trailblazer Award, and Mack received the Saluki Women's Emerging Leader Award.
Engaging with Saluki women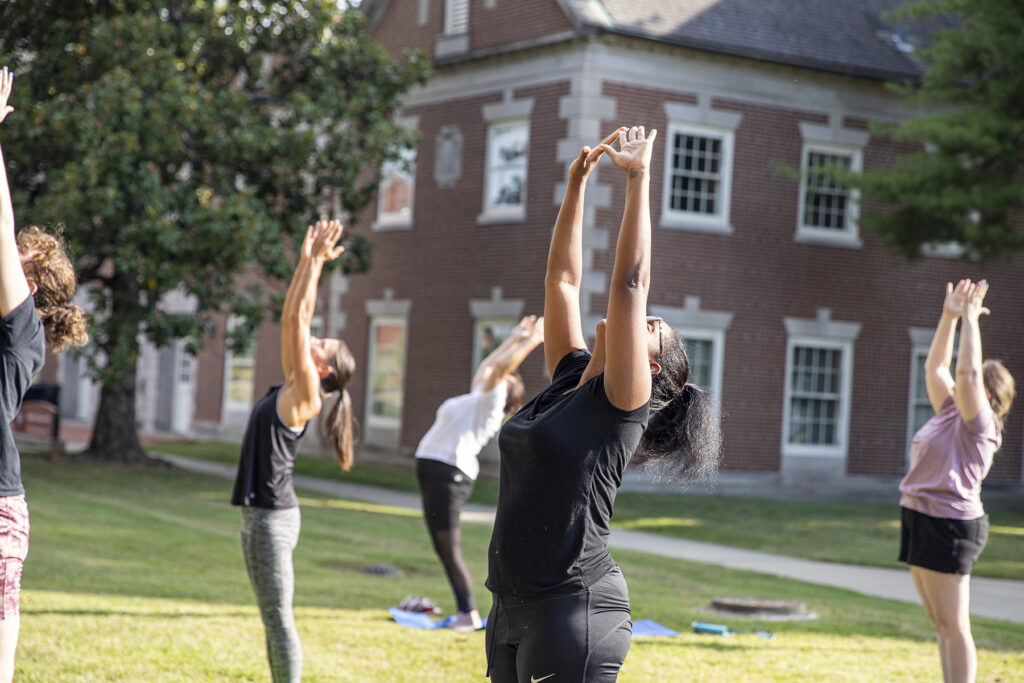 Over a dozen women brought their mats to the lawn of Davies Gym on Saturday morning to participate in Yoga on the Lawn. Melissa Hahn, a WLC board member, led participants in the hour-long session.
"It was a great workout and a nice way to meet new people," said Dr. Kelly Higgins, who is also a WLC board member, said after the session.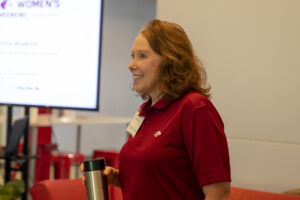 Later Saturday morning, Dawn Korte kicked off the Mentorship Brunch at Dunn-Richmond Center. The Mentorship Program was established by the WLC as a priority to facilitate the connection of students with successful women mentors. Its priorities include aligning classroom learning with real-life experiences, developing leadership skills, providing networking, and creating lifelong ties to each other and SIU.
Korte, who serves on the WLC board and hosted the event along with fellow board members Dr. Ryan and Julie Staley, said the initial goal was to have eight mentees for the year, but they are mentoring 17 young Saluki women.
"Every time I talk to one of my mentees, I learn something new," said Korte. "I also get a deeper appreciation for the value they have to offer. It provides us with an opportunity to reflect on progress we have made in our careers, polish our leadership skills, and create authentic relationships that we would not otherwise have."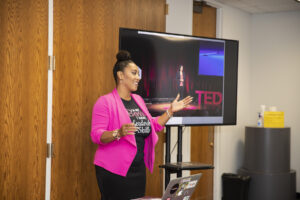 Tammera L. Holmes, CEO of Aerostar Aviation attended the event. A 2000 graduate of SIU's School of Aviation, Holmes said the Saluki Women's Weekend provides a refreshing way to look at the progress SIU has made in gender equity.
"Seeing so many accomplished women come together is inspiring," she said. "One of my professional goals is to create resources for my aviation program, and this weekend I have connected to so many people and have come away with valuable information and ideas."
Other hosts for various events were SIU Credit Union, HireLevel, First Mid Bank & Trust, Walker's Bluff, Walmart Marion Supercenter #216, Rendleman Orchards, Marion Sam's Club No. 8180, and Panera Bread in Carbondale.