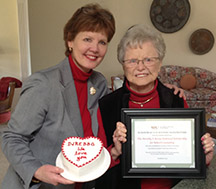 Dorothy J. (D.J.) Ramp's family knows first-hand how much she values higher education. She and her late husband, Wayne, were staunch supporters of their children and grandchildren as they pursued advanced degrees.
So on Valentine's Day in February, family members knew exactly how to pay homage to Dorothy. Her family pooled their resources together to establish the Dorothy J. Ramp Endowed Scholarship for School Counseling through the SIU Foundation to reward SIU students pursuing careers in this field of study.
Dorothy, who received a master's in Counseling from SIU in 1959, served as an academic advisor at the University and is a former elementary education teacher.
"I was trying to figure out a way to financially support students pursuing a master's in School Counseling. But before I got it figured out, my family established this scholarship in my name on Valentine's Day – it was a total surprise," Dorothy says. "I know this award will be presented to a worthy SIU counseling student and I am thrilled to support that mission."
Dorothy, 90, says her devotion to education dates back to her upbringing. She benefited from a supportive environment and aspired to provide the same to her children and grandchildren, in addition to SIU students she encountered.
"Many children need counseling at a young age. I want them to have well-trained professionals helping them," she says. "Young people endure bullying and other challenges in today's world. Therefore, I believe supporting counselor education is important because good counselors in the schools can affect children and their families for years to come."
Dorothy's daughter, Susan (Ramp) Ridout, a professor at Indiana University Southeast in New Albany, Ind., sees her mom on a daily basis. She says family members were aware of her mother's desire to financially support SIU's Counseling students. Susan says she and her brothers, their spouses, and Dorothy's grandchildren contributed funds to establish the endowment.
The family ordered a cake with writing indicating the name of the endowment, and presented a certificate to their mother/grandmother as their Valentine's Day surprise.
"Mom was touched. We couldn't have done anything better," she says. "All of us are going to continue honoring her at different points by making additional gifts to the endowment. And now that the scholarship is established, Mom has made contributions, as well."
Susan refers to her parents as "great proponents of education." She and her brothers, Stephen and David, each have advanced degrees, and all of the grandchildren have followed suit by attending college and completing requirements for bachelor's degrees. Some of the grandchildren have advanced degrees, as well.

"Mom and Dad were instrumental in each of us realizing the importance of education. They also believed in reaching out and supporting others in some fashion. Scholarships honor what young people are accomplishing," Susan says. "We're all thrilled that this has come to fruition and look forward to seeing which deserving student receives the award this spring."
Susan says her father, Wayne Ramp, who taught Vocational Education for 25 years at SIU, was always appreciative of an endowed scholarship that his students established in his name. It was a retirement gift to Wayne. The family and former students have continued contributing to the scholarship for more than 3 decades, realizing how essential it is to help others as they pursue a college education.
Dorothy says she and Wayne have always been proud of their children and grandchildren for taking education seriously.
"My husband and I always believed in the power of higher education and helped support our kids and grandkids as they attended college. Our family understands the importance of attaining a quality education," she says. "Now, I am thrilled that my children and grandchildren have started supporting two scholarships through the SIU Foundation. It is great when, upon special occasions, I open a letter that says a contribution has been made to the SIU Foundation to support school counselors."
If you would like to give the gift of an endowed scholarship to honor someone special to you, contact the SIU Foundation at (618) 453-4906.