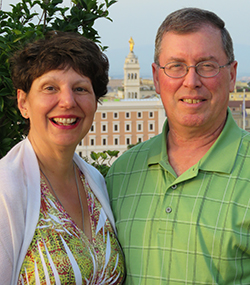 A man who served his country for more than 20 years in the United States Air Force is giving back to his alma mater.
Terry Asher, a 1979 SIU engineering graduate, and his wife, Susan, are making a $1-million estate gift to the university to support SIU's general scholarship fund for engineering.
"Giving back to SIU has been in the back of my mind for some time," he says. "My decision to attend SIU was a fork in the road for me. I was the first in my family to go to college. I liked the engineering program, the professors and the campus. SIU welcomes everyone and opens its doors to people from lower-income backgrounds."
Terry and Susan are both retired USAF officers and have no children. So he says they had the resources to help young people succeed at SIU.
Terry, who currently serves as Adams County Treasurer in Quincy, Ill., chose SIU because of its engineering program. He also discovered the Air Force Reserve Officer Training Corps (ROTC) program through a friend who was a recruiter.
"I joined ROTC in my junior year. This program and my engineering degree opened up some wonderful opportunities for me," he says.
He received an Air Force commission and evaluated foreign space systems in his first assignment as an intelligence analyst. Asher proceeded to ascend to leadership roles in various intelligence, space operations and engineering assignments, including serving on two national level committees in Washington, D.C. He met his wife, Susan while both supported a special military project. In his last assignment he led a division of 80 military and civilians in five branch offices. He retired as lieutenant colonel in 2002.
"Whether it's the military or another large organization, an individual is more valuable as a part of a team effort," he says. "I had some great and challenging assignments. The Air Force was a great fit for me."
After his military retirement, the Ashers returned to his hometown area near Quincy and served in numerous volunteer positions. Terry was offered the chance to run for Country Treasurer when the previous treasurer decided to retire. He was elected in 2010 and is currently serving in his second term.
"My leadership background comes in handy when I'm dealing with the public," he says. "The broad education I received at SIU has been an asset throughout my career in the Air Force and now as county treasurer. I wouldn't be in this position without the education I received at SIU. It's only natural for me to make this gift so someone else can have the same opportunity."
If you would like to make a gift through your estate or some other gift planning option, please contact Pat Moline at (618) 453.4947, or, patm@foundation.siu.edu.