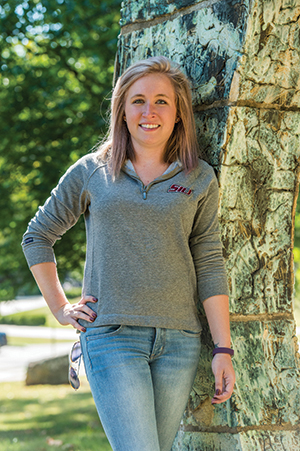 Lillie Betts is a senior from Jacob, Illinois, studying social work.
Why did you choose SIU?
It's close to home so I can be around friends and family.
What inspired you to choose your area of study?
I have always wanted to help people, when I learned about social work I just knew it was something I would be able to make a difference.
What are your hobbies, interests, and/or activity groups that you are currently involved in?
I love getting into the dance studio especially when I am teaching. There's something rewarding about teaching a child to dance and seeing their reaction when they realize they did the step right!
What was your reaction when you learned that you received the Bertrand scholarship?
I was so thankful and grateful that I was chosen to be a Bertrand scholar for the second year in a row!
What does receiving the Bertrand scholarship mean to you? What difference did it make in your life?
It means I can finish my degree and start my career. It means I won't have as much student debt. It also means that I can proudly say I am a college graduate and make my parents proud.
How has the donor's generosity impacted your view on your educations and goals for the future?
It is so amazing to know that there are people who are willing to help students get through college and achieve their dreams. I can only hope that one day I can do the same for other students in the future.
How will the Bertrand scholarship help you make a difference in society?
Receiving this scholarship means that I am able to finish my degree. Since I am going into the social work field I have such a wide variety of options to make a difference. Whether I choose to go into substance use recovery or family and children's services even though it doesn't impact society as a whole, every little step works.
Do you have a message that you would like to share with Mr. and Mrs. Bertrand?
I want to thank the both of you from the bottom of my heart for giving me the opportunity to be a Bertrand scholar for the second year in a row. It is so amazing that I have been given this opportunity again to further my education. I will forever be thankful for the both of you and what you have done for me and all the other Bertrand scholars!
Engage with us on LinkedIn, Facebook, Twitter and Instagram.