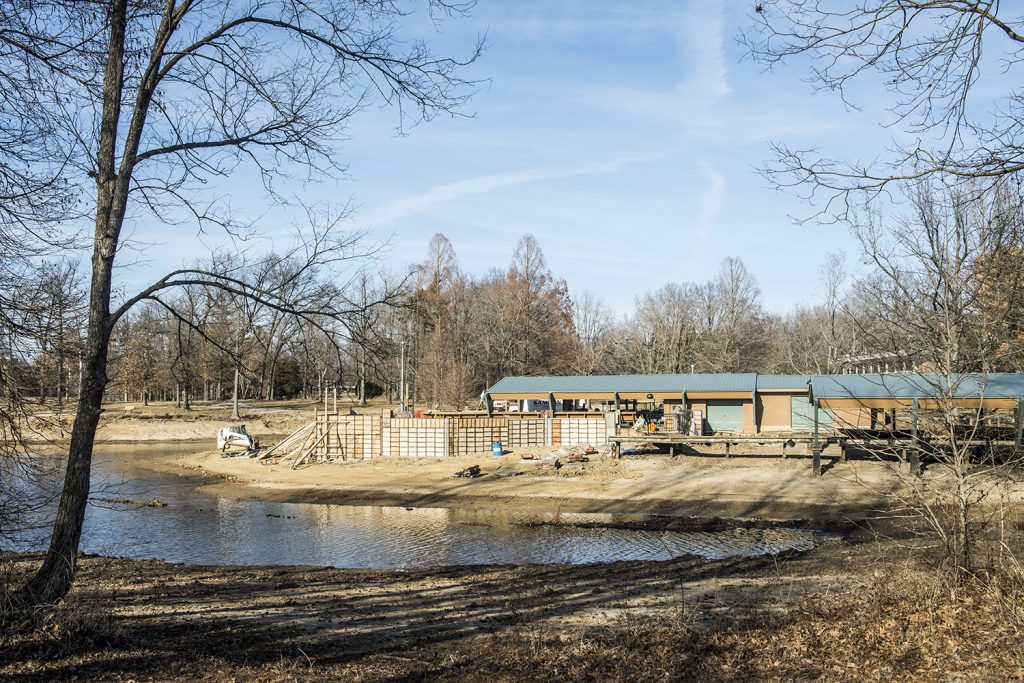 Have you seen the progress at the boat dock and pavilion? You aren't the only one.
Ralph E. Becker, the man responsible for the $1 million donation that's funding the work, is also monitoring the construction via a private camera feed to his North Carolina home. Mr. Becker, one of the pioneers of the university's radio-television program, is an SIU Carbondale graduate class of 1955 and an Alumni Achievement Award recipient.
Those watching have witnessed the first phase of the renovation of the more than 50-year-old structure. The boat dock has been reinforced and repainted. New lighting and decking have been added. Stonework now surrounds the water front and patio façade.
"Since the inception of the project, SIU has experienced a great collaboration with the architectural firm of Eggemeyer Associates (Herrin), Samron Construction (Murphysboro) and all of the talented SIU physical plant workers," Scott Weber, university engineer, said.

In April, the first phase was finished, and the second phase of the project was put out for bid and was won by Marion-based Evrard-Strang Construction. The company will be redoing the plumbing, adding HVAC and insulation, installing a new roof and adding glass windows which will act as exterior walls.
The work is expected to be done by the end of February 2018. SIU Recreational Sports and Services will be responsible for the upkeep and administration of the facility. There will be canoe and paddleboat rentals available. Event space will be available for a variety of purposes, including classroom and social activities, banquets and even weddings.
Once completed, the facility is expected to be one of the crown jewels of campus.
For many, including Mr. Becker, that would be a welcome sight.
Engage with us on LinkedIn, Facebook, Twitter and Instagram.