by Emily Hunsaker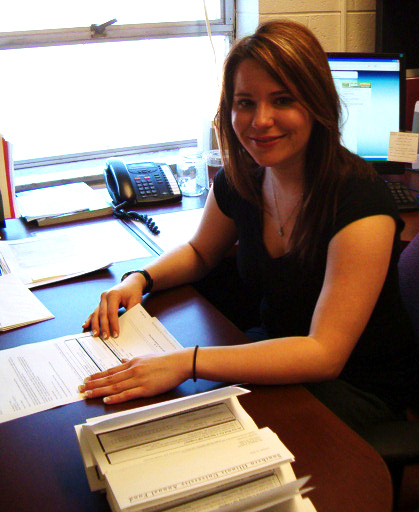 CARBONDALE, Ill. — Kimberly Brombosz, a student caller for the Southern Illinois University Foundation, has raised $25,000 to be used to improve her University.
"Working for the SIU Foundation has been a great opportunity for me. The skills I have acquired while serving as a student caller have proven valuable within all facets of my life. Not only have I been able to refine my people skills, but also I have been able to take on another leadership role as a student supervisor," Brombosz said. "Knowing that my work has a direct effect in improving my university is something that I have taken pride in over the past years, and I look forward to continuing my efforts while still a student at SIU."
Brombosz has worked as a student caller for the SIU Foundation since the fall of 2008. She is one of 80 SIUC students who solicit support for the Foundation's Annual Fund. The fund is designed to generate revenue to support various scholarship opportunities, academic departments, programs, and facility upgrades at the University. Students are assigned records based on specific segments of the alumni database. They perform their duties year-round with the exception of the University's Thanksgiving and Christmas holiday breaks and all other public holidays.
"The annual fund is a crucial part of the Foundation's fundraising efforts. It is important to have hard working, motivated students, such as Kim, who are driven to achieve these important milestones," said Nanditha Balasubramanian, director of annual giving.
The drive Brombosz displays as a student caller also continues into her extracurricular activities. She is currently the vice present of Student Alumni Council (SAC) and director of programming for the SIU Leadership Conference. She was also the past super student chair of SAC. The Bolingbrook native is a junior majoring in biological sciences, with a minor in chemistry.