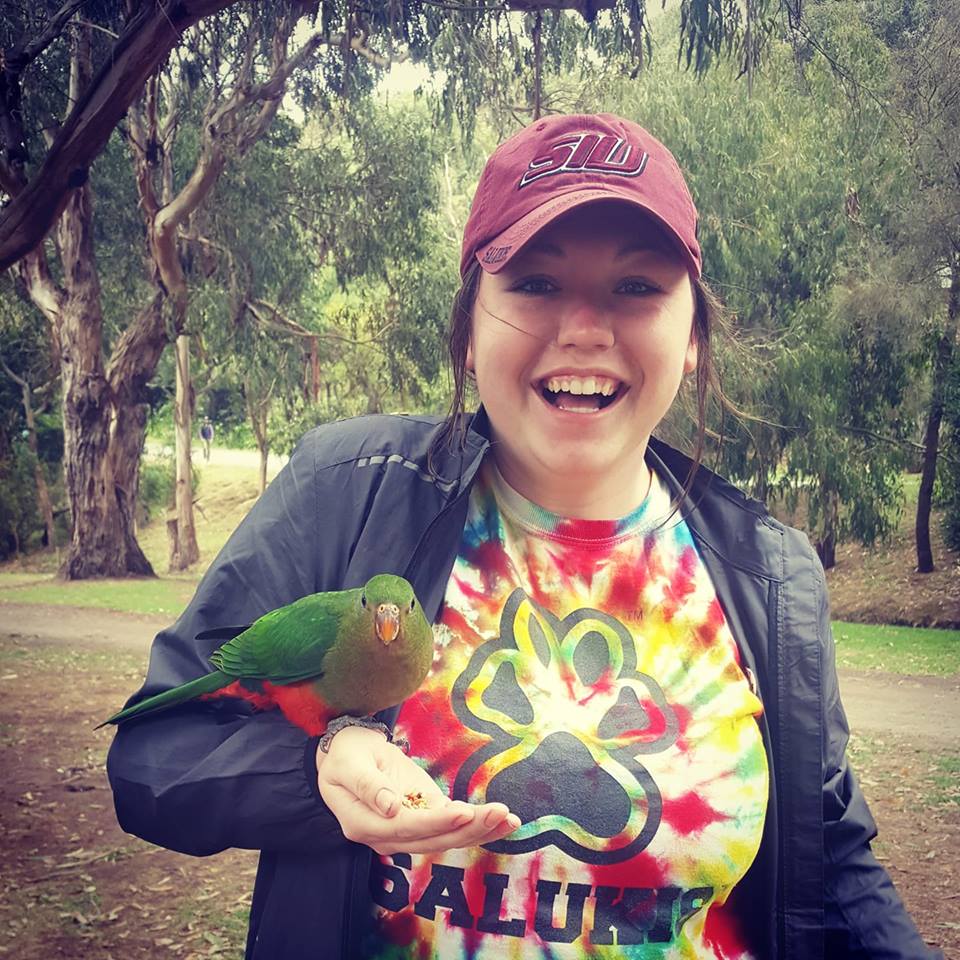 Allison Kellerman is a senior from Nashville, Illinois, studying zoology and chemistry. She is a Chancellor's Scholarship recipient. Kellerman is currently studying abroad in Australia.
Why did you choose SIU?
I chose SIU because it is one of three schools in Illinois that offers a degree in zoology, and it is by far the best of those three. I grew up going to the St. Louis Zoo fairly often, which inspired me to become a zoologist and research animals. SIU happens to be one of the main places St. Louis Zoo looks to hire employees from.
What is your most memorable experience at SIU?
I am so grateful that I chose SIU as this semester I am currently in Melbourne, Australia! I am absolutely loving my time studying abroad. I have seen so many interesting animals and had so many amazing experiences that I couldn't even imagine growing up in the small town cornfields of Southern Illinois. I can't wait to see what the rest of the semester has in store.
What do you brag about most when you tell your friends about SIU?
I love to brag about SIU's amazing zoology program. I love the research the professors are doing and I love that I get to be a part of it by studying poison frogs in Dr. Brown's lab.
Could you tell us about the impact of the scholarship on your education at SIU and your life in general?
This scholarship has absolutely changed my life. There is no exaggerating when I say that I probably would not be in school without this scholarship. My family has had a pretty tough financial time, particularly right as I was looking for schools. When that letter came in the mail, it was without a doubt the happiest day of my life as of yet. I knew this opportunity would open so many doors such as, an internship last summer with my favorite place on earth, the St Louis Zoo, and this study abroad opportunity that I am currently undertaking in the wonderful country of Australia. I cannot thank you enough for allowing these experiences to be possible for me, but also allowing me to go to college in the first place.
Why should people consider donating to SIU?
Donating to SIU allows the college to continue changing the lives of students from all over the world. There is such an interesting group of students that attends SIU, and I am so happy to be able to know so many of them. I would probably not be able to get a higher education without the scholarship I received, so I will be eternally grateful to those that donate to SIU.
If you had $1,000 to donate to SIU, what would you like to see that money benefit? Why?
I would like to see the money benefit research at SIU. They are currently cutting so many research opportunities at the school, which is a real shame. Now that so many people are getting a higher education, research is what sets the driven, dedicated, and brilliant students apart from the average. Do we still have opportunities to research? Yes, but the problem is now there is little to no chance of getting an undergraduate assistantship, which allows students to get paid for working at their research position. Because I cannot get paid for research, I have such little time to dedicate to really focusing on a project. Between my studies, the groups and clubs and sports teams I am in, and my job to make money, I have maybe two hours a week to put towards my research which is not nearly enough to develop a quality research topic and follow through with collecting and interpreting the data. This is why more money should be put back into the Undergraduate Research Program so that students like me can continue to do research.
You can support Chancellor's Scholarships by making a gift online.
Engage with us on LinkedIn, Facebook, Twitter and Instagram.