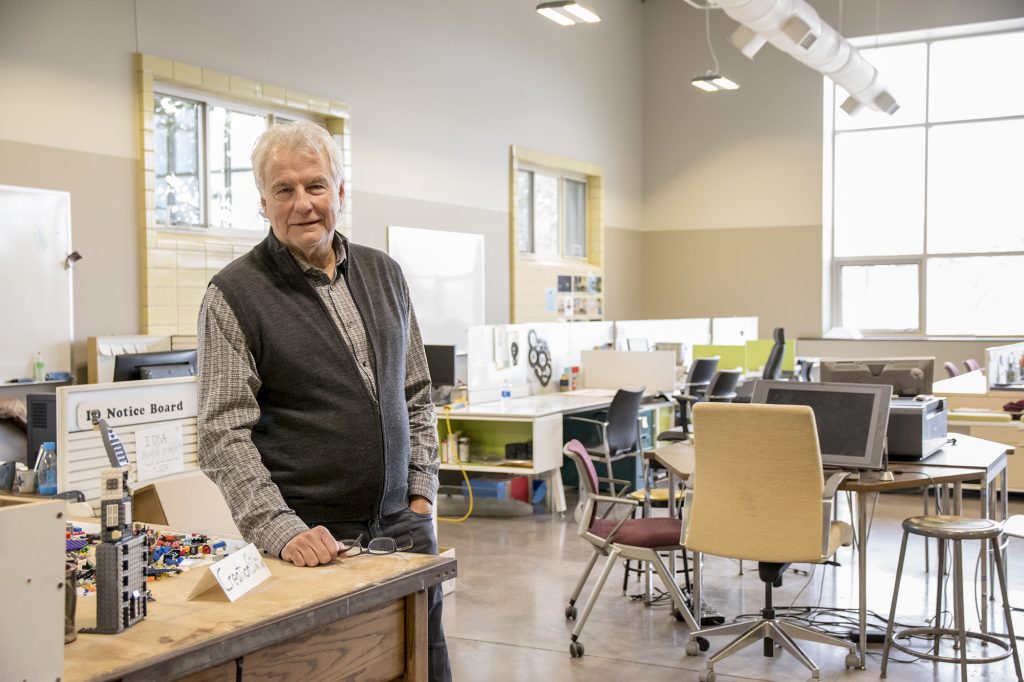 By Jeff Wilson
Each spring, the SIU School of Art and Design hosts Design Days, which brings professional designers, both alumni and non-alumni, to campus.
With "Momentum" as this year's theme, the focus was on moving the field of design forward. The event and its theme were each representative of the dedication needed to be successful.
Mark Stenftenagel is a good example of that dedication. A 1973 alumnus of the SIU Design program, Stenftenagel has made an impact through monetary donations and personal effort.
"I had an extremely rich, enjoyable experience at SIU," he said. "The more I get involved, the more I enjoy it. It's a great university. There are really good students here."
Making a noticeable impact  
His philanthropy has helped the university's Design program stay modern. In 2014, the program moved to a new workspace in Pulliam Hall, leaving behind the Blue Barracks on East Campus. A $30,000 donation from Stenftenagel helped ensure the program could thrive in its new location.
"Because of people like Mark, we have dedicated Design scholarships," said Rob Lopez, interim director of the School of Art and Design. "It helps with recruitment and retention. Our students can be proud when they leave."
Stenftenagel also facilitates the delivery of free furniture that comes from Merchandise Mart in Chicago. The mart is a wholesale design center, and when it gets new inventory, the old items need a home. Stenftenagel has made sure the SIU Design program is one of those new homes.
Before visiting SIU for Design Days on April 6, he loaded a truck and trailer (donated by his colleagues at Installation Specialists in Itasca) and brought a shipment of new furniture along with him.
From football to furniture design and beyond
Stenftenagel came to SIU on a football scholarship. He later decided to forgo football and focus on design.
"I wanted to study design, and I also wanted to play football," he said. "Southern was the best place to do that. I hated to leave the team. It was tough."
After his junior year, Stenftenagel took a break from the design program and started an on-campus preschool. He designed the furniture for the school so that it could be easily set up and broken down each day.
"It was called Alpha Preschool," he said. "It had a really open environment, which is what a lot of schools are going to nowadays."
After meeting his future wife, Margaret, a 1972 SIU alumna, Stenftenagel sold the preschool and finished his design degree. After graduating, the couple moved to Boston for about two years, before returning to Illinois and settling in Elmhurst.
In 1984, he founded Whitney Architects, which focuses on architecture and interior design. A year later, he started Q Design, which does industrial design, focusing mostly on furniture.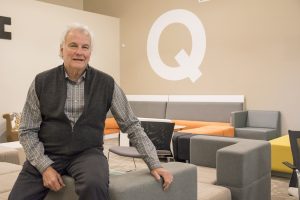 A giant Q on the wall in the Pulliam Hall Design Wing, denotes Stenftenagel's impact on the program. It represents the Q Lounge, which is filled with furniture he helped acquire.
"The world needs good design," Stenftenagel said. "What we learned (at SIU) is more pertinent today. Design is the essence of problem solving. All kinds of companies are looking for design. The need is there."
To learn more about the School of Art & Design, visit www.cola.siu.edu/artanddesign.
The SIU Foundation is in the midst of Forever SIU, a three-year fundraising campaign. To learn more about the campaign and how to give, visit www.foreversiu.org.
Engage with us on LinkedIn, Facebook, Twitter and Instagram.