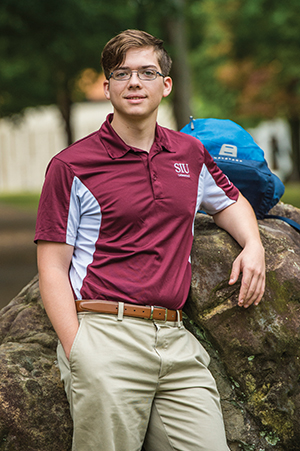 Jacob Trammel is a senior from Elkville, Illinois, studying physiology.
What inspired you to choose your area of study?
I chose physiology on a pre-med track as my major so that I could develop a more advanced understanding of the physical and biochemical principals that govern the way our bodies work before attending medical school.
What are your hobbies, interests, and/or activity groups that you are currently involved in?
I am a brother of the Kappa Alpha Order (social fraternity), a member of the Timmy Global Health chapter on campus, a volunteer research assistant in Dr. Hylin's traumatic brain injury rehabilitation lab, and a member of the Student Leadership Honor Society on campus. I enjoy outdoor activities, painting, playing the guitar, singing, leisure reading, and watching the St. Louis Blues.
What was your reaction when you learned that you received the Bertrand scholarship?
When I first saw that I had been awarded the Bertrand scholarship, I was in disbelief. It is what I would imagine winning the Lottery feels like. The Bertrand scholarship is the largest non-institutional scholarship I have every received. I was both thankful to them for their generosity and proud of myself for performing well enough to stand out among other applicants.
What does receiving the Bertrand scholarship mean to you? What difference did it make in your life?
Financial support on this scale is always a major relief. One of the biggest problems many college students face today is coping with the high cost of attending a university and the limited amount of financial aid available. This scholarship reduced the amount of debt I will have to take on to finish school, gave me financial stability, and gave me peace of mind. Without the Bertrand scholarship, I would not have been able to budget for taking a summer class and applying to medical school this year.
How has the donor's generosity impacted your view on your educations and goals for the future?
Seeing the generosity of donors like the Bertrands motivates me to get out there and give my all to my loved ones and my career so that I can have the same kind of positive impact on someone's life that they have had on mine. I want be able to pass on that feeling of stability that was given to me and empower some young man or woman to chase their dreams.
How will the Bertrand scholarship help you make a difference in society?
The whole reason I decided to start down the path of being a doctor is because I see medicine as a way to fully utilize my intelligence to make a large-scale, positive impact on my community and the world in which I live. However, in order to become a doctor I need to have the financial resources to obtain the necessary education. By providing me with much needed financial help, the Bertrands are paving the path to medical school for me and helping me to maintain momentum towards my goal of becoming a physician.
Why should donors consider establishing a scholarship fund for students?
I think donors should consider using their funds to establish scholarships because a scholarship has an extreme impact on the recipient. It isn't just throwing money at the student's tuition bill. It helps them sleep at night, keeps a roof over their head, puts food on their table, and gives them the confidence and the means to put foundations under their "castles in the sky."
Has receiving this scholarship inspired you to give back to SIU in the future?
Absaluki! As a young man from a poor family in rural Southern Illinois, I know that there are few resources to help local children down the path to a fulfilling and stabilizing career. I would like to someday establish a scholarship for disadvantaged students from the southern counties of Illinois. I would also like to be a mentor to the recipient(s) if possible.
Do you have a message that you would like to share with Mr. and Mrs. Bertrand?
I sincerely thank you for your kindness, I hope my "thank you" letter finds you well, and I hope to see you at the SIU scholarship lunch this semester so that I can get to know more about you!
Engage with us on LinkedIn, Facebook, Twitter and Instagram.