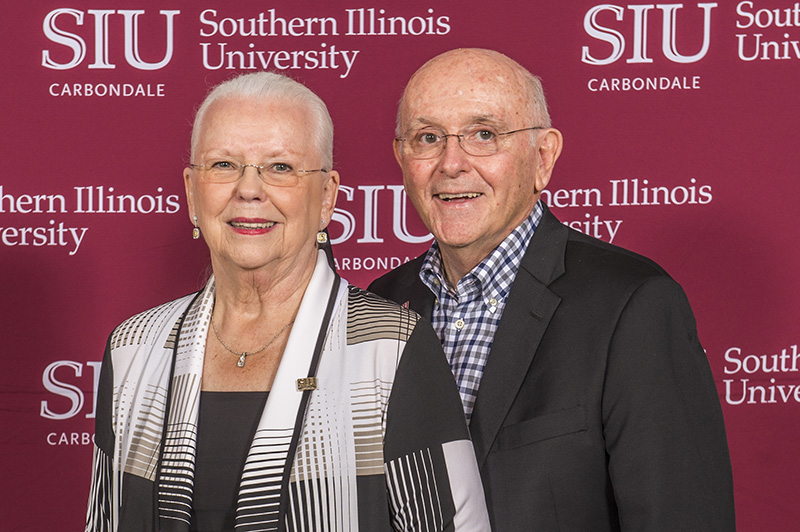 By Rebecca Renshaw
The Forever SIU fundraising campaign is in full swing. The SIU Foundation is more than half way to reaching its goal of raising $75 million by December 2019. In fact, more than $51 million (or 68 percent) has already come in.
"We've raised a lot in a short time, given the fact this campaign is a three-year effort," said Jim Salmo, SIU Foundation chief executive officer. "We are getting a better response than we originally projected."
The campaign's success is due to its benefactors and volunteers. Don and Shirley Beggs check both those boxes and are working on behalf of the College of Education and Human Services.
"Dean (Matthew) Keefer approached us at the MVC Tournament in St. Louis last spring and asked if we would act as the college's campaign volunteers," Shirley Beggs said. "Of course, we were thrilled to be of service to a college where our roots run so deep."
Don Beggs was the dean of the College of Education and Human Services, a post he held until becoming chancellor in 1996. After his tenure in Carbondale, he retired from SIU and became the 12th president of Wichita State University in January 1999. He retired from WSU in 2012.
"The College of Education will always have a soft spot in our hearts because it was instrumental in our careers and family heritage," Shirley Beggs said. "Don's grandmother went to SIU Normal in 1890, Don's mom graduated in 1926 with a teaching degree. Don and I both got our undergraduate and graduate degrees from the college, and both of our children graduated with degrees from the College of Education and Human Services. To say we are committed to SIU, and especially the college, would be an understatement."
Having careers at SIU that span more than 30 years, the Beggs have formed relationships with thousands of alumni. With Dean Keefer's assistance, the Beggs are reaching out to those alumni for their support in furthering the Forever SIU campaign.
"We know how much SIU means to us, and we want it to thrive, and we want our students to be successful," Shirley Beggs said. "So we hope we can bring our knowledge and the relationships we have established to help the Forever SIU campaign in every way possible."
For more information about the campaign, visit www.foreversiu.org.
Engage with us on LinkedIn, Facebook, Twitter and Instagram.