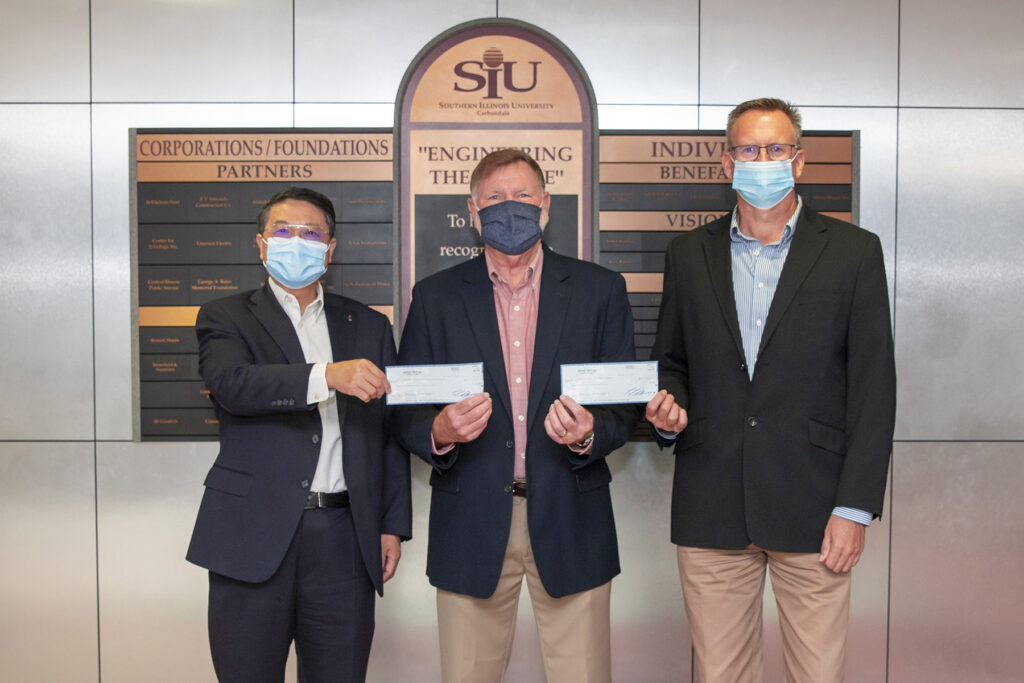 By Rebecca Renshaw
The College of Engineering, Computing, Technology, and Mathematics received two checks for $19,000 each from a longtime supporter of the university.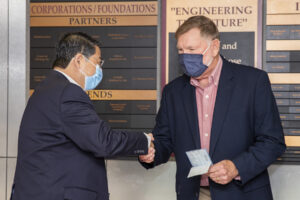 Dr. Mike Murray, trustee of the George A. Bates Memorial Foundation, presented Dean Xiaoqing "Frank" Liu with a $19,000 check to go toward the George A. Bates Memorial scholarship.
"We greatly appreciate the ongoing support by the Bates Foundation for these undergraduate scholarships," Liu said. "These scholarships are important to our college, and we are deeply grateful to the Bates Foundation for their history of partnering with SIU."
Murray also presented Dr. Bruce DeRuntz with a $19,000 check to support the College of Engineering's Leadership Development Program. Based in the College of Engineering, Computing, Technology, and Mathematics, the LDP is designed to mold students into future executive leaders in a STEM field (science, technology, engineering and mathematics) by providing leadership training, mentoring and community service opportunities.
The LDP began with a donation from Dick Blaudow, an SIU engineering alumnus. Blaudow, along with his wife, Brigitte, established the program as a way to help develop the next generation of America's technical leaders. DeRuntz, professor of technology who leads the LDP, said the program truly transforms these students into leaders.
"To achieve success, these students must prepare for success," DeRuntz said. "This program gives them the tools to do so."
Bates was a successful stock market investor and avid big game hunter. He was born in 1903 in the Chicago area, and resided in Cary until his death. The Bates Foundation was formed when he passed away in 1989. The foundation provides funding to numerous charitable organizations, as determined by its board of trustees. Along with SIU, the foundation supports The Hope Light Project, a cancer awareness organization, also located in southern Illinois.
"Mr. Bates believed in supporting education," Murray said. "It has been an honor to be a trustee for the George A. Bates Memorial Foundation, and it was a privilege to deliver these checks." Other local organizations the foundation has supported include Brehm School, SIH Cancer Institute, the Poshard Foundation, Saluki Kids Academy, and Lead SI. The foundation supports eight different charities and has donated $3 million dollars in the last 10 years. A total of $6 million has been donated since its inception.
Murray was instrumental in securing funding from the Bates Foundation. As a former close friend and confidant of Bates, Murray was aware of Bates' philanthropic tendencies. He submitted a proposal for support in 1997 while working as a central development officer for the SIU Foundation. Now, as a Bates Foundation trustee, he is able to continue to provide funding to scholarships at the College of Engineering.
The foundation looks for two things when deciding to support an organization: Dedication by the organization to the mission and passion for the cause of those representing the organization.  "I know the dean, and I know professor DeRuntz very well," Murray said. "I have no doubt this money will be put to good use."