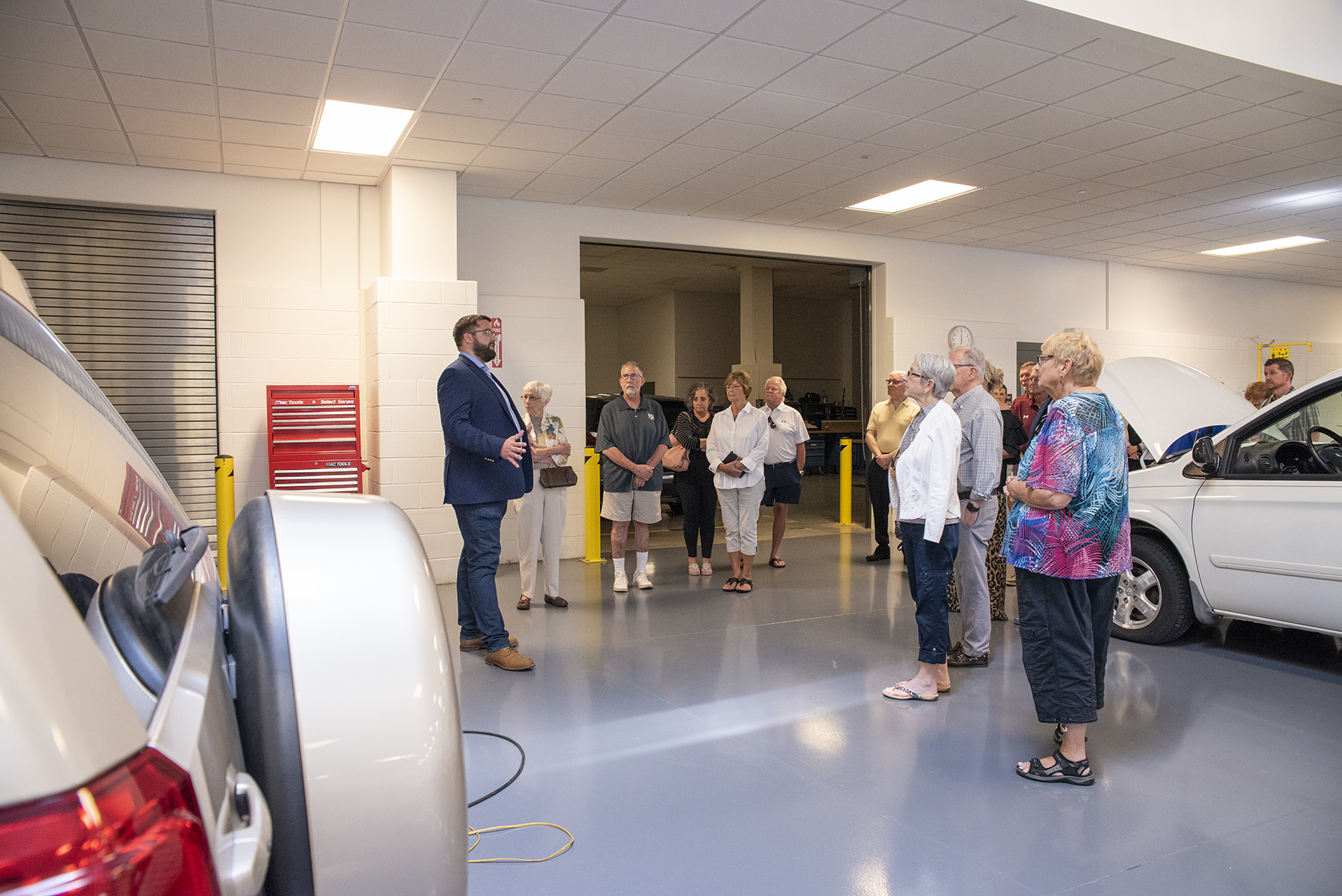 By Jeff Wilson
Members of the Paul & Virginia Society gathered Wednesday, May 24, for a tour of the Glenn Poshard Transportation Education Center.
The Paul & Virginia Society, which is named for the Paul & Virginia statue that stands in front of the Stone Center, recognizes individuals who have included the SIU Foundation in their will or have made a planned gift to the institution.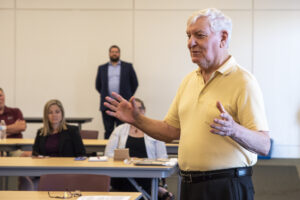 Dr. Poshard greeted about 20 guests with a brief history of how the TEC came to be.
"So many people were involved in bringing this building to fruition," he said. "It's the grandest building we have on campus today, and our students receive marvelous training here."
The first part of the tour was led by Andrew Croxell, interim director of the School of Automotive Technology. He led the group through multiple working labs filled with vehicles, including cars, trucks, and semis.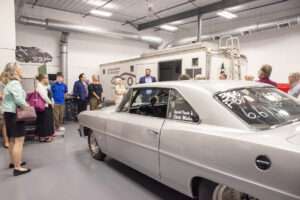 "Many of the cars our students work on are donated," Croxell said. "This gives them the hands-on experience that is unmatched. We have a 90 percent job placement rate in our program."
After viewing the automotive technology facilities, the tour continued through the School of Aviation section of the TEC, led by students Luca Giaveri and Brycen Pedrick.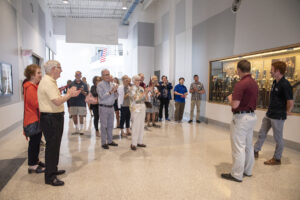 "Let's start over here at the trophy case," Pedrick said. "We think this is really impressive. It displays trophies won within the program, particularly those brought home by the Flying Salukis."
The Flying Salukis have won the National Intercollegiate Flying Association championship nine times. This year, they brought home third place.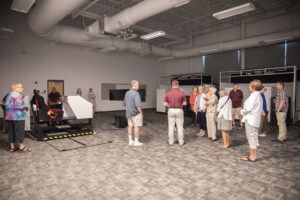 The members of the Paul & Virginia Society were able to view the flight simulators and aircraft that students have the opportunity to work with as part of the program.
The tour ended with a trip to St. Nicholas Brewing Co. MDH, which is located at the Southern Illinois Airport, adjacent to the TEC.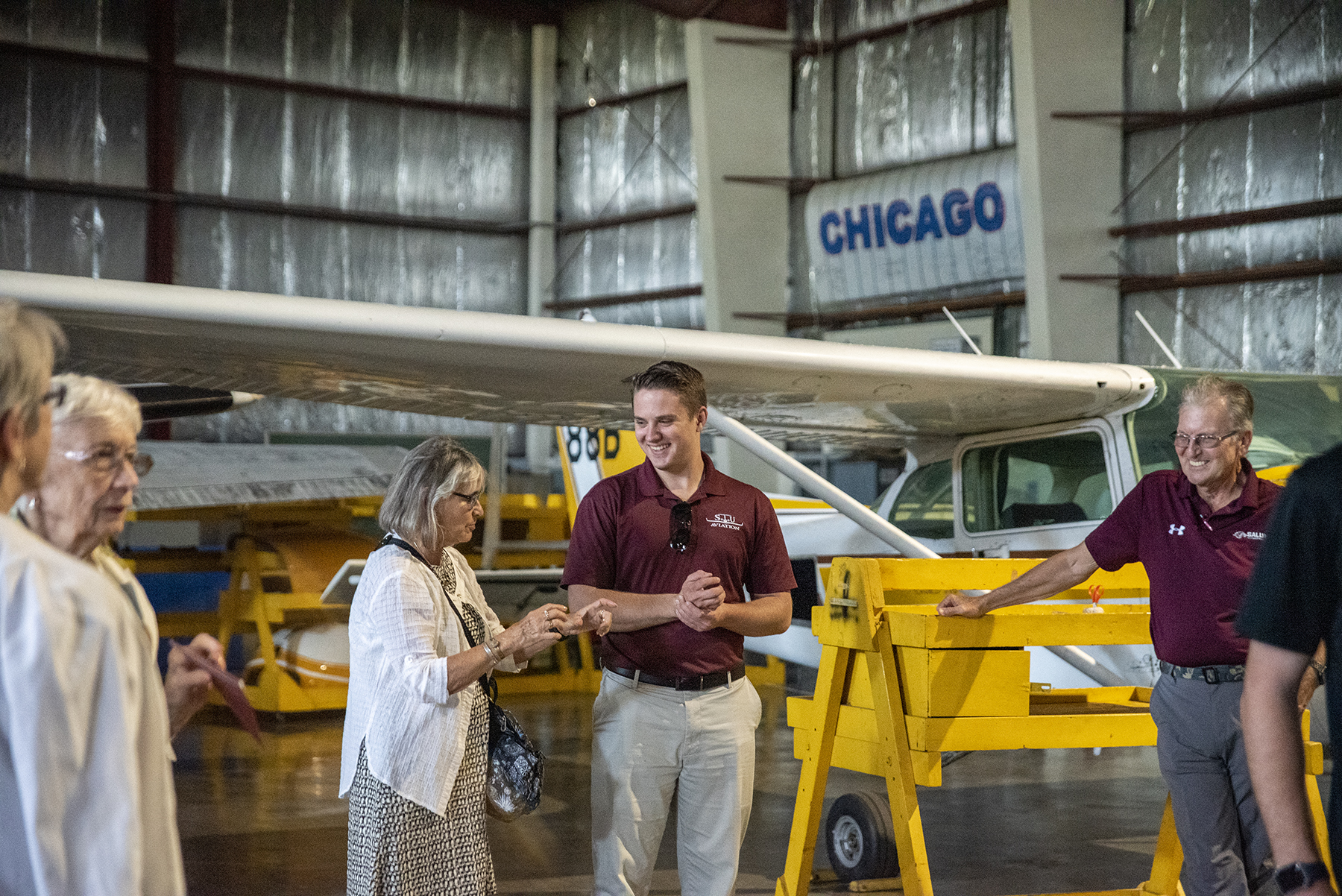 Considering a planned gift?
Planned gifts can be specified for a college, department, or program. There are multiple ways to give, including bequests, gifts of retirement assets, and charitable gift annuities. Some planned gifts can help the donor secure a tax advantage.
A planned gift commitment to benefit SIU is an impactful way to leave a legacy and support the students and communities the university serves.
To learn more, contact Kathryn Sime, senior director of gift planning, at kathryns@foundation.siu.edu or 618-453-4268.
See the full photo gallery.