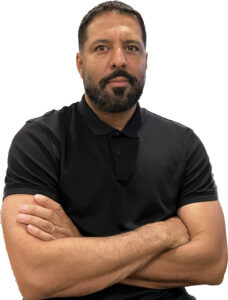 Sean Boston came to SIU with a plan: Play basketball and finish his business degree. While he accomplished those goals, his path wasn't as straightforward as he originally planned.
"I feel like I have a pretty good story to tell," he said. "I transferred to SIU to play for Coach (Rich) Herrin. It was an exciting time. I didn't know how monumental that new beginning would be."
Playing on a highly successful 1991-92 Saluki Men's Basketball team, Boston was surrounded by talent. Multiple players from that team went on to play professionally, either in the NBA or overseas. A torn knee ligament cut Boston's season short and put his focus on life after basketball.
"I developed huge camaraderie, both in Athletics and the College of Business, and was able to forge relationships and opportunities that lasted a lifetime," he said.
During his senior year, the dean of the College of Business and Assistant Basketball Coach Rodney Watson strongly encouraged Boston to interview with Chrysler Corporation, as it visited SIU to recruit for open roles. Little did he know the greatest assist came from an SIU College of Business Hall of Fame alumnus, Ted Cunningham. Ted, the third highest ranking official at Chrysler, challenged his corporate staff to hire SIU graduates when recruiting new candidates to join the auto manufacturer. The interview was for a field sales position with Chrysler's Mopar Parts division.
"Since it was a month from graduation, I had already packed my interview suit and shipped it back home to Chicago. Although I was mentally prepared for the in-person interview, my casual under-dressed attire wasn't the impression I was trying to establish. Thank goodness for the amazing chemistry I was able to share with Harry G. Mathis (Mopar – Southeast Team Leader) as he hired me and another College of Business alumnus Tim Richardson," Boston said. "At that time, I hadn't realized how important that one verbal assist Ted Cunningham made would launch my professional career. I accepted the field sales position with Chrysler in Columbia, South Carolina, and I give all credit for that opportunity to SIU, as it paved the way for my career."
In 1998, Boston earned an MBA from the University of Detroit. Nowadays, he is the director of marketing & sales effectiveness for Ace Hardware Corporation's Wholesale Division – Emery Jensen.
Boston has also stayed involved with his alma mater. In 2012, he established an endowed scholarship that supports students in the College of Business. He's also a member of the college's Hall of Fame and was honored with its Distinguished Service Award. More recently, he joined the SIU Foundation Board of Directors.
"Everyone has to take their own path, and SIU gives everyone a fighting chance to fulfill their ambition," he said. "We must make sure we're making an impact in the community, both locally and in areas such as St. Louis and Chicago. Through philanthropy, we are planting the seeds of success with our students and catapulting them to bright futures."
Boston also sees the value of expanding scholarship opportunities for all students.
"Scholarships are going to play a more pivotal role than ever before, with economic headwinds arriving in the near future," he said. "We should aim to widen the scope of our scholarships. They should be accessible and attainable for more students. We can nurture our high-achieving students, but we must not alienate the middle-of-the-road students. They, too, will become the leaders of tomorrow."
The SIU Foundation has more outreach events than ever before – the annual Day of Giving, Takeover Tours across the country, and the inaugural Saluki Ball in Chicago – and Boston is ready to help at every turn possible.
"I really appreciate the ability to be a proud Saluki," he said. "I'm ready to do all I can to put the organization on the map and provide the next assist where possible."