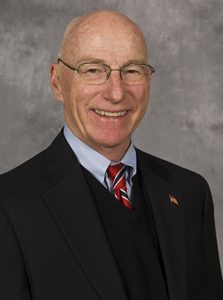 As one of SIU's most resolute benefactors, F. Lynn McPheeters has left an impression on the university he credits with setting him up for success.
During a recent SIU Foundation Board of Directors meeting, McPheeters, an emeritus member of the board, announced a $1 million estate gift. It will supplement the existing McPheeters Family Scholarship Endowment and establish the F. Lynn McPheeters Chair of Finance Endowment Fund in the College of Business and Analytics.
McPheeters, a 1964 graduate, donated $1 million in 2017, which provides scholarships for first-generation COBA students who are from Illinois counties south of Interstate 80, with preference given to those majoring in finance or accounting.
"I was able to complete my degree because of campus work opportunities and scholarship money," McPheeters said. "In order to assure that future Salukis have that type of opportunity, a few years ago I established the McPheeters Family Scholarship Endowment."
Half of the new gift will add support to the scholarship fund, and the other half will establish the endowed chair.
"Hopefully, this will spur others to make commitments, either on-the-spot commitments or future legacy-type commitments, to help us carry forward and achieve the new $500 million goal for the Forever SIU campaign," McPheeters said.
A LAUNCHING PAD
McPheeters transferred to SIU from Canton College, now Spoon River College, a community college in his hometown of Canton, and finished his accounting degree at SIU.
Soon after, he started at Caterpillar, Inc., and began a steady rise through the company. In 1973, he moved to Switzerland to serve in a financial management position with Caterpillar overseas. He also worked in Tokyo for Caterpillar Mitsubishi and in Hong Kong at Caterpillar Far East Limited. He retired in 2005 as vice president and chief financial officer for the Corporate Services Division.
"SIU led me to an incredible career with Caterpillar that took our family around the world and gave us tremendous opportunities," McPheeters said. "Southern Illinois University Carbondale made all this possible, and I'm very happy I'm able to do this."
LIFELONG COMMITMENT
The new endowed chair is the second established by McPheeters in the College of Business and Analytics. In 2006, he and his wife, Susan, donated $585,000 of appreciated Caterpillar stock, which was invested to create the Susan F. and F. Lynn McPheeters College of Business Leadership Endowed Chair.
"Lynn McPheeters has been associated with SIU and the College of Business and Analytics for a long time. He has also been a loyal and generous friend," said Terry Clark, dean of the College of Business and Analytics, at the time. "Lynn's institutional spiritedness is legendary. Through his generosity, another generation of Salukis will be helped onto the ladder that Lynn climbed so notably upon graduation from the college in 1964."
In the decades since his graduation, McPheeters has served SIU in multiple ways. He joined the SIU Foundation Board in 2002 and served as chair of the audit committee and board president. He was one of the first members of the College of Business and Analytics external advisory board and inducted into the college's Hall of Fame in 1988. Among other honors, he earned the College of Business Alumni Achievement Award in 2004.
"I'm very proud to be part of this organization, the Foundation, to call myself a Saluki," McPheeters said.
FOREVER SIU
The Forever SIU campaign launched in 2017 with the goal of raising $75 million in three years. The Foundation sped past that milestone seven months early, which prompted the decision to set a new goal of $90 million.
"At the end of 2019, we had already surpassed that new goal," Matt Kupec, CEO of the SIU Foundation, said. "That's when we set our sights on $200 million by 2024."
Once it became clear that SIU and its supporters were going to reach that goal early, Chancellor Austin Lane announced that the Forever SIU campaign would extend to 2028 with a goal of raising $500 million.