Assistantship, scholarship named for longtime professor, family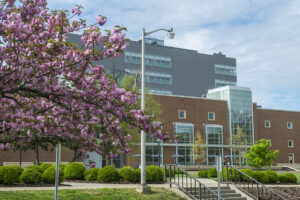 Most worthwhile college experiences include connecting with others. Some of these interactions are fleeting, but some make a lasting impact.
One such connection from decades ago inspired an SIU alumnus to ensure that impact stretches decades into the future. With two gifts, totaling $525,000, he and his wife have honored Dr. David Werlich and his family.
"I don't think I would have ever finished my graduate degree without their support," said the alumnus, who wished to remain anonymous. The first is a $425,000 gift that will establish the Werlich Family Graduate Assistantship in Digital Humanities at Morris Library Endowment Fund. The other is a $100,000 donation that creates the David P. Werlich Graduate Scholarship Endowment Fund in the Department of History.
Dr. David Werlich, an emeritus history professor, taught courses in Latin American history. However, it wasn't his classes that inspired such a philanthropic gesture.
"I never took a class with Dr. Werlich, but I knew his son, Tom, and we went to graduate school at the same time. When I was there, all my undergrad friends had left, and I felt kind of alone," said the alumnus. "That's when we became extremely good friends. He introduced me to his family, and I ended up spending a lot of time at his home in Carbondale.
"Dr. Werlich would talk about a lot of things – history, politics, and particularly South America. The Werlichs were very good to me. It was like having a second family. It was vital for me."
THE WERLICH LEGACY
A recipient of five assistantships during his time at SIU, the alumnus felt it was important to give other students similar opportunities. The Werlich Family Graduate Assistantship will help the library with its digitalization project.
Graduate students will be able to apply for the assistantship and receive it multiple times to help SIU and Morris Library develop future leaders in the field of digitalization.
"This gift will allow us to bring more of the treasures held in the Special Collections Research Center to our students and faculty in a digital format that leads to a deeper engagement with the actual documents," said John Pollitz, dean of Library Affairs. "It promotes collaboration with the history department directly but will and provides the foundation for more digital humanities projects across campus."
Pollitz shared his experience with Dr. Werlich, which makes this donation that much more meaningful.
"I took two classes in Latin American history from Dr. Werlich. They had a real impact on my life," he said. "Many things about Dr. Werlich's teaching have stayed with me since those times. He made the subject come alive and exciting. The idea of honoring this wonderful professor and making the library part of this gift was a high point in my life as a librarian."
The David P. Werlich Graduate Scholarship will benefit a student in the Department of History who is focusing on Latino Studies.
"Dr. Werlich's career at SIU spanned four decades and left a deep imprint on the teaching of history to thousands of students," said Dr. Jonathan Bean, professor of history at SIU. "Under his leadership, SIU hired a new generation of history professors to reinvigorate the field."
Dr. Bean, too, was directly impacted by the career of Dr. Werlich.
"He was famous for his wicked sense of humor, and he was popular as an instructor," he said. "He was also mentor to students and faculty in ways that went beyond the imparting of advice. I am indebted to him for his mentoring – he made my early years at SIU a pleasure and his mentoring is something I aspire to pay forward to the next generation. The ripples of his influence will be felt for years to come."
'THIS IS WHAT IT TAKES'
After years of making smaller scale donations, including spreading funds to multiple areas during recent SIU Days of Giving, a conversation about something more substantial began.
"I was donating to a wide variety of causes, but I had not committed to a larger donation," the alumnus said. "I knew I wanted to honor Dr. Werlich and his family."
Both projects are forward-thinking in their nature, considering the value of digital records and understanding the importance of diversity, particularly that of the Latino culture.
"It's important for the future success of the university. We want kids who are interested in focusing on these things," he said.
The spirit of what Dr. Werlich was able to do for this particular alumnus is reflected in his generous donation.
"This is what it takes to have extras at the university," he said. "There's an element of feeling good about helping people out. It's not easy out there."
Engage with us on LinkedIn, Facebook, Twitter and Instagram.