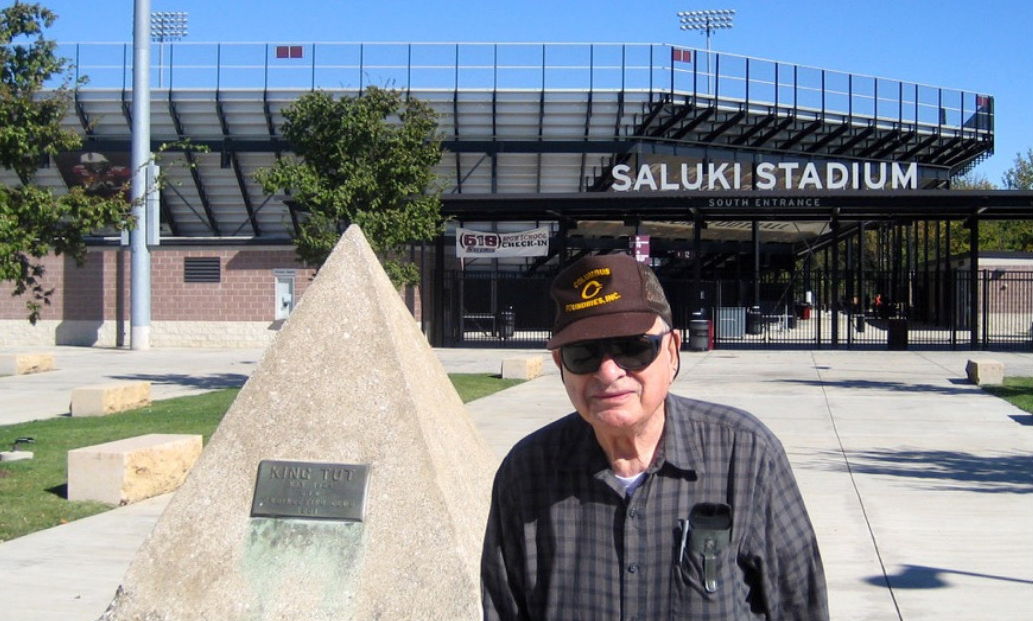 Seventy years after Johnny Youchoff 's graduation from SIU, his family is honoring his memory by establishing the Johnny Youchoff and Mary Agnes Youchoff Finish Line Endowed Scholarship.
His cousin, John Savio, and John's wife, Anita, donated $250,000 to create this endowed scholarship honoring Youchoff and his wife, Mary Agnes. The term "finish line" refers to the goal of the fund, which aims to help students complete their degrees.
The scholarship is designed for SIU juniors and seniors who are graduates of his former high school in West Frankfort or his mother's high school in Christopher and have experienced a major life event that may prevent them from graduating.
"Johnny had every sticker the SIU Alumni Association had sent him on his garage wall," said John Savio. "He hoped to be a member of the Alumni Association for at least 50 years, and was proud to exceed that goal."
Youchoff, a West Frankfort native worked at his family business, Heights Bakery, as a youth and graduated from Frankfort Community High School. At SIU, he majored in geography and graduated in 1952. In May of 2021 he passed away at age 91 and was buried with his SIU 150th anniversary pin.
"Education was very important to Johnny, and he was particularly eager to help students from his and his mother's hometowns," Anita Savio said. "He would love that his legacy will be supporting these students on the brink of completing their degrees."
Family Memories
John Savio never lived in Southern Illinois, but as a youth he and his parents often visited his grandmother, and aunt and uncle there.
"That was a vacation our family took every summer for at least a week, sometimes 10 days. I had so much fun with Johnny and his brother Louis," said John Savio, a longtime Michigan resident. "We would go fishing, boating and hiking, and travel all around the area … to Crab Orchard, Cave-in-Rock, Shawnee National Forest."
After earning his degree, Youchoff joined the Army and served proudly during the Korean War. Upon his return he went to work at General Motors in Atlanta, and, before meeting his wife-to-be, spent his evenings studying law at John Marshall Law School.
"That was the kind of guy Johnny was," John Savio said. "He had no interest in practicing law and never mentioned his degree. I didn't even know he went to law school until I saw the diploma on his wall about 10 years ago. Even at SIU, he studied Russian for the fun of it. He just loved learning."
Always a Saluki
Through the years, Youchoff never lost his Saluki spirit. Although he lived in Georgia and Tennessee, he followed Saluki Athletics closely, particularly Saluki Men's Basketball. For years, until Mary Agnes became ill, they would travel to Carbondale for the SIU Homecoming games. Later, it was a 2014 trip to campus that reignited his plan to help students.
"After so many years, Johnny wanted to visit his alma mater," Anita Savio said. "So, he and John went on a road trip to SIU, where they ran into the associate athletic director of marketing. Their conversation brought back many great memories, reminding him of how much he loved the school."
Youchoff then began working with the SIU Foundation on making a large-scale gift, but, due to life-changing events, it was never finalized. The Savios knew it was important to make this dream a reality.
"He had talked often about doing this," John Savio said. "I reached out to the SIU Foundation and had lengthy discussions about what this fund would be. Of course, Johnny passed away before it came to fruition."
Now, with the establishment of his fund, John and Anita Savio are confident that Youchoff would be pleased with the outcome.
"He really wanted to make sure that other young people could benefit from an education like he received at SIU," Anita Savio said. "We are thrilled that we are able to fulfill this wish in his honor."
Engage with us on LinkedIn, Facebook, Twitter and Instagram.