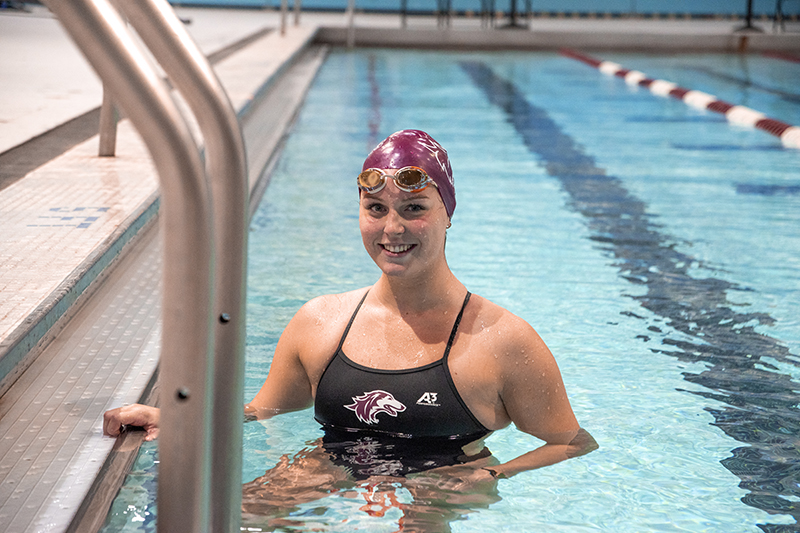 For Saluki swimmer Abbie Young, her SIU experience has been about making connections.
"I've made lifelong friendships with people from all over the world," Young said. "Being part of the Saluki community means you're surrounded by people who want you to succeed."
Young, a senior from Fort Wayne, Indiana, has received an athletic scholarship, a Dean's Scholarship and the Carol Lee Swim Memorial Award, which is given to a female Kinesiology major at the senior level.
"My scholarships have allowed me to gear all my focus on school and swimming," she said. "They definitely had an impact on my decision to be a Saluki."
One of SIU's most consistent swimmers, Young competes in the freestyle and butterfly events. An MVC Scholar-Athlete, she's studying exercise science with the hopes of becoming a physician's assistant.
"SIU has amazing pre-health course studies that allowed me to get my pre-requisites and offered challenging courses that will prepare me for PA school," she said.
Saluki Athletics takes pride in the volunteer hours and community service performed by its student-athletes. Young volunteered more than 100 hours last year, earning the Top Community Service Award.
"Being a Saluki has been an impactful journey. I have grown as a person and have learned so much about myself and what it takes to work toward my goals," Young said. "My experience as a student-athlete, especially as team captain, has helped develop my leadership abilities."
As she makes her post-graduation plans, Young knows her time in Carbondale will stick with her forever.
"Some of my fondest memories are from being part of the SIU Swimming & Diving team. Our team bond is unexplainable, and it became my instant family while away from home," she said. "My time at SIU may have only been four years, but I know I will be a Saluki for life."
Engage with us on LinkedIn, Facebook, Twitter and Instagram.