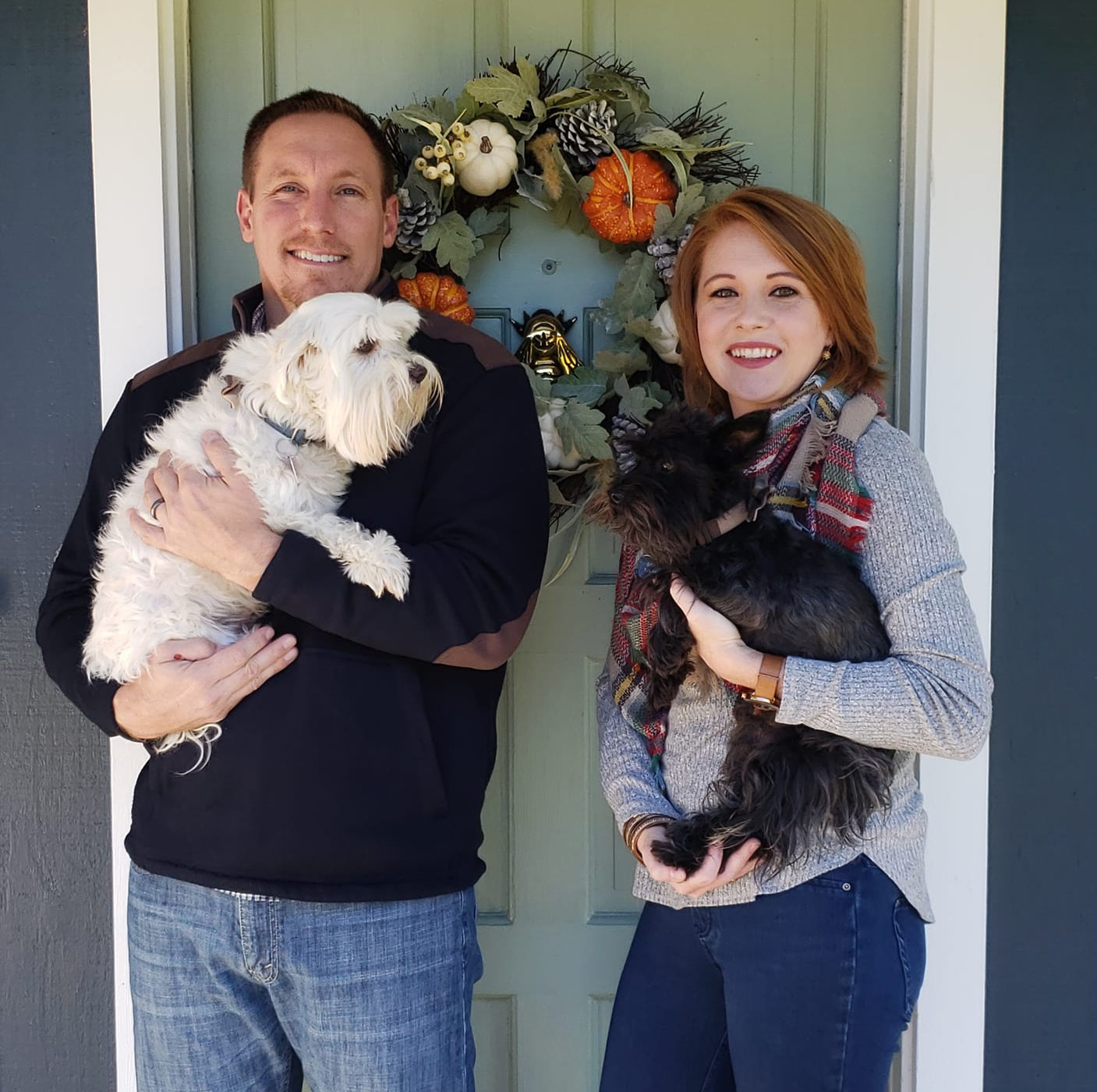 Nick and Amanda Martin are paying it forward by establishing the Martin First-Generation Agricultural Student Scholarship.
Two $500 scholarships will be awarded annually to support first-generation students studying agricultural sciences who are also members of Sigma Alpha sorority or Alpha Gamma Rho fraternity.
Nick graduated from SIU in 2006 with a bachelor's degree in plant and soil science, and Amanda earned a bachelor's degree in 2007 and master's degree in 2008 in agribusiness economics.
Amanda grew up in the small town of Du Bois, Illinois, and credits her agriculture teacher for igniting her love of agriculture.
"I got involved in FFA in high school, and I fell in love with the service mindset," Amanda said. "Farmers work every day making sure we can all live.
They are literally responsible for feeding and clothing the world. It is a noble profession."
Nick fondly remembers helping his grandfather with his farm and working on other farms.
"I initially majored in architecture at SIU but it just wasn't the right fit," Nick said. "I talked to Karen Midden in SIU's Department of Plant, Soil, and Agricultural Systems, and she helped steer me to a major in agriculture. Like Amanda, I fell in love with agriculture, especially landscape horticulture."
SALUKIS IN LOVE
Nick and Amanda met through the Agbassador program, which is a student recruitment organization comprised of 12 outstanding students selected by faculty, administrators, and students. Students serve as speakers and present at high schools, community colleges, and attend career fairs and open houses across the country.
"Our advisor was Lucas Maxwell, and he would drive us to conferences and recruitment activities, so we had a lot of van time," Amanda said. "I met Nick Martin through this organization and our team was always together. The longest journey was to the University of Florida for the national agriculture ambassador conference. I figured if we could stand someone for that long of a trip, then that's a good indication that we'd get along."
After their graduation, the Martins stayed in touch with Maxwell, and they developed a strong friendship that still exists today.
"We knew exactly who we wanted to officiate our wedding, the mentor that was with us from the start. Lucas became ordained online so he could officiate our wedding," Nick said. "We got married in a historic little church called Kornthal Church in Jonesboro that sits in the middle of farmland. We felt it was appropriate to get married in the middle of such a big agricultural area. It felt natural and right to us."
The wedding reception was basically a Saluki alumni event, Dean Gary Minish even gave a speech.
After leaving Carbondale, Nick and Amanda moved to Auburn, Alabama, where Nick graduated from Auburn University in 2011 with a master's degree in forestry. During this time, Amanda served as the coordinator of recruitment for the Department of Poultry Science. They moved to Charlotte, North Carolina, where Nick joined Bartlett Tree Experts, the world's leading scientific tree and shrub care company. During this time, Amanda served as a middle school science teacher as part of the TEACH Charlotte program. Nick was then able to transition to a remote position in 2012, so Amanda could pursue her Ph.D. in higher education administration, which began at Auburn University. While enrolled in classes she worked with the Auburn University College of Agriculture as the coordinator of recruitment and alumni relations. Another door opened for Amanda and the team moved to Baton Rouge, Louisiana in 2016. Amanda finished her doctorate at LSU and became an Assistant Dean for the LSU College of Agriculture.
The couple recently moved to Algonquin, Illinois, where Amanda works with the executive team at the American Egg Board at the Chicago headquarters. Amanda's background within agriculture and education, continue to guide her professional career. She assisted with the White House Easter Egg Roll, and her current focus project is on developing the college internship program. Nick is now the vice president of Bartlett Consulting where he leads an international team throughout the U.S., Canada, and the United Kingdom. His work has taken him to numerous university campuses in the U.S., several U.S. Army bases, oil refineries in Canada, hurricane-ravaged properties in Florida, the historic mansions of Newport, Rhode Island, and his all-time favorite, several royal properties in the United Kingdom including Windsor Castle and Kensington Palace.
GIVING BACK
The impetus behind establishing the two $500 scholarships is due to a $500 scholarship Amanda was offered through the SIU College of Agriculture.
"No one in my family had gone to college, and it just wasn't on my radar," Amanda said. "So, when I received that scholarship offer, it made me feel like someone believed in me. I felt for the first time that I could be successful, and it was enough to make me commit. We would love to grow our scholarship and help more students in the future."
Nick says he hopes more people give back to SIU in whatever capacity they have.
"With our careers, we don't have a lot of time to volunteer, but over the years we saved and what we can give just might help a student out with paying for books," he said. "Whatever you can do to help out is important."
Nick was recently honored at last year's Ag Banquet and received a MidCareer Alumni Award.
"It was great to be back in Carbondale last fall to receive such a great honor. We would love to get more involved with SIU now that we live in Illinois," he said. "We have plans for attending Homecoming and going to a football game. We love being back in the place where we fell in love."
Engage with us on LinkedIn, Facebook, Twitter and Instagram.