Gift reinforces fund that support students with disabilities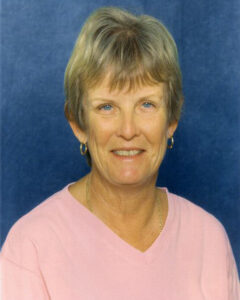 When Gail Mrkvicka, '64 and '66, befriended Jim Greenwood they had an instant connection.
"Jim was such a positive person," Mrkvicka said. "Even though he was confined to a wheelchair, I never heard him once complain. Instead, he was probably one of the most positive people I have ever met in my life. He never let his disability keep him from doing anything – whether it was attending sporting events or going to Shryock Auditorium. The physical challenges never seemed to affect his college years, and he was one of the most popular and magnetic students I ever met. He became one of my closest friends while at SIU."
Both Greenwood and Mrkvicka worked as resident fellows, he at Thompson Point and she at Kellogg Hall.
"I remember we would always eat lunch together at the cafeteria in Lentz Hall. We also used to hang out and get coffee at the coffee shop at University Drug Store," Mrkvicka said. "We really enjoyed each other's company, and we would share our challenges of being resident fellows. Both Jim and I stayed at SIU, got our bachelor's and master's degrees. Jim and I both received our master's degrees in higher education administration."
Upon graduation, their paths went in separate directions. Mrkvicka eventually became a dean at Russell Sage College, a small women's college in Troy, New York. She later worked for the city of Rensselaer, New York, as a grants administrator.
A Friendship Rekindled
Mrkvicka grew tired of the harsh winters and was battling health issues in 1999 when a friend suggested she relocate to Sarasota, Florida.
"Florida sounded really good to me at the time, and it has proven to be a great place to retire," she said.
Soon after she moved to Sarasota, Mrkvicka recalls reading the local newspaper where she saw a photo of a vaguely familiar face.
"I hadn't seen Jim Greenwood in years, but in the photo that accompanied the article, the man had a SIU baseball cap on. I knew then that had to be Jim," she said.
She reached out to Jim, and they renewed their friendship along with Jim's wife, Martha.
"Jim came to SIU from Maine, partly because SIU was one of the few institutions that provided access to students with disabilities in the 1960s," Mrkvicka said. "He loved SIU and was a life member of the SIU Alumni Association and was active in its Central Florida Chapter."
SIU has been an advocate for people with disabilities since the 1950s, when Delyte Morris tasked Guy Renzaglia with equipping campus with necessary improvements. Renzaglia helped make SIU one of the few universities at the time to provide services for the blind, deaf, and persons using wheelchairs.
A Commitment Reinforced
In 2013, the Greenwoods established the Jim and Martha Greenwood Fund, created through their estate. It provides $1.3 million in scholarships for students with disabilities who are studying science and engineering. The first scholarship was awarded in 2014.
"The Greenwoods left a powerful legacy by supporting the university that welcomed him in the 1960s, well before the Americans with Disabilities Act required campuses to be accessible," said SIU Foundation CEO Matt Kupec. "It is the generosity of people like the Greenwoods for which we are forever grateful. He and his wife's substantial gift make it possible for other students with disabilities to attend SIU."
Mrkvicka recently decided to make a $1 million estate gift to the Jim and Martha Greenwood Fund.
"Like Jim and Martha, I just want to make the lives of students with disabilities easier while they attend SIU," she said. "I don't want them worrying about paying tuition or renting books. I just want them to enjoy their college years like Jim did."
Matt Solverson, president of the SIU Foundation, said Mrkvicka's gift will broaden the Greenwoods' fund and continue SIU's national reputation for assisting students with disabilities.
"Fortunately, when he came to SIU, our facilities and staff were able to accommodate him and provide an outstanding educational experience, which he remembered for the rest of his life," Solverson said. "Ms. Mrkvicka's gift is a great testament to the lifelong friendships that SIU cultivates."
Engage with us on LinkedIn, Facebook, Twitter and Instagram.