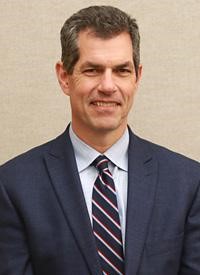 The SIU Foundation and Saluki Athletics are looking toward a bright future with the hiring of Todd Reeser as assistant vice chancellor for athletic fundraising and executive deputy director of athletics.
Beginning June 1, Reeser will spearhead fundraising and alumni engagement initiatives for Saluki Athletics. He will leverage his nearly 35 years of professional experience in athletics fundraising to help guide Saluki Athletics into an exciting, new era.
Reeser comes to SIU after nearly a decade as the director of athletics at Columbus State University in Georgia. Previously, he served in athletics leadership and fundraising roles at Georgia State University, the University of Central Florida, Illinois State University, and Drake University.
"Todd Reeser has been successful across the landscape of collegiate athletics, and his expertise is going to give Saluki Athletics a leg up on the competition," said Matt Kupec, SIU's vice chancellor for development and alumni relations and CEO of the SIU Foundation.
During his tenure at CSU, the Cougars won 51 Peach Belt Conference championships and 10 NCAA Southeast Regional titles; CSU student-athletes maintained a 3.0-grade point average; and the university earned two Peach Belt Conference Presidents Academic Awards.
He has also overseen the opening of the world-class John W. Walden Tennis Facility, Burger King Stadium at Ragsdale Field (baseball), and the Key Golf Studio. He founded and developed the Girls in the Game fundraising initiative, which highlights CSU's female student-athletes and has brought icons such as Brandi Chastain, Annika Sorenstam, Jennie Finch, and Tamika Catchings to the CSU campus.
"I've had the pleasure of working with Todd in the past, and he is one of the most forward-thinking and experienced fundraisers in the business," said Tim Leonard, SIU's director of intercollegiate athletics. "I know he's excited to return home to Illinois and looks forward to engaging with our alumni, donors, and the community."
Reeser has been a member of the National Association of College Directors of Athletics and the National Association of Athletic Development Directors throughout his career. A graduate of Leadership Columbus, Reeser has also served previously on the Columbus Sports Council. He also served as the vice chair of the Peach Belt Conference Athletics Director Council.
"I look forward to joining the team at SIU and helping to advance and build upon the rich history of success for which the Salukis are widely known," Reeser said.
A Chenoa, Illinois, native, he played baseball at Illinois State University, where he earned his bachelor's degree in general finance. He earned a master's in sports administration from St. Thomas University in Miami.
He and his wife, Janet, have three adult children.