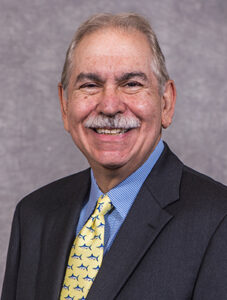 By Jeff Wilson
When visiting SIU as a prospective student, Harvey Michaels knew that it was the perfect place for him to attend. Nowadays, he has decided it's the perfect place to leave a legacy.
"Southern Illinois was the best place for me," he said. "The size of the classroom is conducive to being a part of the class and not feeling lost in the crowd. It's why I was interested in naming a classroom."
With a $25,000 gift to the College of Business and Analytics Technology Improvement Fund, Michaels did just that. His generosity will be honored with his name on a classroom in Rehn Hall.
Raised by his Ukrainian immigrant grandparents in Chicago, Michaels was a first-generation college student. He earned a bachelor's degree in accountancy in 1980 and his MBA in 1981, both from SIU.
"That's why I continue to support the school," he said. "It's in a unique position to attract and support first-generation college students."
It's not the first time he's made an impact on his alma mater. In 2008, he donated $25,000 to establish the Harvey N. Michaels Scholarship Endowment Fund, which is awarded to College of Business and Analytics students. Each year, he adds to the fund, and those gifts are matched by his employer, Deloitte.
"Deloitte continues to match my scholarship," Michaels said. "My goal is to provide other people with the opportunity I had. Everybody has choices to make, and for me, it was an easy decision to give the maximum that could be matched by Deloitte. We have a lot of SIU alumni in great places, and I encourage them to see what's available."
During his graduate years at SIU, Michaels worked for AC Nielsen, but he saw his future in consulting. During his senior year, he had applied to the Big Eight professional services firms (now Big Four) in Dallas, Texas, he accepted an offer in management consulting with Touche Ross, which later merged with Deloitte.
"I spent my entire working career – 38 years – with them," he said. "I was lucky enough to make partner, holding many leadership positions and working with major companies around the world. I had an incredible career at a great firm."
Michaels is passionate about spreading the word about SIU, the College of Business and Analytics, and the School of Accountancy. He has been on the college's board of advisors for many years, and in 2018, he was inducted into the COBA Hall of Fame.
"I want to scream how great this school is. Getting a degree from SIU prepares you incredibly well," he said. "The School of Accountancy brings in the best recruiters for the best positions. The best companies come to SIU to get the best-qualified people."
He is also supportive of the vision set forth by Chancellor Austin Lane and COBA's interim dean, Marc Morris.
"They have come up with creative solutions," he said. "Through the technology fund, Dean Morris plans to increase distance learning opportunities for students."
The idea of having such a legacy never crossed Michaels' mind during his days as a student.
"I was basically living on macaroni and cheese in those days," he said. "It's not where you start, it's where you finish, and I have been lucky enough to be able to give back. This is part of an ongoing legacy. It's a great way to pay it forward."
To learn more about matching gifts, visit siuf.org/matching.