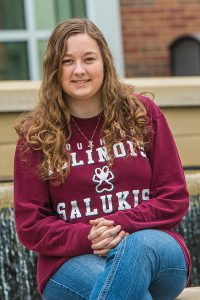 Rachel Bolerjack is a senior from Mt. Vernon, Illinois, studying chemistry.
Why did you choose SIU?
SIU's College of Science stood out among the other schools I was looking into because they seem to care more about individual students than the overall class size. SIU was also the only school that had not only an undergraduate research program, but a well-developed one. Finally, by being rewarded the Excellence Scholarship, I was able to go to my chosen university without putting an impossible financial burden on my parents and myself. My choice for SIU was a no-brainer.
What inspired you to choose your area of study?
For my entire life, I have always had a curiosity about the universe and how it functions; to the point where I would spend my entire summers watching the Science and Discovery channels.  I knew early on that I would want my career to be in Science, Technology, Engineering, and Mathematics (STEM).  It wasn't until my Intro to Chemistry course during sophomore year of high school that I discovered chemistry was my passion.  It was through this field that I could explore the inner workings of the universe and understand them.
What are your hobbies, interests, and/or activity groups that you are currently involved in?
Currently I'm involved in research on campus. I recently completed a semester of synthesis research on thermoelectric cooling nanomaterials in Dr. Ahmed's engineering lab, and I am beginning to work on what eventually will be my senior research project with Dr. Wang in the chemistry department. I also work for the lab manager for the chemistry department to help prep teaching labs.
What was your reaction when you learned that you received the Bertrand scholarship?
I was extremely thankful for receiving the scholarship, as it is one of many factors that made it possible for me to achieve my goal of higher education. It is because of generous donors that I am able to attend SIU and receive the education and research experience that I've dreamed of. I will always be grateful to Gary and Marsha Bertrand for making this possible.
What does receiving the Bertrand scholarship mean to you? What difference did it make in your life?
All my finances are in my name since my family cannot provide any financial help, therefore I solely take care of them. When I was beginning my hunt for a higher education institution, it was difficult to find an institution with the degree and programs I wanted without having a high price. I was extremely fortunate to receive scholarships because without them I would not have been able to afford my degree at any university.  This includes this scholarship as well. Without it, my education would not have been able to be funded, which would have made it financially impossible for me to attend SIU.
How has the donor's generosity impacted your view on your education and goals for the future?
It is because of generous donors that students are able to achieve their goals and make a difference in the world. After being able to achieve my goals through the help of donors and scholarships, I would like to one day do the same. The impact a donor has on a student's life is monumental and after being on the receiving end I want to eventually be on the giving end.
How will the Bertrand scholarship help you make a difference in society?
My career goal is to lead research in solar technology to achieve efficient, resilient, and affordable solar cells. This goal cannot be achieved without first obtaining my education and research experience. My bachelor's degree is just one of the many educational steps I am taking to obtain my desired career. Without this scholarship, my path to this career would have been very unstable, if not nonexistent.
Do you have a message that you would like to share with Mr. and Mrs. Bertrand?Thank you for your financial support to SIU students.  Without you, many students dreams and ambitions would remain just that. Education is a fulfilling part of a person that cannot be taken away but its obtainment can be impossible due to financial status.  It is because of you that this student can accomplish her dreams and she will always be thankful for that.
Why should donors consider establishing a scholarship fund for students?
Unfortunately, the world is not funded on grit alone. Just like research, a valuable education must be funded in some way, shape or form. There are many individuals who want to obtain a higher education but cannot afford it. They then settle for less than their dreams and the world loses out on an individual who can make a difference. Investing in students and the differences they will make is one of the greatest investments someone could ever make.
Has receiving this scholarship inspired you to give back to SIU in the future?
There will always be an individual who believes they cannot afford their dreams. With an increase in lower income families and rising college prices, investing in students is going to become more and more important. As someone who's life was changed by a donor, I plan on one day returning the favor. I know the gut dropping feeling of seeing the average yearly price of an institution and it being more than what your house is worth. I never want to see a hardworking individual turn away from their hopes and ambitions because of a price.
How would you like to support SIU students in the future?
There are many ways to help SIU and future students, but the most probable way I would contribute is through a scholarship fund. It is because of these that I have been able to attend SIU, and I know others will be in the same position.
Engage with us on LinkedIn, Facebook, Twitter and Instagram.