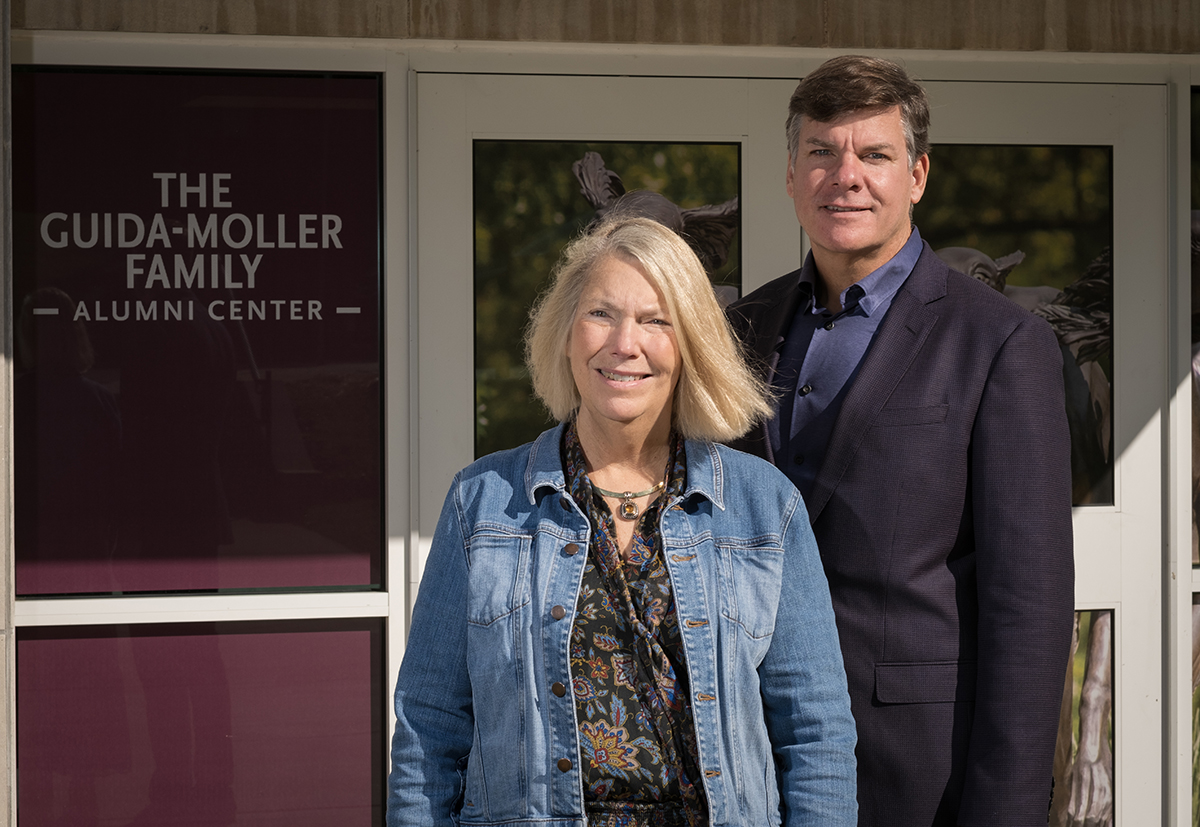 When considering the opportunity to make a transformational gift to SIU, the idea of naming the Alumni Center made perfect sense to Julie Guida and Scott Moller, siblings and proud SIU alumni.
With their $500,000 donation, the C-wing of Woody Hall will be named the Guida-Moller Family Alumni Center. The funds will be used to support the SIU Alumni Association, its scholarships, and programs.
"We feel fortunate to give back to the university that gave so much to us," Moller said. "We're thrilled to have the opportunity to commemorate our time at SIU with this naming."
In 2019, the Alumni Association moved into a newly renovated space in Woody Hall. The center includes amenities that allow the Alumni Association to continue its mission of connecting with alumni and current students and sharing the success of SIU with the world.
"Woody Hall is an iconic building on campus. It is centrally located and once served as a female dormitory," Guida said. "While we attended, the building housed class registration and the bursar's office. I definitely spent my fair share of time in Woody Hall."
Guida and Moller can't help but laugh when talking about their experience as students inside Woody Hall.
"We both remember the 'Woody Shuffle,' which was the term used to describe the rigmarole students were put through to put together a semester class schedule," Moller said. "The experience was nerve-racking."
SALUKI EXPERIENCE
Guida, who graduated in 1979, and Moller, who graduated in 1985, both earned bachelor's degrees in journalism with specializations in advertising. Moller later returned to SIU to earn his Master of Business Administration.
Both worked at the SIU Arena, in what was an 11,000-seat facility at the time, marketing events and selling tickets to some of the university's biggest shows. Guida worked as promotions director from 1979-81. Moller worked part-time in the ticket office from 1980-83 and then as promotions director from 1984-86.
"At the time, the arena was the mecca of Southern Illinois entertainment," Guida said. "Working there was probably just as good an education as my classes. People from throughout the region came to the Carbondale campus to see the most popular entertainers of the time."
Guida and Moller promoted some of the biggest rock 'n' roll and country tours of the day, including REO Speedwagon, Elton John, ZZ Top, Kenny Rogers, Foreigner, Hall & Oates, Alabama, Van Halen, Aerosmith, and more. Other entertainment acts included Ringling Bros. Circus, the Harlem Globetrotters, and Sesame Street Live. When you combine their tenures as promotions directors, the duo brought more than 250,000 people to the SIU campus.
Guida recalls Bruce Springsteen's love for playing to live audiences. In fact, as the night wore on, Springsteen just kept playing and playing one song after another.
"We thought we might have to turn the lights on inside the hall to get him to end his performance," Guida said with a laugh.
Moller was a Sammy Hagar fan and enjoyed the fact that he promoted him first as a solo performer and then later as a member of Van Halen.
Guida also worked in sales for the Daily Egyptian. Moller worked for Campus Services and held off-campus jobs at the University Mall, WTAO Radio, and WSIL-TV3.
"We worked hard and played hard," Moller said. "We had multiple jobs and an active social life. Julie and I were definitely all in. I encourage all college students to make the most of their college years."
LIFE AFTER SIU
After leaving SIU, Guida went on to work at the St. Louis Checker Dome, and then for a motorsports event promoter. Moller worked for a concert and theatrical promoter in Houston.
In 1987, they teamed up and founded Marketing Werks, a consumer-based marketing firm, and grew it into a $100 million-plus company. The firm developed strategy and execution for experiential marketing campaigns for some of the world's largest brands, including Verizon, Walgreens, Hershey, LEGO, PlayStation, Bridgestone, Archer Daniels Midland, ConAgra, and many others.
"At its height, we employed more than 200 full-time professional service employees at our headquarters in Chicago and offices in New York City and Southern California," Moller said. "We also contracted with 3,000 field staff to implement programs for the agency's clients."
Marketing Werks was regularly recognized in numerous industry and business publications. Crain's Chicago Business chose it as one of Chicago's 50 Fastest Growing companies for five years running. Promo magazine and Event Marketer magazine consistently ranked Marketing Werks as the top independent experiential agency in the U.S. The Chicago Tribune included the company several times in its annual list of Best Places to Work.
"We took the information we learned in class, combined it with the real-life work and social experience we had in Carbondale, and applied those learnings to our life and work after SIU," Guida said. "SIU offers students hands-on experiential learning that has lifelong value."
They sold the company in late 2013.
Today, Guida splits her time between Newport Beach, California, and Chicago. She is an active board member of Chicago's Hyde Park Art Center. Moller resides in Chicago. He is a principal of AKA Partners, a marketing communications firm. He also serves on the SIU Foundation Board and SIU Alumni Association Board.
Engage with us on LinkedIn, Facebook, Twitter and Instagram.