The Southern Illinois University Carbondale Debate Team has completed the three-peat!
SIU's debate team of Josh Rivera, a senior from Chicago majoring in political science, and Zach Schneider, a senior from Great Mills, Md., majoring in computer science, won the national championship of debate by finishing first in the National Parliamentary Tournament of Excellence (NPTE) at William Jewell College in Liberty, Mo. Nearly 800 teams competed in parliamentary debate this year, with only the top 68 qualifying for the NPTE.
It marks the third consecutive year that SIU won a national championship. SIU has won individual team national championship titles during six different years — 1988, 1996, 2008, 2013, 2014 and 2015.
Teams that finished behind SIU in this year's national tournament included University of California- Berkeley, University of Oregon, University of Utah, Whitman College, and Lewis and Clark College. SIU defeated the following schools in parliamentary debate this year: Rice University, UCLA, The University of Nevada, Texas Tech University, Loyola University, The University of Colorado, etc.
Todd Graham, SIU's debate team coach, says the NPTE is a double-elimination tournament. So a team must lose twice to be eliminated. This usually makes it so the best/most consistent teams do well at this national championship.
"We feel like the cream always rises to the top in this tournament. If a team has one bad debate, they are not eliminated," he says. "We've been successful because of our system, the team's preparation, and our standards for what constitute solid arguments in debates.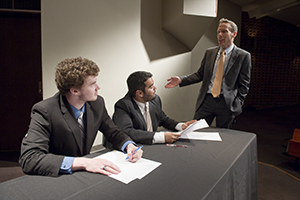 "Those factors have served us well, in addition to a lot of good fortune."
Schneider adds: "It is gratifying to see the fruits of the hard work that we logged in the weeks before the tournament. This was truly a team effort and I am deeply appreciative for the opportunity to be surrounded by such a quality group of people and end my debate career on top."
There are two different tournaments in parliamentary debate that are considered "national championships." NPTE and NPDA (National Parliamentary Debate Association). NPDA is open to anyone, while NPTE is by invitation only based on season-long rankings. SIU won both championships in 2013, and earned the NPDA title in 2014. This year's NPTE title earned SIU the national distinction of winning a third consecutive national debate title.
SIU was the top ranked team in the country for the season-long rankings to determine seeding order before the tournament. Also, Rivera was named "Best Debater," so-named by the coaches' poll at the tournament. This was the Chicago native's second time earning the honor. Rivera was part of both the 2013 championships (SIU won both national tournaments that year) with Mike Selck, and the 2014 NPDA title with Ben Campbell.
"SIU debate gave me the opportunity to be part of a tradition of hardworking and successful debaters," Rivera says. "The fact that I won four national championships with three different partners speaks to the system of competitive excellence that is ingrained in the culture of SIU debate."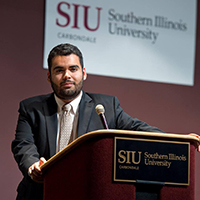 Rivera won 25 tournaments in his career and earned national championships three consecutive seasons; both are national records. He has won either the NPTE or NPDA championships four times. Rivera and Schneider were the highest ranked team, under the new system of NPTE rankings, since its inception, with the most points recorded under the new ranking system.
"I was a debater in high school, but never imagined I could do it in college," Rivera says. "Now as graduation approaches, I am leaving as one of the most successful debaters. I feel blessed and privileged to have represented a school that supported my passion for debate, and on a team cultivated my talents into a series of successes."
SIU's debate team owns the following records:
Three NPTE championships – a national record.
A total of five NPTE or NPDA five times total – a national record.
The "Final Four" of a national championship tournament for eight consecutive years
The top-ranked parliamentary debate team in the country for "season-long" rankings (the pre-national championship rankings) on five occasions.