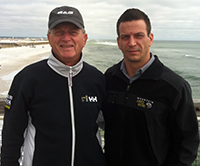 William Bushelle Ex.'71, says his son preferred reading about heroic stories and figures as a youngster. He vividly recalls conversations with Will, who inquired about the modern day equivalent of ancient knights in American society.
As the elder Bushelle and his wife, Paula, reflect on their late son, they believe these early occurrences were a precursor of the direction he was headed in life. "Maybe he made up his mind to shape his own life in that fashion. Our country's history clearly had an impact on Will," Bushelle says.
Will's actions confirmed this notion. After graduating from Ladue Hortin Watkins High School in St. Louis, the 2004 SIU industrial technology graduate initially chose the military over college. He enlisted in the Navy in August 1994, no doubt influenced by his father, a Navy man; grandfather, a decorated WWII veteran, and his great uncle, who served in Korea.
"Will's mother and I were proud, although, we wanted him to enroll in college first," Bushelle says. "We discussed it over a period of time, and Will told us that he wasn't ready for college. He had completed substantial research and decided he wanted to become a Navy SEAL. Will was intent on that."
After Basic Training and Electricians Mate "A" school in Great Lakes, Ill., Will completed Basic Underwater Demolition/SEAL Training Class 202 in Coronado, Calif.

A TRUE SUCCESS
William Bushelle in KoreaWill served as a platoon operator throughout his active service, which included stints in Germany and Spain, in addition to a voluntary deployment to the Al Anbar region of Iraq in support of Operation Iraqi Freedom with SEAL Team Five in 2006. His personal decorations include a Navy Commendation Medal With Valor, Navy Achievement Medals with Valor, Meritorious Service Medal, a Combat Action Ribbon, Iraq Campaign Medal, in addition to various unit and service awards.
And he enjoyed a successful civilian career. He served stints at Boeing, Master Brand Cabinets and Global Experience Specialists. "Will never feared stepping into the breach," Bushelle notes. "He ran toward incidents that most people avoided."
This was the case even before his career in the Navy SEALS. In high school, Will, an Eagle Scout, was honored for saving a classmate's life, immediately reacting to suffocate a chemistry lab fire that had engulfed his classmate.
While on reserve duty, Will noticed a car engulfed in flames. He hurried to the scene and pulled the passengers out of the vehicle. As a 16-year-old, while traveling with his father and others on a hiking trip, the group came across an automobile accident. Will ran to the scene and administered aid to a lady who was bleeding from a head wound.
"Will did not brag about himself. He was always more interested in others," Bushelle says. "He took great interest in family, friends and even strangers he would engage in conversation."
This humbleness is an attribute that many remember about Will, who died on February 2014 as a result of a car accident in Las Vegas. He was only 38.
HUMBLE AND DEDICATED
Bruce DeRuntz M.S. '96, Ph.D. '05, an engineering technology professor at SIU, initially met Will when the latter arrived on campus in 2002. "Will was so humble. He never voluntarily talked about being a Navy SEAL. You had to pry it out of him," he says.
Will made an instant impression on DeRuntz. The two initially encountered each other during a weekend course. Will stayed afterward to introduce himself, extend appreciation for the lecture, and inform DeRuntz that he thought it was going to be an enjoyable class.
"That was a first in my teaching career … I don't recall a student ever making that statement to me," DeRuntz says. "I instantly thought that there was something special about this student."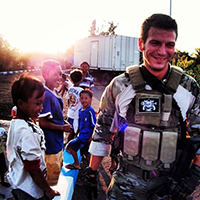 After graduation, Will often contacted DeRuntz for career advice, and the professor sent care packages to him while he was in the reserves serving tours in the Middle East.
DeRuntz also directs SIU's Leadership Development Program, which was founded in 2006 by SIU engineering graduate Dick Blaudow '70, CEO of Advanced Technology Services in Peoria. The program is designed to develop technical leaders through training, mentoring, community service, opportunities and financial support.
Experiential learning is often incorporated for students. DeRuntz had Will skyped in and conducted a one-hour presentation on his own leadership principles. When Navy SEAL teammates offered support after Will's death, DeRuntz invited two team members to campus last September during Military Appreciation Day weekend to lecture about Will's principles.
"You can't learn everything about leadership from a textbook. Special forces like the Navy SEALs are an outstanding resource in this regard," DeRuntz says. "We integrate Will's principles into the leadership program every chance we get. His friends thought the principles captured what he stood for as an individual."
Close friends Paul '02 and Nikki Bell '02 refer to Will as a "special human being and friend." "Will's thoughtfulness, courage and zest for life are attributes that Nikki and I loved about him," Paul says. "He made a strong commitment scholastically and to the Navy SEALS and Reserves. I appreciate his sacrifice."
Nikki adds: "Will had natural charisma and he was unfailingly honest. He was upfront and truthful … you always appreciate that in a friend."
The SIU Alumni Association life members were so fond of Will that they approached the Bushelles about the possibility of establishing a scholarship in his honor. After receiving approval, the Bells coordinated efforts with the SIU Foundation to create the William Bushelle Scholarship Endowment.
The scholarship gives family and friends an opportunity to make a gift in Will's memory. It is open to all applicants who are active duty military/reserve, veteran or active ROTC with a major in engineering. If this criteria isn't met, the recipient must be an engineering student participating in the Leadership Development Program.
"Will always made time for others. We wanted to further the goals Will had for himself and others around him," Nikki says. "He was focused on giving back to SIU by mentoring or coaching students. His passion and love for the military and the engineering field were important, so we wanted that to be a part of the criteria."
SCHOLARSHIP IS APPRECIATED
Bushelle says this gesture is heartwarming. The Bushelles have hosted many of Will's college friends, co-workers and Navy SEAL teammates at their home since his death. He also says that people from all facets of Will's life have honored his son's memory in various ways.
"We have heard from so many of Will's friends. It is overwhelming to know that he had such wonderful friends who remember his family during these times," he says. "There is no end to the good will and communication we have received from people who were touched by Will."
Perhaps Bruce DeRuntz says it best in reflecting on Will's impact on family and friends. While attending Will's funeral, he says those in attendance took inventory of what Will's life meant to them.
"Everyone decided that we should all strive to be like Will and live to the highest character, integrity, and honor. This is what Will would want us to do," he says. "If we encounter a situation in life and ponder the best way to handle it, we should ask ourselves: 'What would Will do?'
"And that will be our answer."
If you would like to contribute to the William Bushelle Scholarship Endowment, please call Director of Development (Scholarships) Gary Bogue at 618/453-4906.