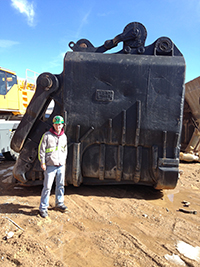 Dylan Neudecker has been familiar with SIU for some time. A native of Centralia, just one hour north of Carbondale, he is a third-generation SIU student. His grandmother, LaDonne, earned an elementary education degree from the university in 1953. His father, Mike, is a 1988 electrical engineering graduate.
Neudecker attended Saluki basketball games with his family as a youth. The SIU senior considered other universities, but a visit to campus for an Open House made his decision easier.
"My father and I spent four hours with Lyle Kline, who was representing the mining engineering department at the event," Neudecker says. "He took us on a tour of the department, computer and research labs and walked us around campus. I learned a lot about mining engineering that day.
"I was sold on SIU after those four hours."
Mike Neudecker recalls the visit and was impressed with university officials.
"They made it feel like home and Dylan fell in love with SIU," he says. "He is an outgoing young man and has made the most of his experience.
Dylan Neudecker is on track to graduate in May. As he reflects on his SIU experience, Neudecker doesn't have any regrets. The Centralia native says SIU's Mining Engineering Program – one of only 15 in the nation – prepares its students well for success after graduation.
Neudecker says he has learned about the business side of engineering, studied various facets of surface and underground mining, in addition to rock mechanics and mineral processing. He is particularly grateful for hands-on learning opportunities that have complemented his classroom experience.
Dylan Neudecker says scholarships and internships were valuable during his time as a SIU student. He has accepted a job with Lehigh Hanson, a global entity that presented him with experience in labor and management.
Three internships have been beneficial to Neudecker. He spent two summers interning for Lehigh Hanson, a global entity that presented him with experience in labor and management. Neudecker has accepted a full-time job offer from the company.
"Internships are invaluable. SIU's mining engineering department is great about presenting students with opportunities that translate well into the classroom setting," he says. "I received an understanding of various facets of mining and production through my internships."
The department also provides learning experiences during Spring Break. It facilitates trips for students like Neudecker to visit copper nickel mines in Canada. He is a member of the Society of Mining and Metallurgical Engineers, a national organization that offers learning and networking opportunities through a yearly conference.
Job placement for SIU's mining engineering students is 100% and starting salaries are approximately $65,000, according to associate professor Sam Spearing. "Dylan has always been helpful and prepared to go the extra mile. As a result, he received a firm job offer a semester before graduation," Spearing says. "He is very outgoing and has been helpful to faculty and active in our mining registered student organizations on campus."
The SIU senior is currently an undergraduate research assistant for in the department. He values his SIU experience, which has been further enhanced through three scholarships. Neudecker has been received a monetary award from the Illinois Mining Institute and two scholarships from the mining engineering department.
"Scholarships are extremely beneficial because they help make school affordable," he says. "I have worked and my parents helped a great deal. I'm thankful for that. Scholarships really help you offset college debt."
One of Neudecker's jobs in school was working for his father, executive vice president and general manager at Engineered Fluid in Centralia. He served as an electrician and welder under his father's guidance during his junior and senior years of college. Mike has seen this work ethic in his son since his youthful years.
"Dylan has always been a hard worker. He worked on our family farm as a youth," Mike says. "Dylan enjoys every aspect of engineering and learning more about his craft. I've always been proud of him for these attributes."
Dylan is thankful for his upbringing.
"I've always had a strong work ethic – I don't mind getting my hands dirty," he says. "My father engrained a work ethic in me and it serves me well. I appreciate it every day of my life."