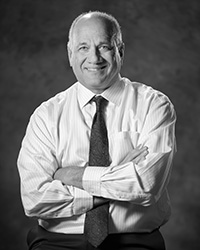 A man who has attained success as a higher education administrator is forever grateful to mentors who guided him as he was learning his craft.
Jeffery Elwell, who received his Ph.D. in theater from SIU in 1986, has served multiple universities in key leadership positions. Elwell says his two-year stint at SIU, where he developed playwriting and theater production skills, was particularly critical in his life.
"I love SIU and have fond memories of my time as a student in Carbondale," he says. "It made me who I am today."
Elwell assumed his current role as dean of the College of Arts and Sciences at the University of Tennessee at Chattanooga in 2012. Previously, Elwell was Provost at Auburn University at Montgomery, and dean of fine arts and communication at East Carolina University. He has also directed theater and arts programs at Marshall University, University of Nebraska at Lincoln, Mississippi State University, Aurora University and Gardner-Webb University.
An accomplished playwright, Elwell has written, directed and produced more than 50 plays. His work has been featured in New York, Los Angeles and Chicago, the country's three largest markets.
He attributes his success to two mentors including the late Alred Straumanis, his dissertation chair at SIU, and Ronald C. Kern, retired chair of the theater department at the University of Louisiana at Lafayette, where Elwell attained his master's degree.
Some 30 years later, Elwell is paying tribute to his mentors. He and his wife, Edwina, recently bequest funds to the Ronald C. Kern–Alfred Straumanis Scholarship, an honor that will be bestowed on a SIU theater student pursuing a career in playwriting. The couple originally created the scholarship to honor the mentorship Elwell received from both men.
Elwell maintained a relationship with Straumanis until his death. He continues communication with Kern.
"Both gentlemen had an extraordinary impact and helped make me," Elwell says. "They encouraged me as a playwright and tested me through a great deal of time and effort. They both had tough exteriors, but were approachable with great hearts.
"I wanted to give back to SIU and I'm excited to support aspiring student playwrights."
Jeffery Elwell is grateful to SIU for another reason. He and Edwina, a 1983 business administration graduate, initially met on campus. The two met while Jeff awaited a doctoral loan check in financial aid, where Edwina served as an undergraduate student worker. A processing mix-up led to Jeff waiting an additional two hours for his check.
"I flirted with Edwina during my wait. She eventually presented me with a $5,000 check and I asked her out on a date," he recalls. "We celebrated our 30th wedding anniversary in December."