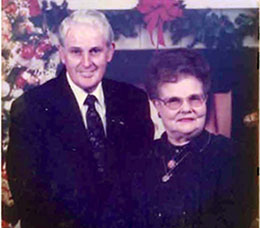 Allan and Wanda McCabe's professional careers are comprised of more than seven decades of teaching experience. Both earned degrees from Southern Illinois University and made a lifelong commitment to young people.
"The greatest challenge in life is preparing the next generation. It is ongoing and should start early in a child's life," Allan says. "Youngsters encounter many hurdles. Some don't receive support from their family. It is our role as educators to instill a can-do attitude."
Allan, a U.S. Army veteran who holds a bachelor's (1954) and master's (1955) in education, is a retired elementary education teacher and principal, high school political science teacher and guidance counselor. In 1966, he became the Director of the Marion Area Vocational Center, serving in this role until he retired in 1985.
Wanda, a Harrisburg native, earned a bachelor's (1952) and master's (1958) from SIU in zoology and supervision, respectively. During a career spanning 34 years, she taught physical and biological sciences, specifically general science, biology, physical science, chemistry and physics. She taught two years each at Equality High School and Carrier Mills High School, and 30 years in Marion Community #2 Schools. Wanda retired a year after her husband.
The McCabes, married since 1958, met in a SIU statistics course.
They are no longer in the classroom, but still vested in young people. Longtime supporters of SIU, the couple established the Allan and Wanda McCabe Scholarship Endowment Fund. They were able to endow the scholarship by giving stock to the university. Scholarships are presented to a junior or senior animal science major with a special interest in beef cattle production who is from the southern Illinois region.
In an interview with the SIU Alumni magazine in 1996, Wanda says: "The university and, most importantly, students for generations to come will benefit from this scholarship. From our perspective, it is a win-win situation."
Allan, who grew up the youngest of seven children in rural southern Illinois, says money was hard to come by for his family. He worked his way through college, and seeks to support current students who exhibit similar devotion and commitment to education.
"I have always had a soft spot for rural country kids who are truly trying to take advantage of opportunities afforded to them at SIU. We are striving to provide some encouragement," he says.
Allan says it's essential for students to investigate all means of support in pursuit of their dreams, including options such as scholarships, grants and loans. "There is no shame in working your way through school and seeking assistance to help you along the way," he says.
The McCabes stay busy in retirement. They farm and raise cattle in Williamson County; something they have done throughout their 56 years of marriage. In addition, they have been active in their church and multiple civic organizations. Allan has continued his leadership in the agriculture industry, serving in pertinent roles with the Illinois Agricultural Association and the Farm Bureau.
"I keep moving because that is what keeps you young," he says. "One of my pet peeves is hearing people say that they don't have time. It is really a matter of how you use your time.
"Every one of us has 24 hours in the day."