By Jeff Wilson
The second annual Saluki Women's Weekend provided a forum for women to celebrate sisterhood and find empowerment through philanthropy. More than 100 women took part of the events hosted between Wednesday, Oct. 4, and Saturday, Oct. 7.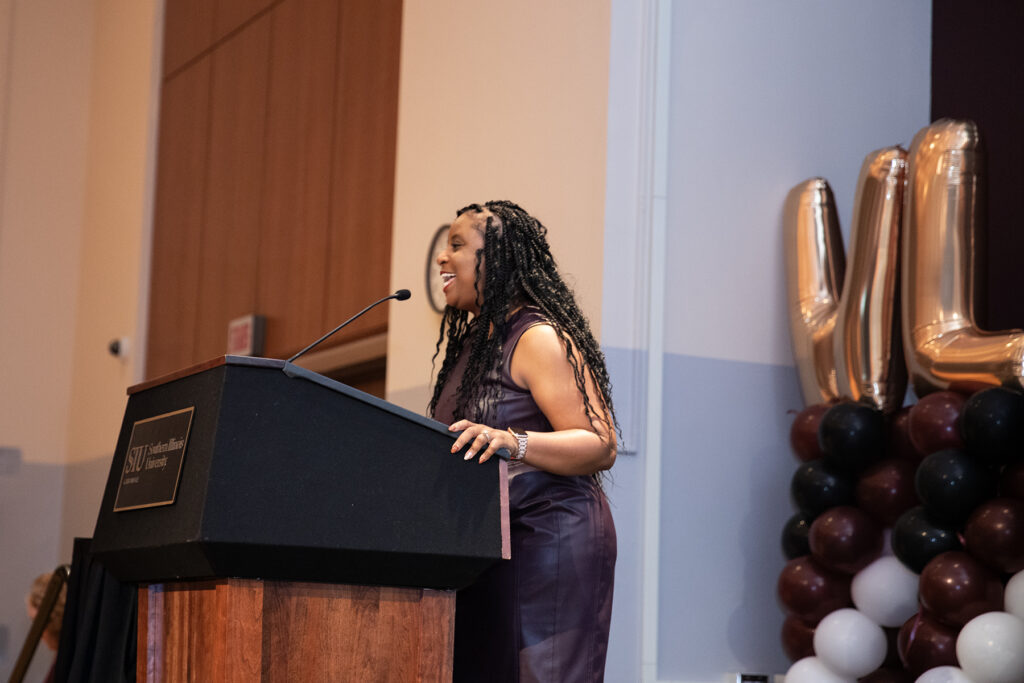 "Your resources, time, and talent – all of those things really come together to make an impact at SIU," said Sherrica Hunt, assistant vice chancellor for anti-racism, diversity, equity, and inclusion, to dozens of women on Friday, Oct. 6, at Student Center Ballrooms.
Chancellor Austin Lane started the event by touting SIU's enrollment numbers, pointing out a rare twist.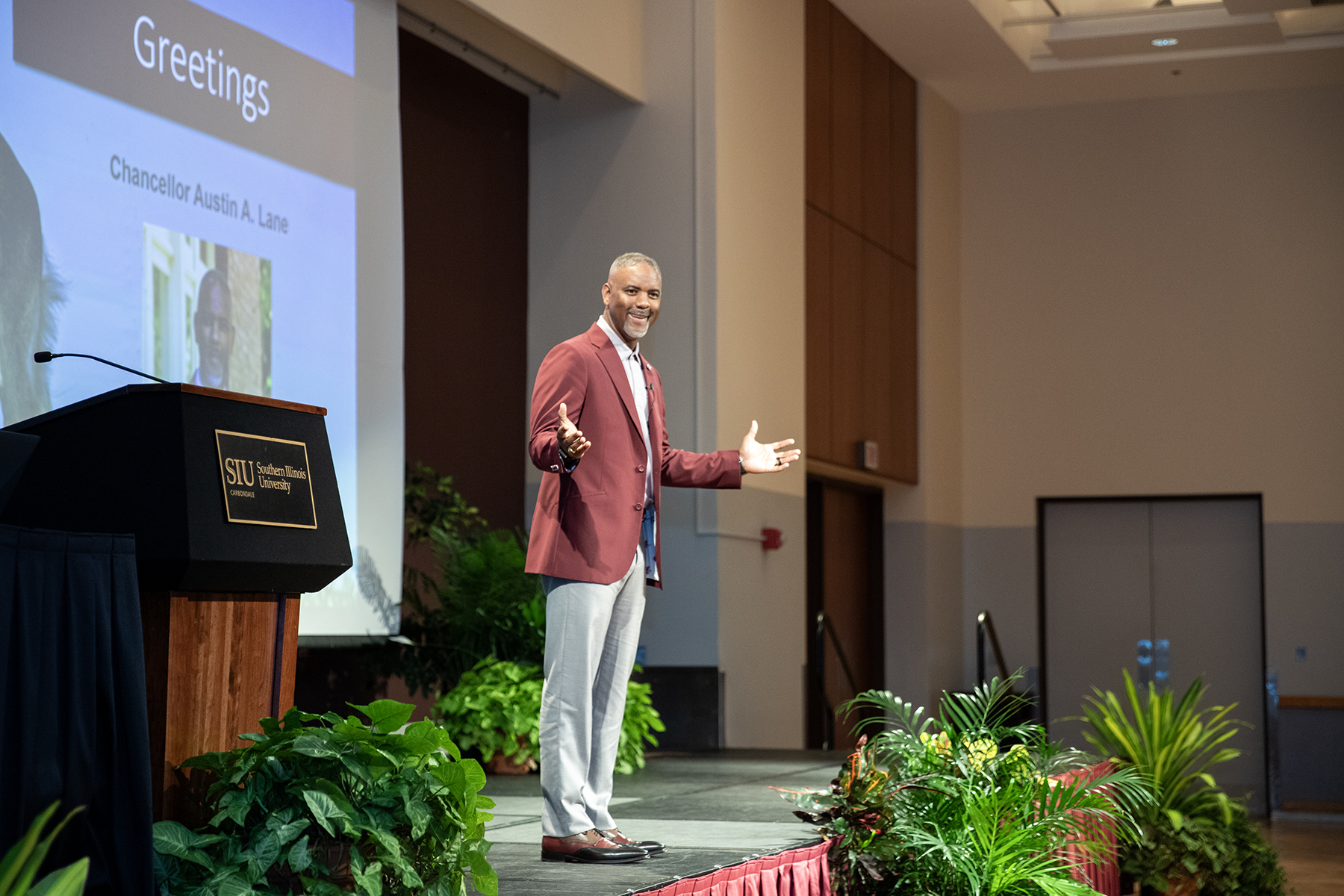 "Fifty-two percent of our students are female. I have never worked at an institution with more female students than male students," he said. "When people tell you that women are running things, they're right."
The Saluki Women's Weekend was presented by Compardo, Wienstroer, Conrad & Janes at Moneta Group and the SIU Credit Union. It featured breakouts sessions, sponsored by SIH; a networking breakfast, sponsored by Legence Bank; and a mentorship brunch, sponsored by Dawn Korte, Ph.D. There was also a Saluki Women Vendors Fair, featuring 20 local artisans and female entrepreneurs.
Three women were honored during Friday's event:
Woman of the Year – Shari Rhode, who was a member of the SIU School of Law's inaugural class and has more than 50 years of experience as an attorney.
Trailblazer Award – Lynn Lindberg, who was honored for her efforts as executive director of the SIU Research Park, forging pathways for women at the university and in the community.
Emerging Leader – Lauren Lurkins, who operates Lurkins Strategies, LLC, which affects environmental policy and supports academic research projects.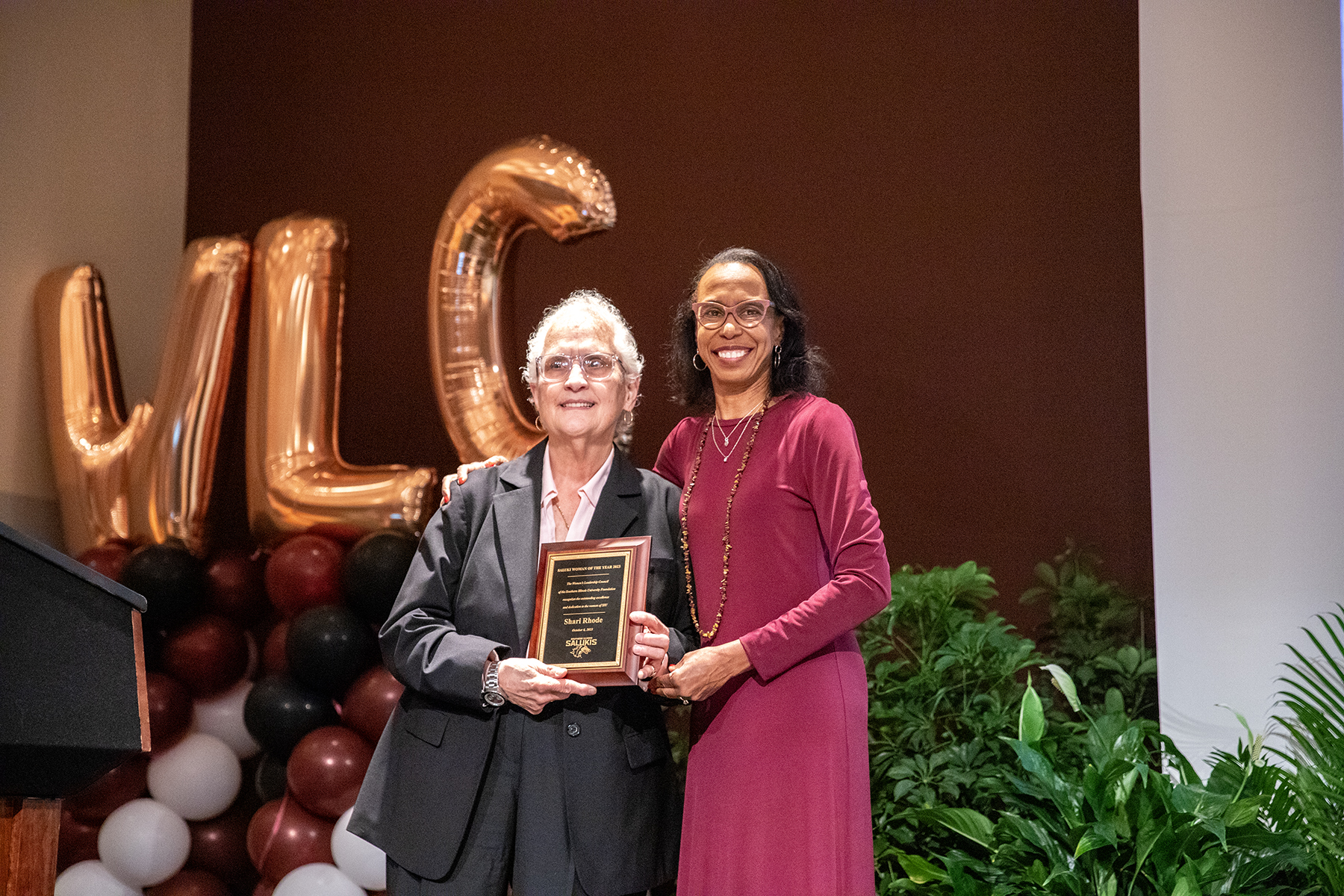 "I'm sure there was someone more deserving, but I appreciate the fact that you found that I was," Rhode said. "Pay it forward."
Friday was filled with educational and inspirational presentations from women who have led the way, as leaders in higher education, philanthropy, and service.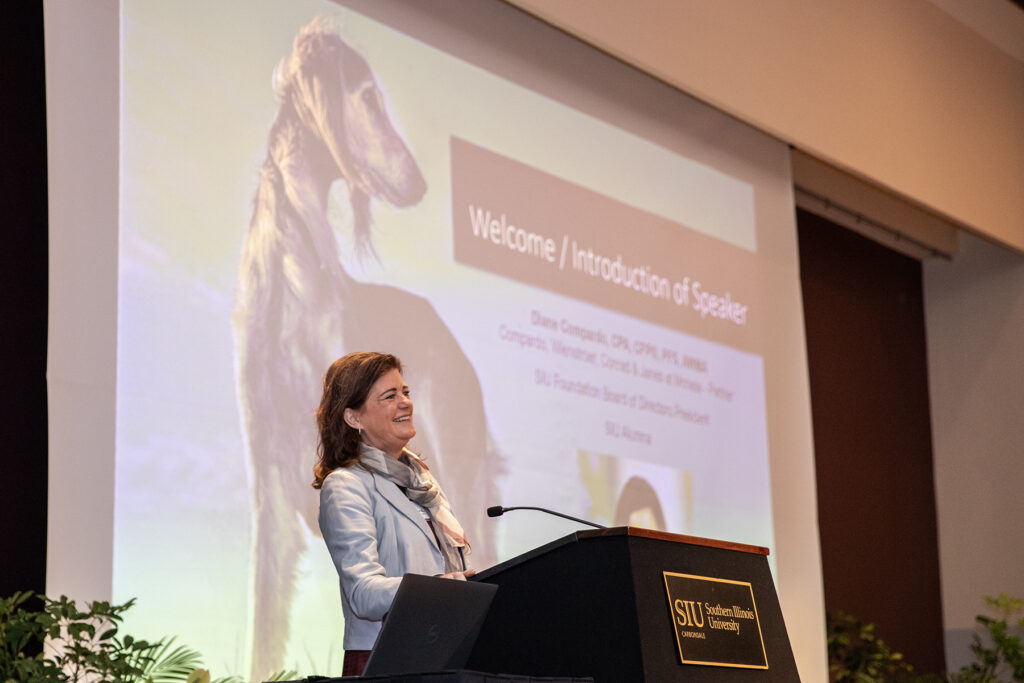 "Today is about shaping our future," said Diane Compardo, president of the SIU Foundation Board of Directors. "Women in leadership isn't a trend, but a transformative force."
Compardo shared many of the initiatives the SIU Foundation has been involved with recently, including raising funds for Saluki Cares during the COVID-19 pandemic; a $1 million grant to accelerate the fermentation science program at McLafferty Annex; support for the Dr. Seymour Bryson Future Scholars program; faculty grants for podcasting, robotics, and more; the new entrance sign at Touch of Nature Environmental Center; and the planned Welcome Center to be built on campus.
"Southern embraced me and allowed me to grow at a pivotal moment in my life," she said. "I invite everyone to make a lasting impact on the university."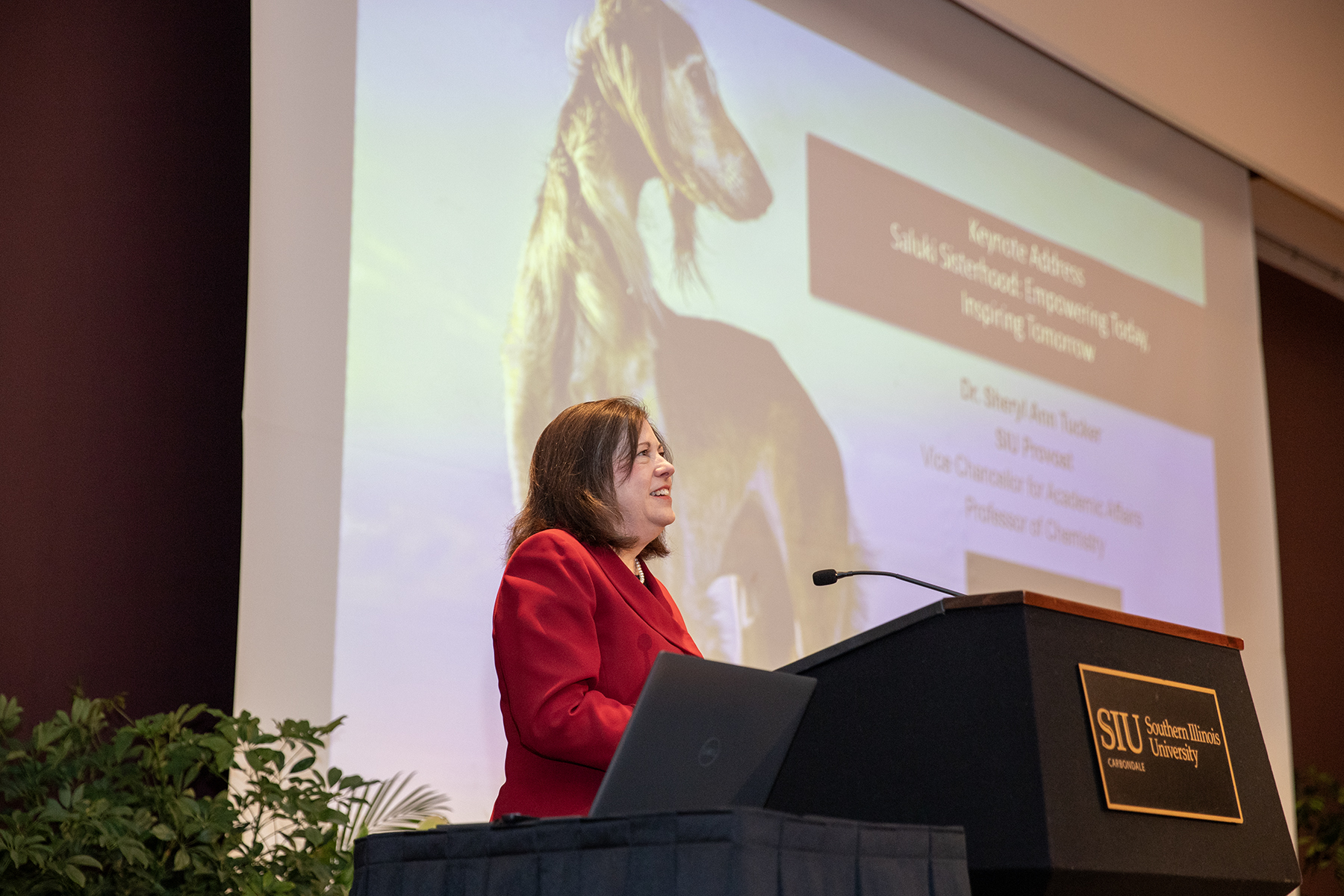 Dr. Sheryl Tucker, provost and vice chancellor for academic affairs, gave the keynote address. Tucker, who has three sisters, expressed how the bond of sisterhood stretches beyond family.
"Anyone who has ever been a mentor knows you get more out of it than the mentee," she said. "It's women empowering women. You should want your inspiration to lead to impact."
Tucker established the mantra, "Link, learn, lead to leave a legacy," as a way to empower female students.
"I wanted my legacy to be about the people. I want other young girls to understand what a college education can look like," she said.
She also pointed out that events such as the Saluki Women's Weekend are the model for engaging with young women to ensure they can clearly see their potential.
"The only way to effect change is to have a seat at the table. You have a seat at the table here today," she said. "Be part of the conversation. Have input. You have to be willing to participate."
It was a sentiment that was echoed throughout the weekend, including during a video message from Lt. Gov. Juliana Stratton.
"Learn, inspire, and encourage one another," she said. "Our potential is limitless as long as we keep working together."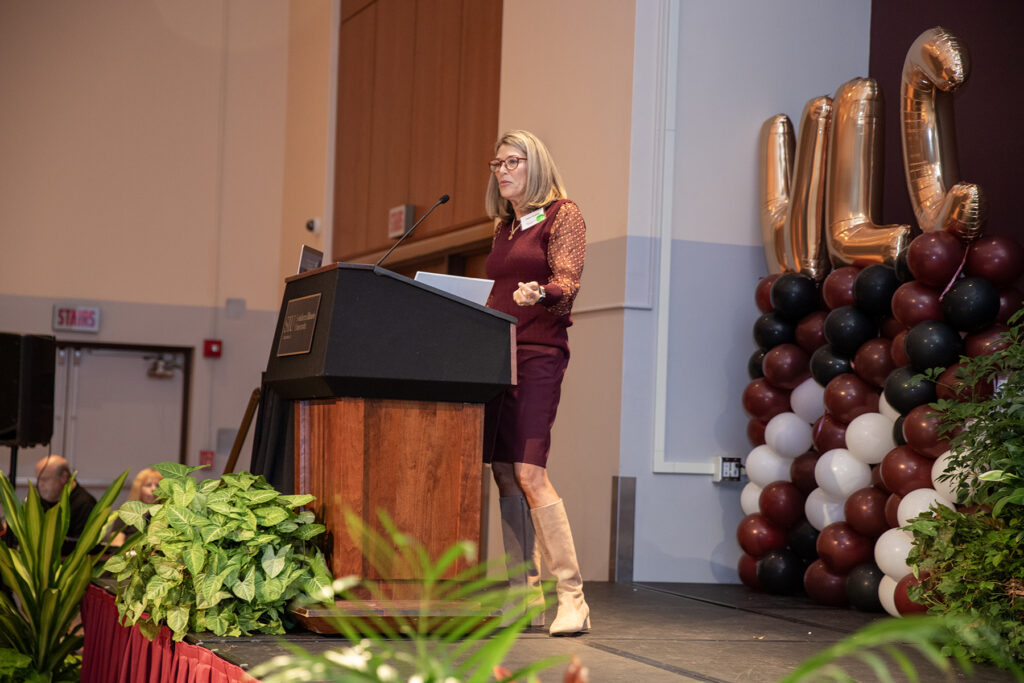 Tami Kupec, who has more than 15 years of fundraising experience, spoke during the Women's Philanthropy Luncheon, focusing on the value and impact of women in philanthropy. Most recently, Kupec was executive director of development with Watoto Child Care Ministries in Uganda. During her trips to the African nation, Watoto worked to build an educational building and mentor the women and children in the village.
"I wanted to experience a deeper level of contribution," she said. "I fell in love with the women and children of the village and the holistic work that Watoto was doing to raise the future leaders of Uganda."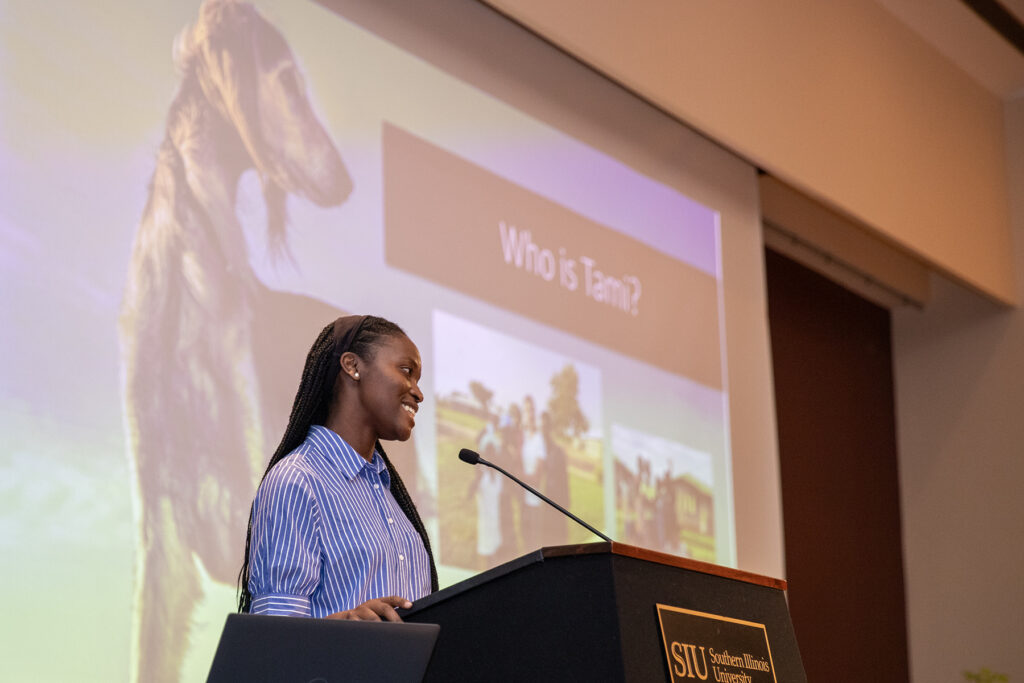 Kupec was introduced by Stellah Nakiranda, a young lady whom she met and mentored through her work in Uganda and who recently enrolled at SIU.
"Never in a million years did I think I'd be in the U.S. on this stage speaking in front of you wonderful women," Nakiranda said. "I have known Tami for 10 years. She's challenged me to have my own dreams."
Kupec defined the six Ts of philanthropy – time, talent, treasures, ties, testimony, and trust – explaining that giving in any way makes a major impact on the lives of others.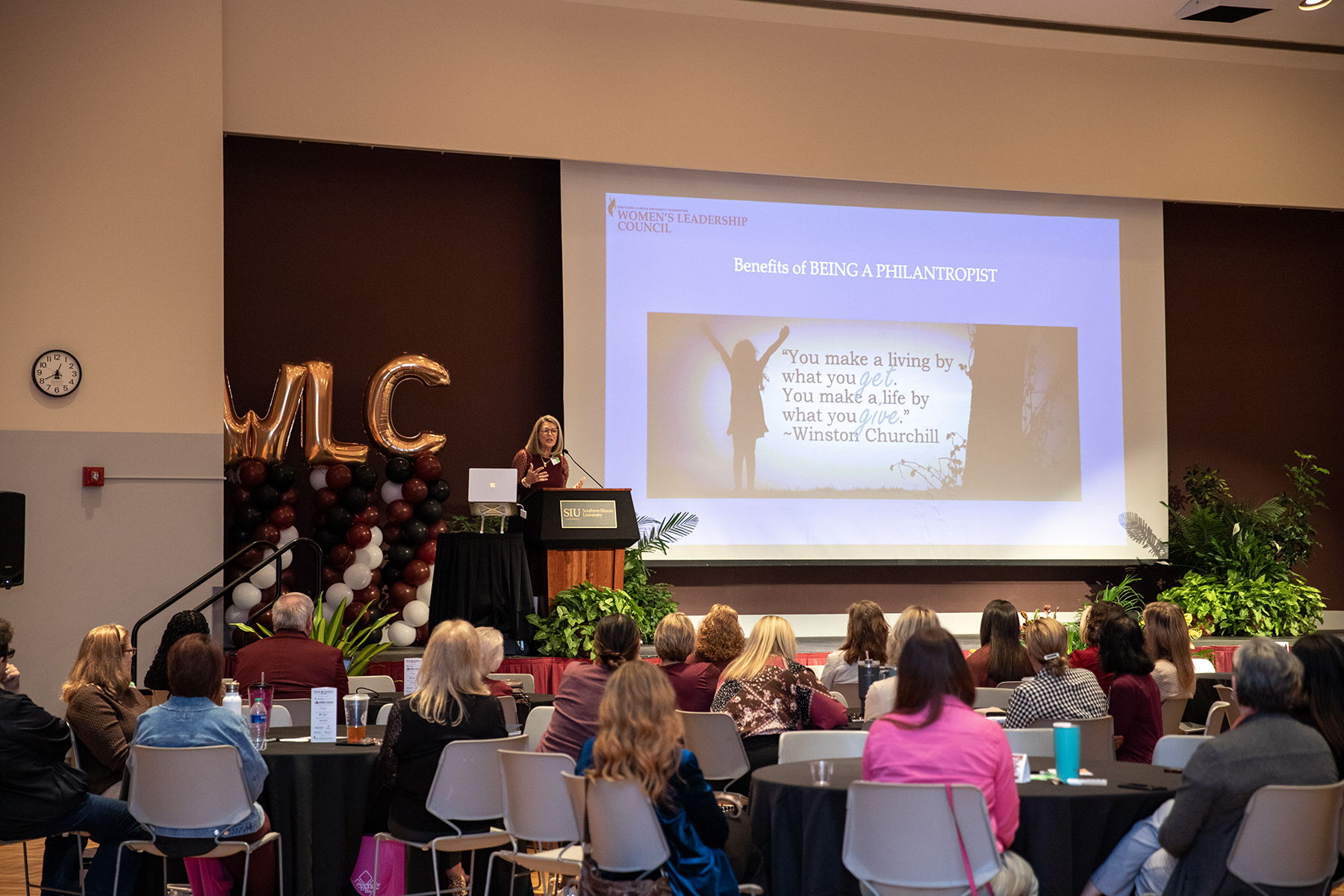 "Right here at SIU, there's an incredible opportunity with the Women's Leadership Council," she said. "We are encouraging women to reach their full potential and walking alongside young women, giving them a hand up. It is a circle of women passionately focused on the needs of young women."
An inspiring event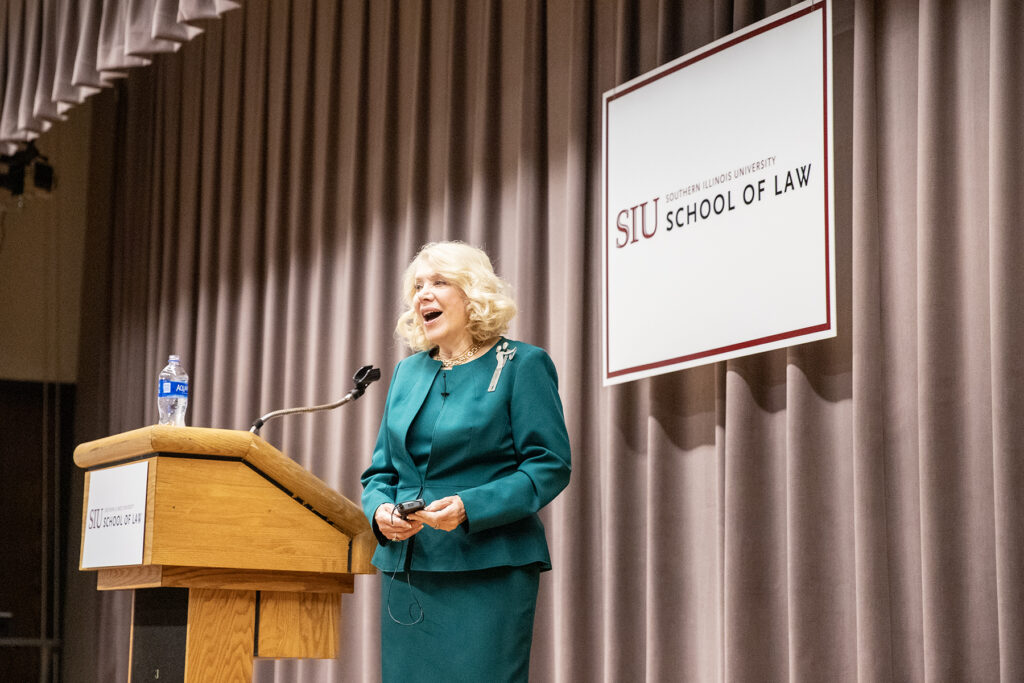 The Saluki Women's Weekend began Wednesday, Oct. 4, with Jill Wine-Banks presenting the Hiram H. Lesar Distinguished Lecture at the SIU School of Law. During her presentation, "Breaking Barriers for Equality, But Still Dancing Backwards in High Heels: How Women's Success Benefits All," she discussed her pioneering career, which included working as the only female prosecutor during the Watergate trial, and the issues still facing women today.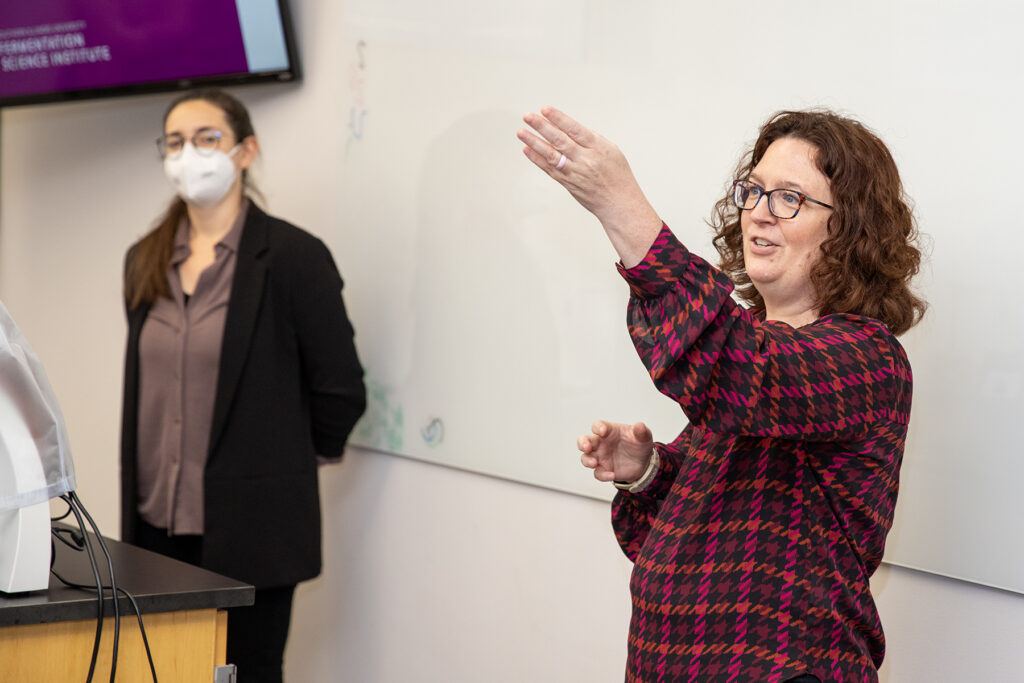 On the evening of Thursday, Oct. 5, the Women's Leadership Council Board of Directors hosted a wine and cheese reception at the McLafferty Annex, which included a presentation by Susan Lighty and Marta Albiol Tapia detailing diversity initiatives in the Fermentation Science Institute.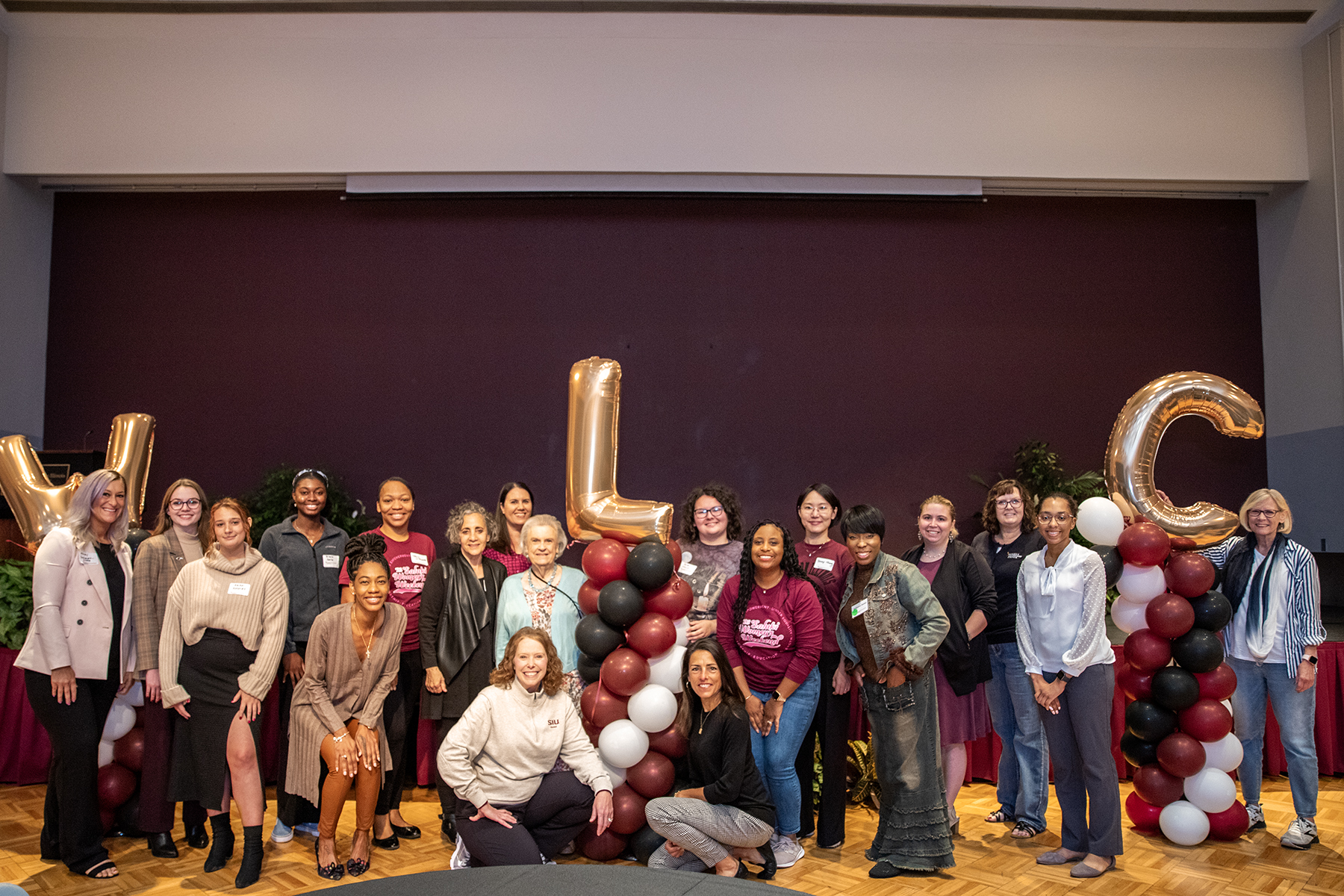 Mentors and mentees gathered on Saturday, Oct. 7, for a Mentorship Brunch, and the Women's Leadership Council Board held an official meeting later that day.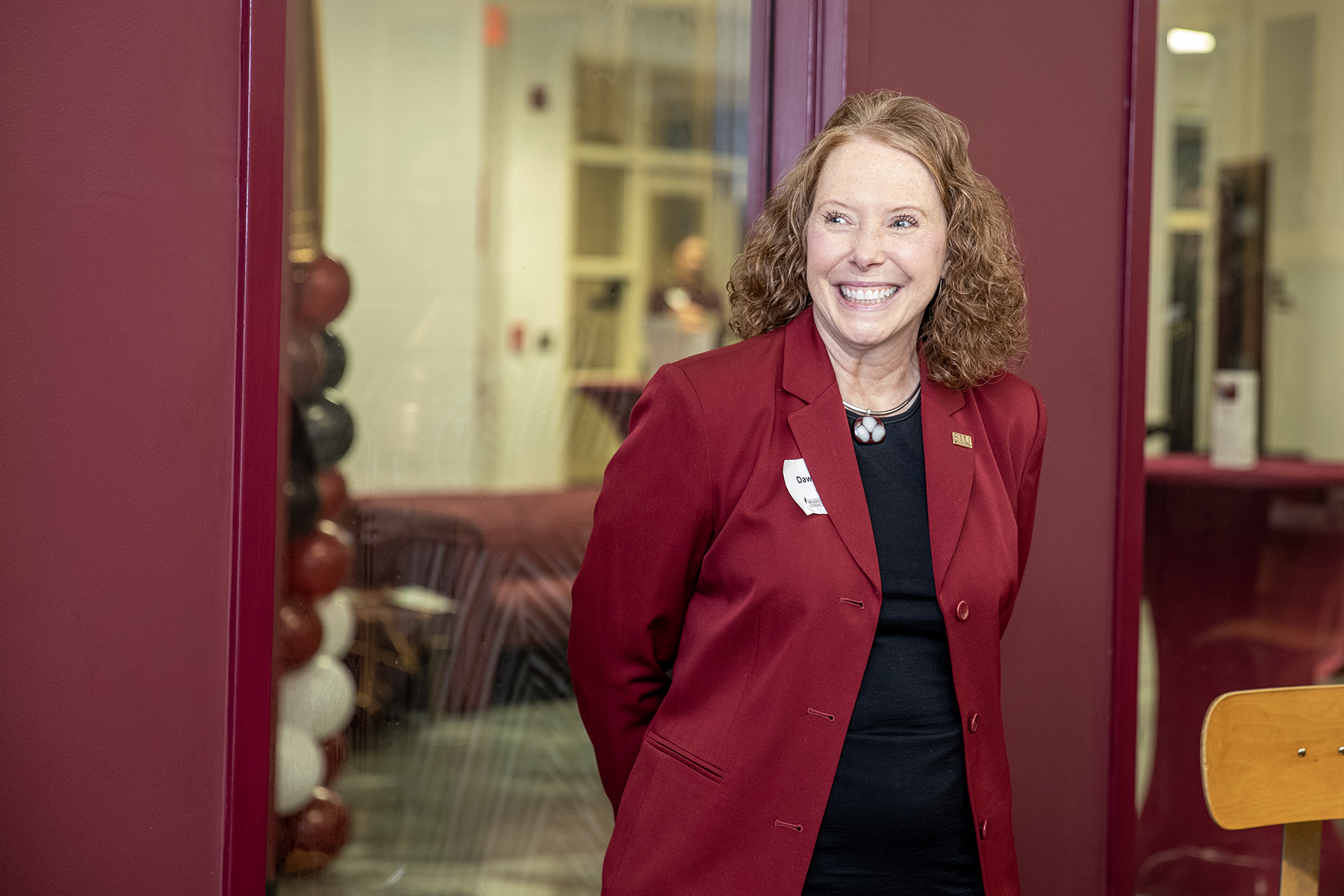 "The future is in our hands," said Dr. Dawn Korte, co-chair of the Women's Leadership Council and member of SIU Foundation Board of Directors. "It's that empowerment that we can all share that resides deep within us."
Supporting sponsors of the event were Walmart Carbondale Supercenter #196, Walmart Anna Supercenter #233, Holiday Inn Carbondale, First-Mid Bank, and Dr. Kelly Higgins.
For more information about the Women's Leadership Council, visit siuf.org/wlc.