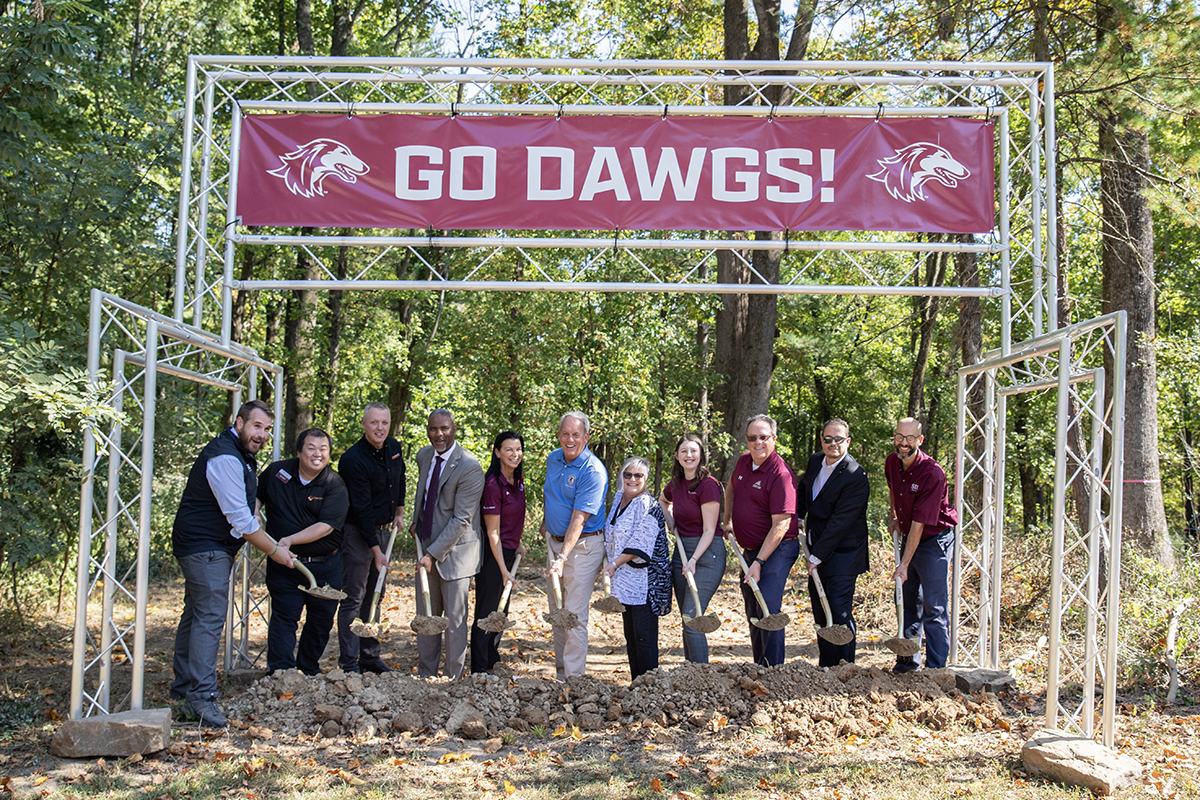 Facility funded by $500K donation
MAKANDA – With shovels in the ground, progress is officially under way on the SIU Credit Union Event Center at Touch of Nature Outdoor Education Center. The project is being funded by a $500,000 donation from the credit union.
Chancellor Austin Lane was joined by state Sen. Dale Fowler and representatives from SIU Credit Union, Touch of Nature, Fager-McGee Construction, the SIU Foundation, and the university for a groundbreaking ceremony Wednesday, Sept. 27, near the entrance of Touch of Nature.
"SIU students get their start right here at Touch of Nature," Chancellor Lane said. "We are fully behind this project, and we want to thank the SIU Credit Union for all they do."
At the beginning of each fall semester, Touch of Nature hosts Dawg Days for incoming students, providing them with an opportunity to have fun, make friends, and learn more about SIU.
In August 2021, the SIU Credit Union presented a $500,000 check to fund the construction project. The hope is to have the event center completed in the spring of 2024.
"Touch of Nature is a pride and joy of SIU," Chancellor Lane said at the time. "This partnership with SIU Credit Union is magnificent. This gift will provide the credit union with great visibility among our students and the community."
SIU Credit Union has a long history of supporting the university, including major donations during the annual SIU Day of Giving. In recent years, the credit union has supported SIU's New Student Programs, Saluki Food Pantry, and Morris Library, along with Touch of Nature.
"We knew that we needed to do something for SIU and the region," said Mike Lantrip, CEO of SIU Credit Union. "We think it's going to be something that helps put Southern Illinois on the map even more."
Touch of Nature is a full-service outdoor education center that serves SIU, the region, and the nation. It provides opportunities for team building, environmental education, zip lining, rock climbing, canoeing, kayaking, overnight camps, and more. Nationally recognized for its therapeutic recreation camp, Camp Little Giant, Touch of Nature has provided camps and programs for people with disabilities since 1952. Touch of Nature is an ACA-accredited facility, a National Environmental Education Landmark, and soon to be home to an IMBA-designed Mountain Bike Park.
"This is an incredible partnership with SIU Credit Union," said Brian Croft, director of Touch Nature. "We expect this to be a spot for community members to come and enjoy the outdoors. It's amazing to see what facilities like this can do for SIU."
Croft also introduced state Sen. Fowler and praised his continued support for Touch of Nature and the university. Fowler said he appreciates the impact the event center will have on tourism in the region.
"This facility will be an amazing complement to Touch of Nature," Fowler said.
For more information about Touch of Nature, visit ton.siu.edu.