Actor, SIU alumnus works with students, receives degrees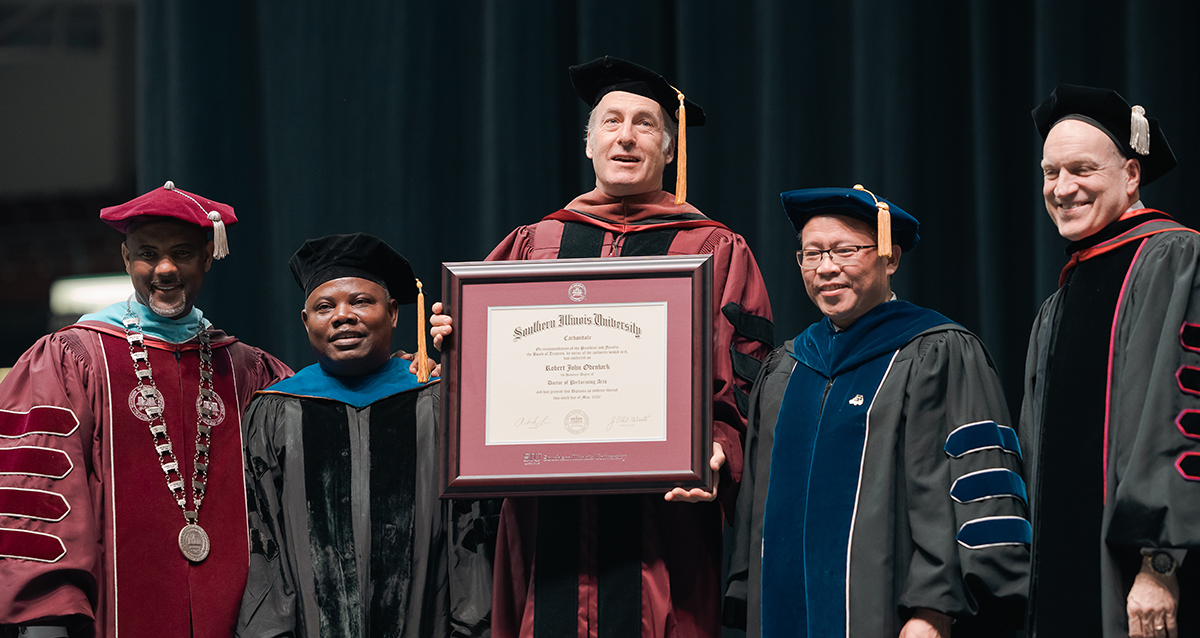 By Jeff Wilson
It was a banner day for Bob Odenkirk and SIU.
For the first time since the early 1980s, one of the university's most well-known alumni was back on campus. It kicked off with the City of Carbondale declaring Monday, April 3, as Bob Odenkirk Day and awarding him the key to the city.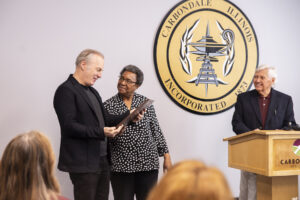 "The idea of being celebrated like this is a little mind-blowing," Odenkirk said. "I had a great time at SIU, and a big part of it was this town."
The 1984 SIU graduate turned actor, comedian, filmmaker, and author returned to his alma mater for two main purposes – to receive the bachelor's degree in radio-television that he earned as a student and an honorary doctorate and to interact with students and faculty within the College of Arts and Media.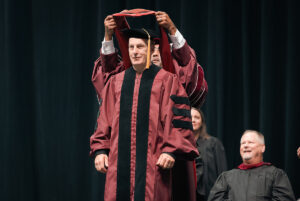 Nearly 2,000 people came to SIU's Banterra Center for Odenkirk's degree ceremony and Q&A session.
"We want everyone that's here as a student to realize that you can start here and go anywhere," Chancellor Austin Lane said during the ceremony. "Bob is living proof of that. Hopefully, he gives you the courage and motivation to follow your dreams."
After receiving his degrees, Odenkirk – Dr. Bob Odenkirk – sat down with WSIU's Larry Hunter for a discussion, first addressing the crowd.
"Thank you for coming here tonight," Odenkirk said. "You guys made me feel comfortable, and I'm happy to see you here tonight. It means a lot."
Odenkirk covered many topics during the hour-long session, including his experiences at SIU, work as a comedy writer, TV and movie roles, and much more. Of particular interest to the crowd, was his most famous role of Saul Goodman on AMC's "Breaking Bad" and "Better Call Saul." He praised the shows' writers and producers, particularly Vince Gilligan and Peter Gould.
"The variety within that part – he was a scoundrel; he was earnest and showed love and caring for people; he was tortured; he was sure of himself at times," Odenkirk said. "There were scenes that would be pure comedy and then five pages later, heart-wrenching drama. I can't think that there's been a role that went to as many places as that one."
Sharing experiences
Odenkirk met with two classes during his visit. The first was in the Northlight Room of the Communications Building, and the second was in the Christian H. Moe Theater.
"You can't guarantee excellence," he told the nearly 100 students and faculty in the Northlight Room. "You can just do your best all of the time."
Throughout the day, he spoke fondly of his time at SIU, particularly his experience at the student radio station WIDB. He imparted wisdom, shared stories and advice, and answered numerous questions.
"SIU offered me the freedom to make stuff and do stuff," he said. "If you don't believe you can do it, you won't try. You have to take a risk."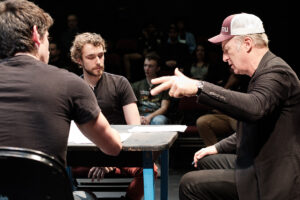 During his session in Moe Theater, he worked with multiple pairs of students as they performed various scenes. He offered the students cues and notes on everything from how to conceptualize the scene as a whole to how to deliver particular words.
"It means a lot to me that someone who's time is so valuable made an effort to work with us in our creative space," said Uriel Achilleus, one of the students who worked with Odenkirk in Moe Theater. "Mr. Odenkirk made it clear that he was working through his own creative process with us; he showed us what goes through his mind when analyzing a scene and portraying a character. It feels like a once-in-a-lifetime chance to get to work with someone as successful and experienced as he is."
Fond memories
Squeezed between his speaking appearances, Odenkirk met with countless students, faculty, and staff, signing autographs and posing for photos.
He remarked on the beauty of campus and how it compared to his memories.
"It's way more impressive than I had in my head," he said. "It was such a sweet place to me. It's a beautiful campus, ridiculously beautiful. It still has that great vibe. It feels like a place you can find yourself."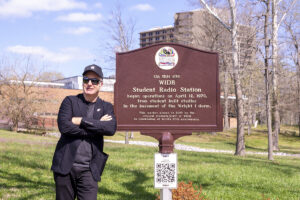 He also made it a priority to stop by the former location of the WIDB radio station, which is now recognized by a plaque behind the towers on East Campus.
As he toured campus, Odenkirk took time to greet two groups of prospective students taking campus tours.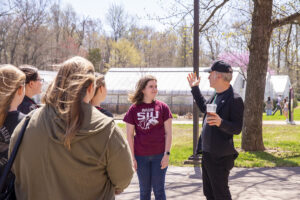 "I thrived here, and I always think of it fondly," he said.
From Carbondale to Hollywood
After leaving SIU, Odenkirk moved to Chicago, where he performed comedy and took classes at the Players Workshop. He was later hired to write for "Saturday Night Live," where he helped create beloved sketches such as "Da Bears" and "Matt Foley, Motivational Speaker."
After many other writing credits and parts in film and TV, Odenkirk co-created the HBO sketch comedy show "Mr. Show with Bob and David," alongside comedian David Cross. Throughout the 1990s and early 2000s, Odenkirk could be found in a number of movies and television shows.
In 2009, he joined the cast of "Breaking Bad," which catapulted him into the limelight. His character, lawyer Saul Goodman, quickly became a fan favorite. The character was also the focus of the "Breaking Bad" spinoff "Better Call Saul."
Both shows were critically acclaimed, earning Odenkirk numerous awards and honors, including a star on the Hollywood Walk of Fame.
Odenkirk also recently starred in the hit movie, "Nobody," and his newest show "Lucky Hank" premiered on AMC on March 19. "Lucky Hank" is based on the novel "Straight Man" by former SIU English professor Richard Russo.