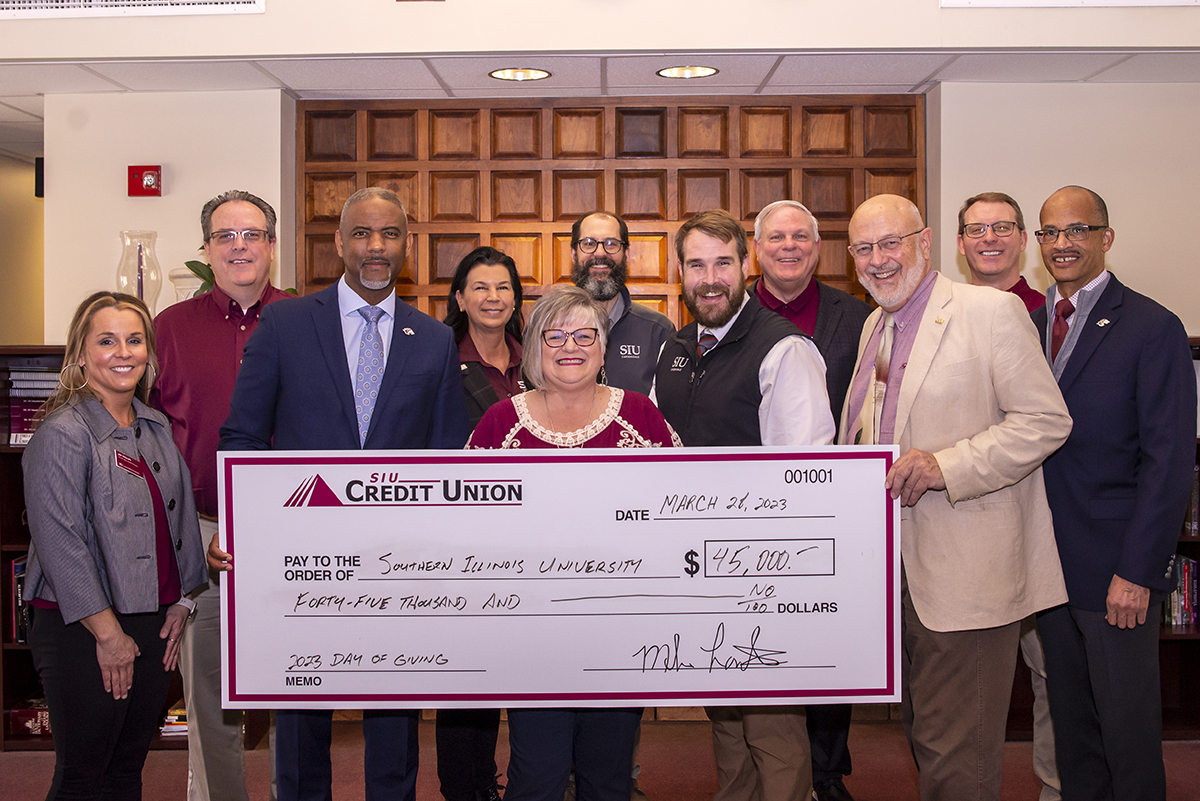 As has become tradition, the SIU Credit Union kicked off the SIU Day of Giving with a donation to multiple areas of campus.
This year, the SIU Credit Union donated $45,000, which included $20,000 to SIU's New Student Programs, $15,000 to Touch of Nature Environmental Center, and $10,000 to Morris Library.
"We want this partnership with SIU," said Kim Babington, SIU Credit Union Vice President of Community Outreach. "It helps not only the credit union grow, but it helps SIU grow. That helps us here in our economy in Carbondale."
Members of the credit union team gathered Thursday, March 23, at Anthony Hall to present Chancellor Austin Lane and other SIU representatives with the check before the Day of Giving officially started.
"Our students need to bridge the financial gaps, and this is one way for them to be able to do that," said Chancellor Lane.
For the credit union, making such a donation reflects its mission.
"I've been here my whole life, so being able to give back to the university that helped me get to where I am is a great feeling," said Mike Lantrip, SIU Credit Union President and CEO and a 1991 graduate of SIU's College of Business and Analytics.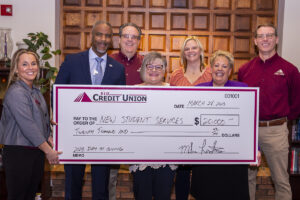 New Student Programs facilitates the integration of students into campus and the community. These funds will enhance its ability to engage with students.
"All of the funds that we receive go back to the students to really enrich their experience while they're on campus," said Jennifer Phillips, director of New Student Programs.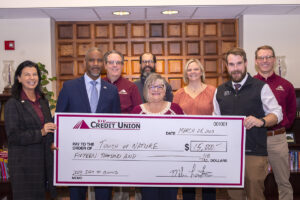 Touch of Nature Environmental Center is a premier outdoor activity facility in the Midwest. The funds will largely go toward the Dawg Days summer camp.
"The money that SIU Credit Union is giving us is really going to help us grow and expand," said Brian Croft, director at Touch of Nature. "Dawg Days is, in essence, a four-day, three-night summer camp for incoming freshmen."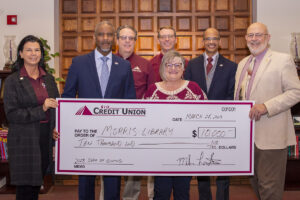 Dean of Library Affairs John Pollitz said the library's portion of the funds are earmarked for furthering their vision for the future.
"We are going to be using this donation to establish the Digital Scholars Commons on the first floor of the library," he said.
The credit union's generosity was just the spark at the beginning of a record-breaking SIU Day of Giving. The SIU Foundation raised $4,037,918 through 3,702 individual gifts during the seventh annual 24-hour fundraiser. For more details, visit siuday.siu.edu.