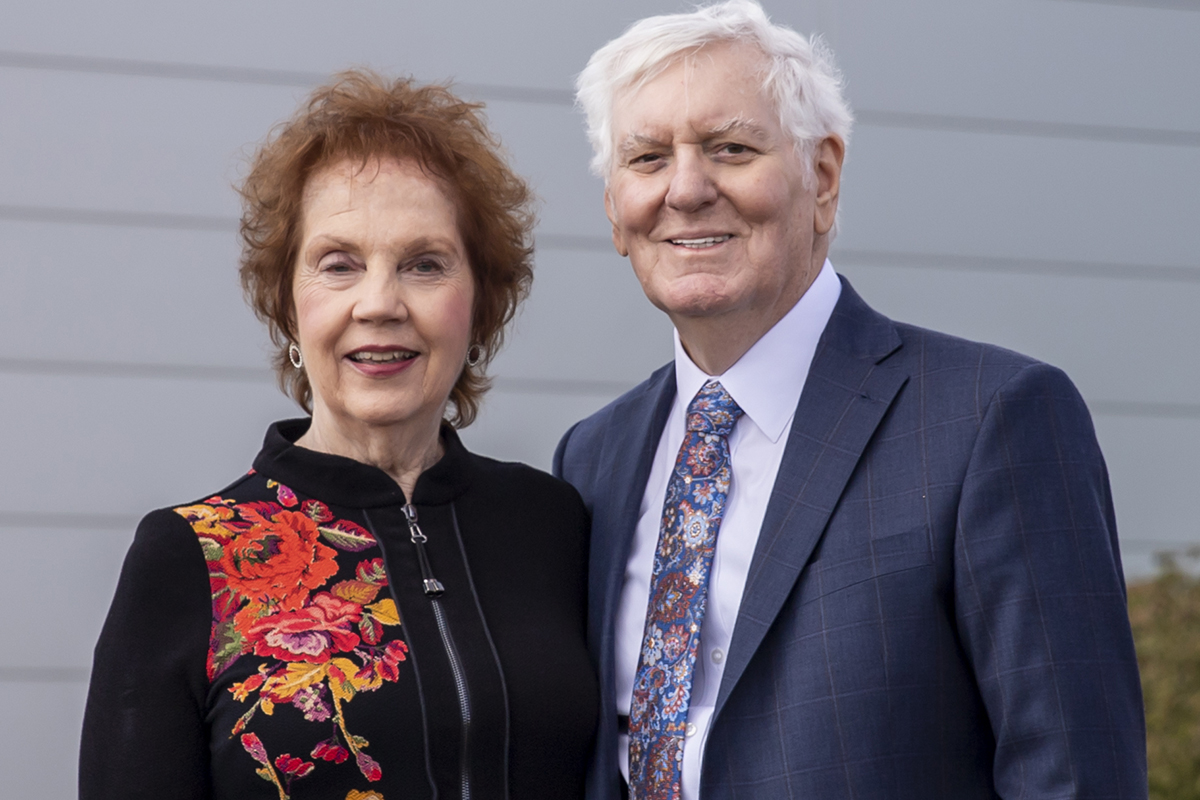 By Jeff Wilson
When Glenn and Jo Poshard were told about the fundraising focus of the Saluki Ball, they knew it was the perfect initiative to support. Thus, they decided to become presenting sponsors of the ball, dedicating $100,000 to the cause.
The inaugural Saluki Ball, to be held Saturday, April 22, at the Marriott Marquis Chicago, will help students bridge the financial gap as they strive to reach their ultimate goals.
"We both love the university. It gave us both opportunities we would have never had otherwise," Dr. Glenn Poshard said. "The purpose of the ball – supporting low-income students – is consistent with what we believe in."
For many students, alumni support is vital to their pursuit of a degree and the opportunity to improve their lives.
"Across the country, students are being forced to take time off school, and then are unable to finish," Dr. Poshard said. "The funds raised during the Saluki Ball will enable them to finish on time. This kind of commitment to our students builds the reputation of our university."
The Saluki Ball is black tie optional and will feature a performance by R&B legend Brian McKnight. It will be hosted by ESPN radio host and SIU alum Marc Silverman. There will be special awards for outstanding alumni and students.
"We are very excited about the ball," Jo Poshard said. "It's new, and it's a first. The event itself is going to be fabulous. We'll have family attending, many friends, and be surrounded by our Saluki family."
The Poshards were also inspired by the current administration's dedication to community outreach.
"I have been so impressed with Chancellor Austin Lane and President Dan Mahony," Dr. Poshard said. "Chancellor Lane has become the face of the university, meeting more and more students locally. Through the Saluki Ball and other events, he's sending the same message to Chicago alumni."
A lifetime of service
Dr. Poshard is a three-degree graduate of SIU, receiving a bachelor's in secondary education in 1970, a master's in educational administration in 1974, and a Ph.D. in administration of higher education in 1984.
He taught high school and served as the director of the Southern Illinois Educational Service Center in Benton until 1984 after being elected to the Illinois State Senate. In 1989, he earned a seat in the U.S. House of Representatives. He ran for governor in 1998 and left Congress the following year.
Dr. Poshard returned to SIU in 1999 as the vice chancellor of administration, where he served until his appointment to the SIU Board of Trustees in 2004. At the start of 2006, he was hired as the SIU system president, serving in that role until 2014.
Jo Poshard is a 1971 alumna of SIU's College of Education. She is a retired schoolteacher, who has served on numerous university and community boards.
Together, they started the Poshard Foundation for Abused Children, which raises funds to care for abused children and victims of domestic abuse throughout Southern Illinois. The Poshards are longtime benefactors of SIU and many local charities.
"Somebody was there for us when we were students," Dr. Poshard said. "If you're an alumnus, try to give something back. You'll feel better for having done it. The university benefits. The students benefit."
The ball's other presenting sponsor is ULLICO, Inc., and Laborers' Local 773. To learn more about the Saluki Ball, visit salukiball.siu.edu.