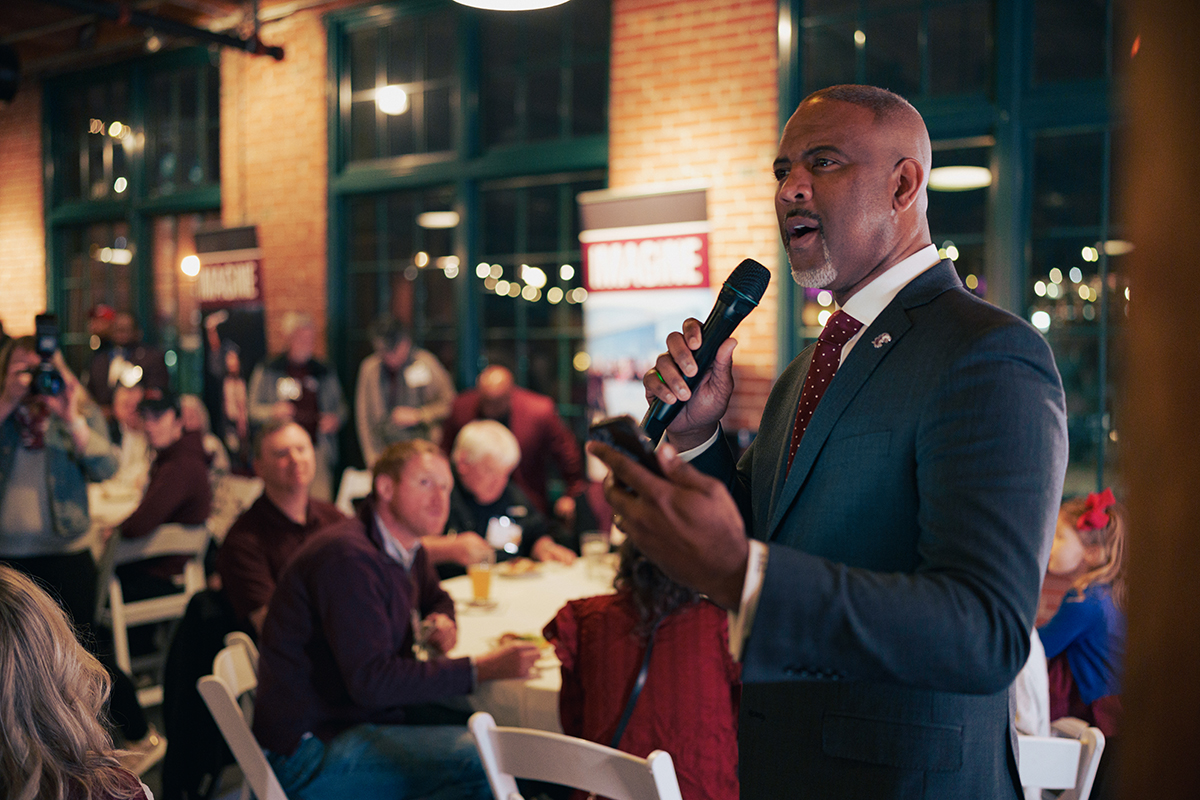 For the second straight year, the Saluki Takeover Tour in St. Louis brought together SIU alumni and friends to celebrate their shared school spirit.
Coinciding with the Missouri Valley Conference Arch Madness Tournament, Saluki maroon flooded the streets of downtown St. Louis from Wednesday, March 1, though Saturday, March 4.
More than 275 Salukis and friends gathered with university leaders on Thursday at Schlafly Tap Room for the Chancellor's Reception.
"What an incredible sight," Chancellor Austin Lane said. "I hope you feel the energy that's in this room. We're excited, we're fired up, and we have a lot more work to do."
SIU System President Dan Mahony echoed Chancellor Lane's sentiment, leading the crowd in the refrain, "Salukis get it done!" between making points.
"We're up over 40 percent in our freshman enrollment from where we were in fall of 2019," President Mahony said. "We have, year after year, set records on our Day of Giving. That's on March 28, and we're going to set another record."
Starting with a bang
Before Thursday's main event, the Saluki Takeover Tour in St. Louis featured two gatherings on Wednesday.
One was a social for College of Business and Analytics alumni at Ballpark Village.
"The Dawgs are in the house," said Marc Morris, interim dean of the college. "We're going to be in St. Louis every year."
Not far away, the SIU Alumni Association's Young Alumni Group was hosting a similar event at Schlafly Tap Room.
"Saluki Nation is really showing out," said Brian Munoz, SIU Alumni Association board member. "Events like this are so important to connect people."
Earlier in the week, Chancellor Lane, President Mahony, Associate Chancellor for Enrollment Management Wendell Williams, and others met with local high school administrators in an effort to push SIU's recruitment efforts.
An exciting weekend
On Friday, the SIU Foundation and its corporate division hosted a Corporate Networking Breakfast at Mid-America Transplant – The Family House.
Chancellor Lane led the conversation, discussing how companies could best interact with SIU and produce a pipeline that connects businesses to SIU graduates.
Later that day, Saluki alumni and friends gathered at the Crown Room in Ballpark Village for a pre-game event before the men's basketball team took on Missouri State at the MVC tournament.
Joined by the Saluki Spirit Teams, Marching Salukis, and Grey Dawg, revelers sent the Salukis off in style. The Dawgs defeated Missouri State, 54-51, in a heart-pounding quarterfinal game.
After another send-off event on Saturday, this time at PBR St. Louis, the Salukis fell to Drake, 65-52, in the tournament's semifinals.
More to come
After multiple successful Saluki Takeover Tours across the country, including stops in St. Louis, Chicago, Florida, and Nashville, plans are in motion to bring more events to alumni in other areas.
"We want to take the university where our alumni live," said Matt Kupec, CEO of the SIU Foundation. "Salukis are everywhere! We're looking to engage our alumni and to ignite Saluki Nation."
Stay up to date on all SIU Foundation events, including Saluki Takeover Tours at siuf.org.