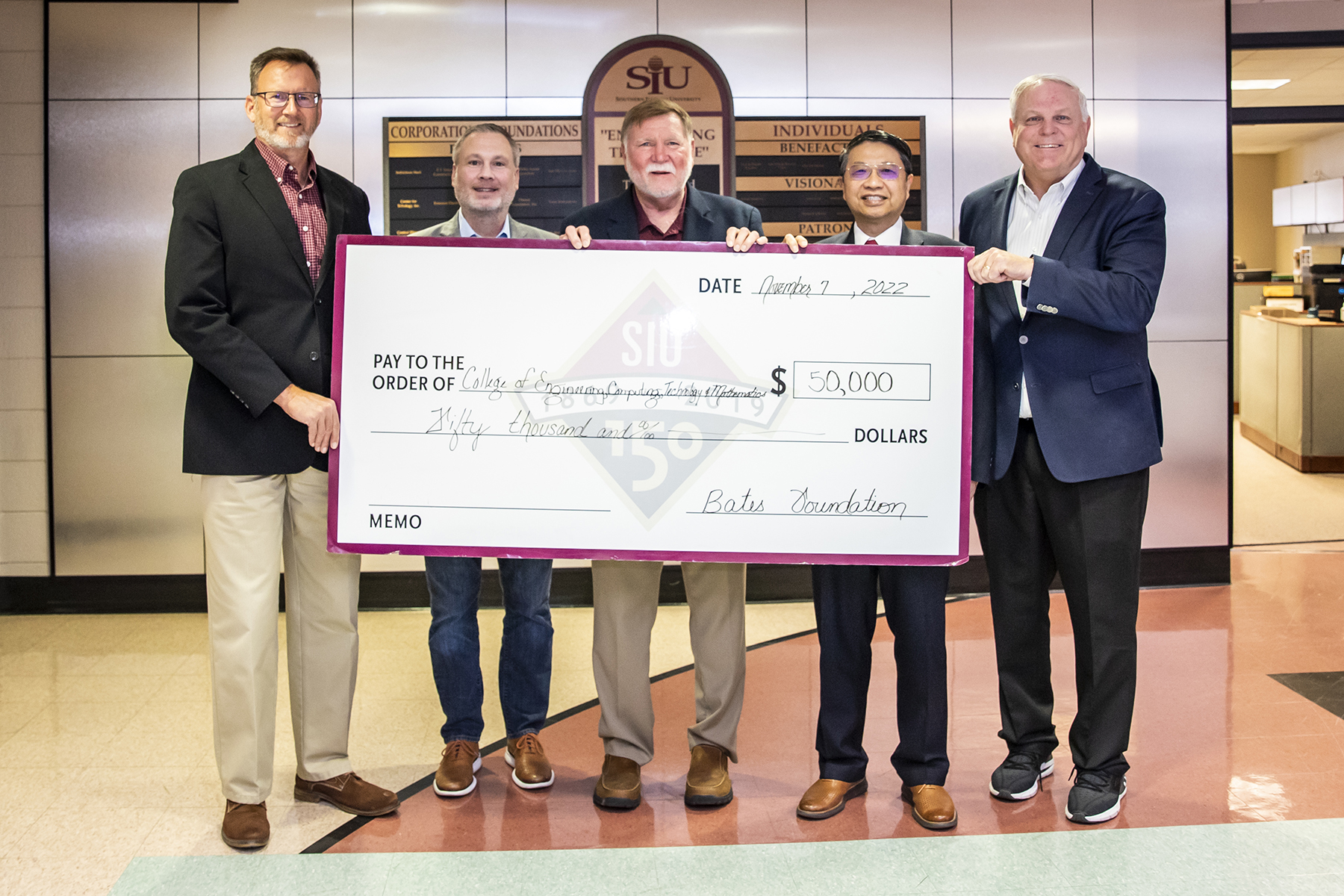 By Rebecca Renshaw
The College of Engineering, Computing, Technology, and Mathematics received $50,000 from a longtime supporter of the university.
Dr. Mike Murray, trustee of the George A. Bates Memorial Foundation, presented Dean Xiaoqing "Frank" Liu with a $50,000 check to go toward the George A. Bates Memorial Scholarship. This scholarship supports the college, the Leadership Development Program and the STEM Research Center.
"Dr. Murray and the George Bates Memorial Foundation have been great supporters of our college," Dean Liu said. "These scholarships are important to our college, and we are deeply grateful to the Bates Foundation for its history of partnering with SIU.
"We have the passion and the dedication. Not only that, we deliver. We are working on enrollment growth and retention as well as the student activities. This generous gift will help us achieve our goals."
Bates was a successful stock market investor and avid big game hunter. He was born in 1903 in the Chicago area, and resided in Cary until his death. The Bates Foundation was formed when he passed away in 1989. The foundation provides funding to numerous charitable organizations, as determined by its board of trustees. Along with SIU, the foundation supports The Hope Light Project, a cancer awareness organization, also located in southern Illinois.
"Mr. Bates believed in supporting education," Murray said. "It has been an honor to be a trustee for the George A. Bates Memorial Foundation, and it was a privilege to deliver this check."
Other organizations the foundation has supported in Southern Illinois include Brehm School, SIH Cancer Institute, the Poshard Foundation, Saluki Kids Academy, and Lead SI. The foundation supports eight different charities and has donated over $3 million dollars in the last 10 years. A total of $6 million has been donated since its inception.
"It is my hope that more people in this area recognize that a Chicago-based foundation cares deeply about the Southern Illinois region and its residents," Murray said.
Murray was instrumental in securing funding from the Bates Foundation. As a close friend and confidant of Bates, Murray was aware of Bates' philanthropic tendencies. He submitted a proposal for support in 1997 while working as a central development officer for the SIU Foundation. Now, as a Bates Foundation trustee, he continues to provide funding to scholarships at the College of Engineering.
"The SIU Foundation appreciates the long-time support Mike Murray and the Bates Foundation has given to SIU. Support from organizations such as the Bates Foundation is integral to advancing our academic mission," said Matt Kupec, CEO of the SIU Foundation. "These types of gifts show a truly inspiring commitment to higher education and the Saluki spirit."
The Bates Foundation looks for two things when deciding to support an organization: Dedication by the organization to the mission and passion for the cause of those representing the organization.
"I know Dean Liu and know Matt Kupec very well," Murray said. "I have no doubt this money will be put to good use."
Engage with us on LinkedIn, Facebook, Twitter and Instagram.