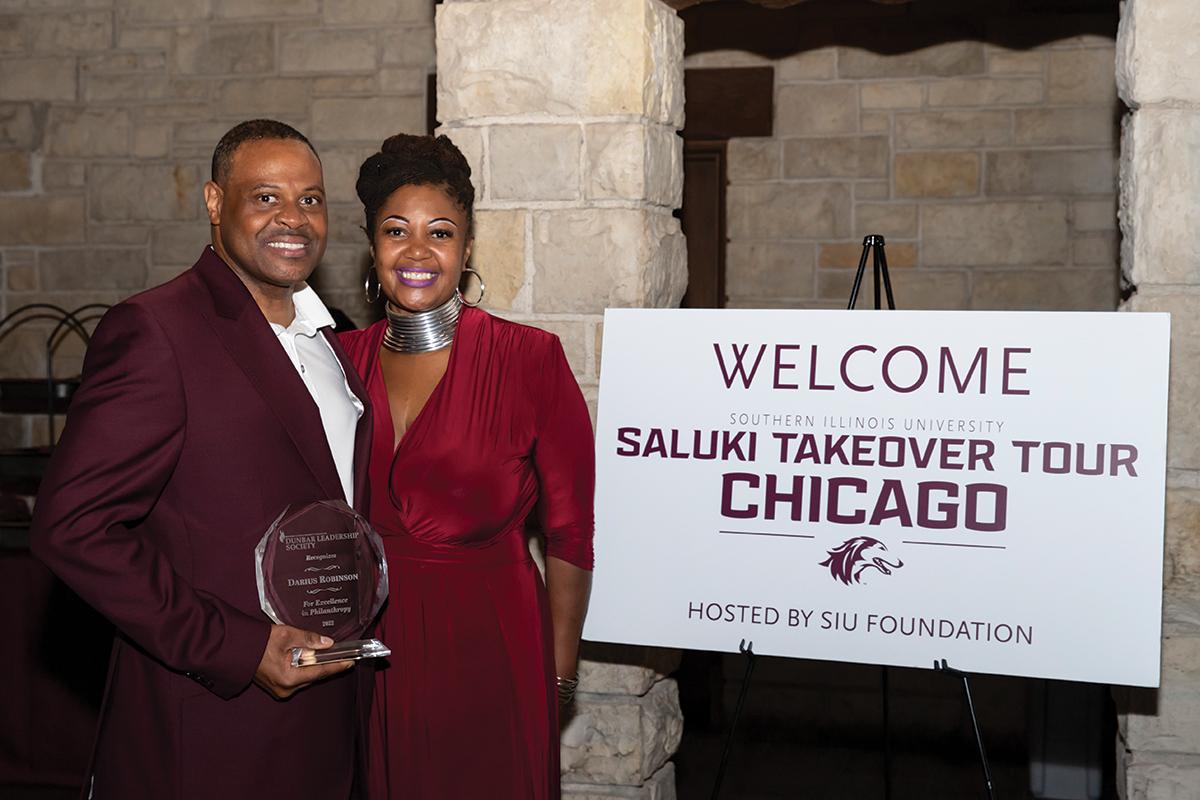 Darius Robinson '95 '98 recently established an endowment at SIU for students graduating from East St. Louis High School. Robinson graduated from SIU with a bachelor's degree in industrial technology and a master's degree in manufacturing systems.
Robinson said his father was a contributing factor in deciding to establish the scholarship.
"My father, Johnnie Robinson, was a big giver in terms of leadership, discipline, and being a role model. He was my baseball coach in East St. Louis when I was eight years old until I reached 18 years of age. There were a lot of kids on the team who did not have a father figure, so I learned to share my dad with the rest of the team. What is remarkable about my dad is that he did not get paid for that, and he gave many hours to bridge the gap for so many young people," Robinson said.
Robinson's father always taught him that when you come home from work, you don't just come home and focus on yourself.
"You make yourself productive by helping others. He taught me that giving back is how you make a difference in your community and in your life," he said.
In 2016, Robinson joined I AM ABLE, a not-for-profit Chicago charity that enriches the lives of students from 8th grade through college who aspire to become medical doctors. In addition, Darius joined the Sister Cities Committee of Hanover Park. As a Sister Cities Committee member, Darius volunteers to support an elementary school in Cape Coast Ghana, West Africa. In addition to Cape Coast Ghana, volunteer support is given to an elementary school in Zacatecas Mexico. He volunteers on the weekend and often travels to other countries to help local schools with supplies and needed assistance. Robinson said that by volunteering and through the SIU scholarship he established, he can help a student want to be a better person and get an education so that it gives their life purpose.
"I hope this example of how I am living my life spurs others to pay it forward in their communities and create a cycle of giving back to others," Robinson said.
Robinson and his wife, Norlander, reside in Hanover Park, Illinois, where Robinson works as an operations manager for Menzies Aviation. His role is to manage the jet fuel and hydrant system that is used to fuel the aircrafts at O'Hare International Airport.
"SIU prepared me well for my career. Most of my professors were industrial engineers and they did a great job of teaching me how to analyze a situation and how to trouble shoot and achieve my objectives," Robinson said.
When Robinson is not volunteering, he enjoys studying ancient history and religion.
"I consider myself a life student. I've made several trips to the pyramids in Egypt and by going through the tombs, I learned how Africans contributed to the world by building the pyramids. I am fascinated by history," Robinson said.