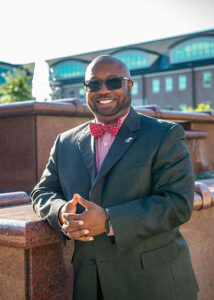 By SIU Vice Chancellor for Student Affairs Jeffery Burgin
"Good leaders make people feel that they're at the very heart of things, not at the periphery. Leaders are people who do the right thing; managers are people who do things right." Warren Bennis
During the spring semester 2022, Southern Illinois University launched its strategic plan IMAGINE 2030. Which describes five main pillars as the guiding initiatives for the next seven years. As the foundation of this plan is student success and engagement. Upon conversation with students and having experienced leadership development at other institutions it was decided that a week of celebration and leadership development would be integral in fostering the very best Salukis moving forward. We are excited to re-establish a week of leadership development activities culminating in a weeks end leadership conference themed People, Purpose & Passion: The Pathway to Success.
Students who actively participate in these leadership development activities will experience the following:
Hear from renown speakers and experts in the field of leadership
Gain personal competencies
Learn to foster an SIU community that focuses on improving programs, services, and the overall experiences of SIU students.
Strengthen those leadership skills inherent in all of us (i.e. conflict and risk management, communication, teamwork, and time management).
Better understand their ability to work with others and how their personal leadership identity shapes their leadership style and growth.

Reflect on one's own identities through sessions, active engagement, and interactions with others
Cultivate further ideas that continue to build community on and off campus
In higher education we recognize that an engaged student is a retained student. As we had record breaking numbers of first year students in 2022, our focus currently is to retain those and all students through academics and overall engagement. This leadership development opportunity will enhance them as individuals and our Saluki community.