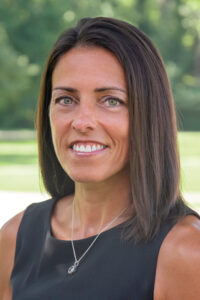 It has been over 20 years since Dr. Kelly Higgins graduated from SIU School of Medicine, but her loyalty and commitment to the university are what brought her to the SIU Foundation Board of Directors.
"SIU gives students so many opportunities to change the course of their life. I just want to support it in any way I can," Higgins said. "I got my undergraduate degree here, and I went on to get my medical degree from the SIU School of Medicine. You could say that my blood runs maroon."
She graduated from SIU in 1996 with a bachelor's degree in physiology and a minor in chemistry. During her time as an undergraduate at the Carbondale campus, she was a member of the Saluki Softball team from 1992 to 1994 and a member of the Alpha Gamma Delta sorority.
After graduating from SIU School of Medicine in 2001, she completed her residency training in internal medicine at the University of Tennessee in Memphis and served as chief resident for the Department of Internal Medicine from 2003 to 2004. She then practiced medicine in Memphis and Springfield, Illinois, before relocating to Carbondale in 2012. Dr. Higgins practiced medicine at Shawnee Healthcare for seven years before leaving clinical practice in 2020. During her time as an internist with Shawnee Healthcare, Dr. Higgins served as the assistant dean of students for the SIU School of Medicine on the Carbondale campus from January 2016 until June 2017. She also served as a clinical mentor to SIU School of Medicine first-year medical students and was voted Mentor of the Year for 2017-18.
Dr. Higgins is working as an adjunct assistant instructor in the Office of Education and Curriculum at SIU School of Medicine.
Dr. Higgins resides in Carbondale with her husband, Dr. Jeff Lehman, who is also a graduate of SIU School of Medicine Class of 2001, and two children, Lauren and Will. She is a lifetime member of the SIU Alumni Association. Dr. Higgins and her family enjoy attending SIU sporting events, and she enjoys coaching her daughter's softball teams. Dr. Higgins is also a member of the Women's Leadership Council and the Women's Leadership Council Board of Directors, and will start mentoring students when this year's program launches.
"We've been season ticket holders for SIU football and basketball for over 10 years, and we love watching our Salukis compete with some of the strongest teams in the nation," she said. "The football team's recent success has energized the university and the community, especially the win against Northwestern. We're looking forward to a strong finish."
Dr. Higgins is always encouraging others to give back to SIU and helping students. In July 2021, she was asked to become a board member for the SIU Foundation.
"I received a fantastic education from SIU, and the SIU Medical School is nationally recognized for its many achievements," she said. "I encourage everyone to continue to support the university's vision. Getting involved with the university and the SIU Foundation is a great way to make a positive difference in the lives of others."