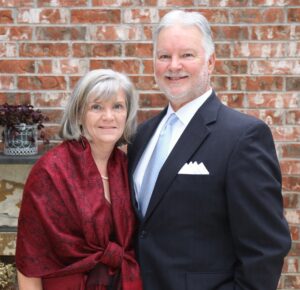 Brad Choate '79, '84 and his wife, Julie, are one of the university's most devoted supporters. Their recent $1 million estate gift will provide funding for undergraduate scholarships and other key priorities.
The Choates, who reside in Georgetown, Texas, wanted to place SIU in their estate and help SIU remain strong for generations to come. The money will establish an endowed scholarship.
"I am so proud of SIU, and I thought this was the right way to give back to an institution that changed my life," Brad Choate said. "While I am a first-generation alumnus, my parents drilled into my head at a young age that I would attend college. SIU just made sense as it was in the backyard of Marion, Illinois, where I grew up. I have to thank my parents for pointing me in a direction that would change my life."
Choate is a veteran leader in the advancement industry, having served over 40 years as a fundraiser. He has served as president and CEO of the Minnesota Medical Foundation, vice president at the University of South Carolina, vice chancellor at the University of Arkansas as well as leadership positions at Penn State and Ohio State. He currently serves as special advisor to the vice president for development at the University of Texas at Austin. He and Julie, who is an accomplished artist, are also dedicated volunteers in their community.
"SIU is grateful to the Choates for their generosity and outstanding leadership," said Matt Kupec, CEO of the SIU Foundation. "They demonstrate the values that we seek to instill in every SIU graduate."
Choate said establishing the endowment through their estate just made sense, both financially and charitably for his family.
"I have seen the impact on both the donors and the students when a scholarship is created," he said. "The impact positively affects our society and country at large."
Raised in rural Carbondale and attending high school in Marion, Choate's parents taught him the value of hard work, integrity, and giving back. "My parents had a clear vision of what they wanted for me so there was no doubt that getting a college degree was going to happen. I will be forever grateful to them for their direction," he said.
Southern Illinois has a special place in his heart, largely because that is where he met Julie.
"I will never forget. I first laid eyes on her at the Dairy Queen in Marion. I was sitting at a picnic table with a friend one night, and this red Firebird drove up, and this beautiful girl jumped out," he said. "She came over and we were introduced. I took her to Carbondale to see the sights, and we've never looked back since. We've been married 43 years."
Choate's Southern Illinois roots go back even further as his great uncle was Clyde Choate, a politician from Anna, Illinois, and a soldier. Choate served 30 years in the Illinois House of Representatives and during World War II, received the U.S. military's highest decoration, the Medal of Honor, for single-handedly destroying a German tank.
"SIU was always important to my Uncle Clyde. Even after he retired from the Legislature, he went to work for SIU to continue helping the university," Choate said. Julie's mother, Colleen Norman, has three degrees from SIU and taught at SIU and the university's campus in Japan.
The Choates raised three children, Brent, Lauren, and Lindsey.
"Brent graduated from the United States Air Force Academy and became a fighter pilot. Lauren is a graduate of the University of Wisconsin who works in marketing for a commercial insurance company in Texas, and Lindsey earned a Ph.D. in psychology from Arkansas and runs a prep school in Austin," Choate said. "Julie and I are so blessed that all three of our children have grown up well and thrived in the world. Now, we want to ensure that other young people have the same opportunities as our children did.
"You don't have to be phenomenally wealthy to help people. Lots of people can make an estate gift and really help others with a gift to SIU. It is our hope that we inspire others to do the same as we have done," he said.
Engage with us on LinkedIn, Facebook, Twitter and Instagram.