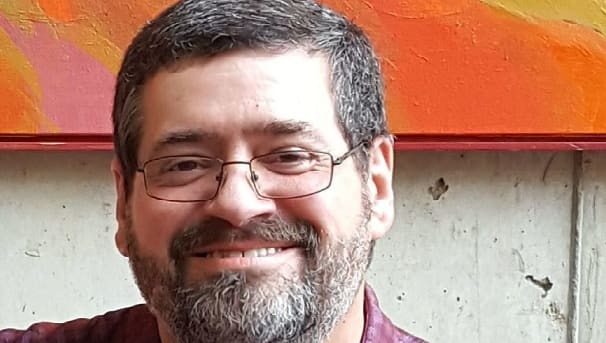 Jon Tribble, a poet, editor, mentor, and friend to many, passed away in 2019. Now, the Department of English at SIU hopes to endow a scholarship in his memory.
For 22 years, Tribble served as the editor of the Crab Orchard Poetry series, published by Southern Illinois University Press. In that time, as in his capacity as managing editor of The Crab Orchard Review, Tribble played an unparalleled role in bringing hundreds of American literary voices into more prominent view.
"Jon Tribble was one of the first and best editors for creating an inclusive space in American publishing," said Camille Dungy, author and winner of the 2010 Crab Orchard Open Competition Award. "Many of the nation's top writers, including women writers and BIPOC writers, got their starts because of Jon's active, dedicated, and continuous efforts to build a more diverse and equitable writing world."
Tribble received the 2003 Artist Fellowship Award in Poetry from the Illinois Arts Council, and his poems have appeared in numerous journals and anthologies. At SIU, he taught creative writing and literature, and directed undergraduate and graduate students in internships and independent study in editing and literary publishing for the Department of English.
"The editorial work that Jon Tribble did for the Crab Orchard Series in Poetry at SIU Press was little short of heroic. Scratch that; it was heroic," said author Dan Albergotti. "He built that series into a powerhouse in the world of contemporary American poetry."
By visiting salukifunder.siu.edu/tribble and making a gift of any size, donors can help the scholarship reach the $25,000 plateau, which would create an endowed fund. That would allow a $1,000 scholarship to be granted to one poet every year in perpetuity.
Donors may also send a check made payable to: SIU Foundation, Jon Tribble Memorial Endowment, 1235 Douglas Drive, Carbondale, IL 62901.
Engage with us on LinkedIn, Facebook, Twitter and Instagram.